Clubs that stick with the same players achieve greater league success on average, a Sky Sports study has found.
Burnley have fielded the most regular line-up this term and claimed their fourth win of the campaign against Newcastle on Monday to sit seventh in the league - but could consistency be helping Sean Dyche's men?
We looked at data from the last four seasons to examine the link between team consistency and league success.
Reigning champions Chelsea kept the third most consistent team last season but are struggling this term with the ninth most consistent line-up.
Antonio Conte has fielded 20 different players during this campaign, making regular changes to his back three and accommodating new signings.
Our study suggests the Chelsea boss must find and settle on a line-up soon. For instance, while Claudio Ranieri was known as the Tinkerman for rotating his team at Chelsea, the Italian made fewer changes than any other manager during Leicester's title-winning campaign in 2015/16.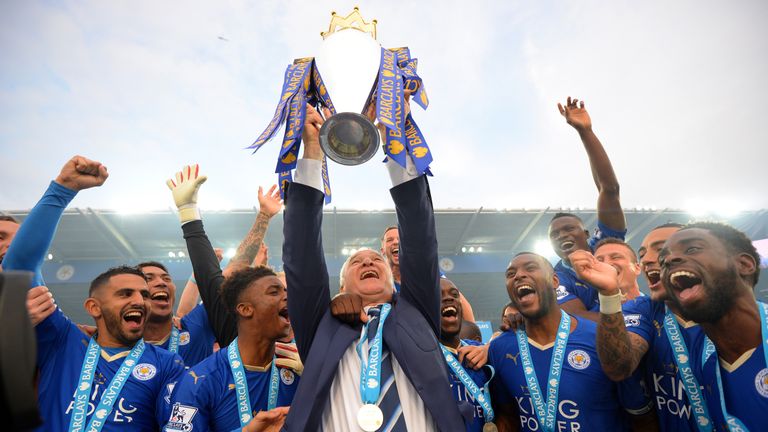 Manchester City also had the most consistent side when they were last crowned champions in 2013/14, with each fielded player averaging 1,632 minutes.
Teams at the bottom of the table are likely to experiment with different players to improve results - but are there benefits to sticking with a regular XI?
SEASON BY SEASON
On average, in each of the four previous seasons, teams that made fewer changes finished higher in the league - but there have been outliers: most notably Manchester United and Liverpool.
However, it could be argued both teams still underachieved during those respective seasons.
In 2014/15, Manchester United changed their line-up more than any other team but finished fourth in the Premier League. In 2015/16, Liverpool rotated the most and finished eighth in the table.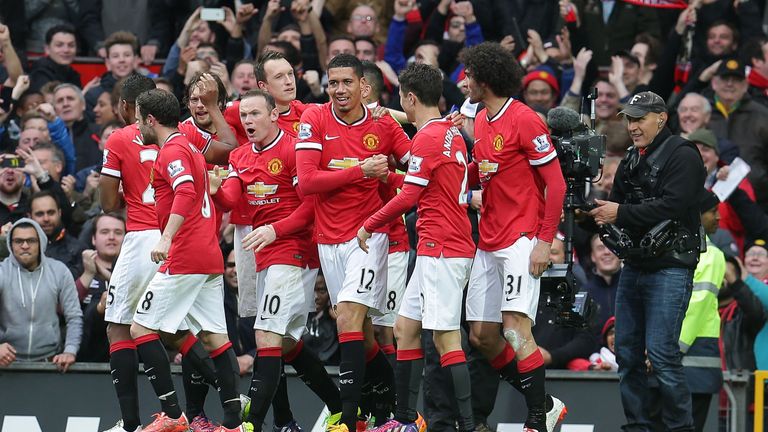 Last season, United were once again among the top teams for rotating, fielding players for just 1,213 minutes on average - only Watford (1,139) and Sunderland (1,211) had lower averages - but Liverpool were the most consistent.
So, within one season, Liverpool went from having the least regular line-up during Klopp's first season in charge to being the most unchanged team - and their league position jumped from eighth to fourth.
At the other end of the table, very few clubs have fielded one of the most consistent teams and finished in the bottom half of the table. However, a notable exception was Burnley, who were relegated in 2014/15 with the second most regular line-up.
OVERALL
Manchester City have been the most unchanged Premier League team between the start of 2013/14 and the end of last season - claiming a top-four finish in each season and averaging at 1,551 minutes per player.
Other consistent sides during the four-year period include Leicester (1,492), Burnley (1,477), Tottenham (1,465), Stoke (1,444), West Brom (1,440), Southampton (1,444), Liverpool (1,437) and Chelsea (1,426).
At the opposite end of the scale, Fulham players only averaged 964 minutes during their top-flight season in 2013/14, followed by QPR (1,173) and Cardiff (1,174) - of which, all three were relegated.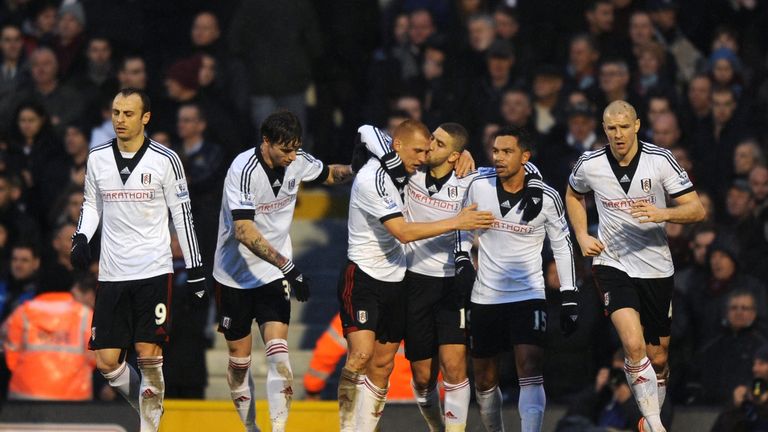 Interestingly, Manchester United have only averaged 1,185 minutes per player over the last four years - fewer than any other current top-flight club and nearly 200 minutes fewer than any of the other 'big six' clubs.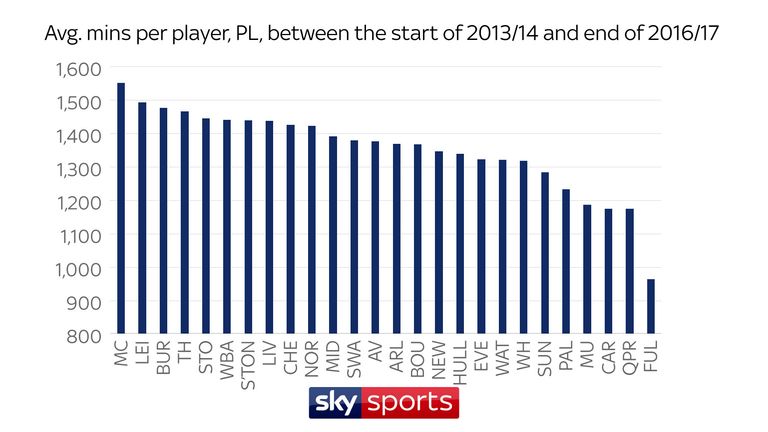 NUMBER OF PLAYERS USED
United have also used 32 players a season on average - behind only Fulham (39), Cardiff and QPR (both 32).
Crystal Palace have used 31 players, followed by Sunderland (30), Watford, Everton, West Ham (each 29), Hull and Newcastle (both 28).
Conversely, Manchester City have only used 24 players per season, followed by Leicester (25), Burnley, Tottenham, Stoke, West Brom and Southampton (each 26).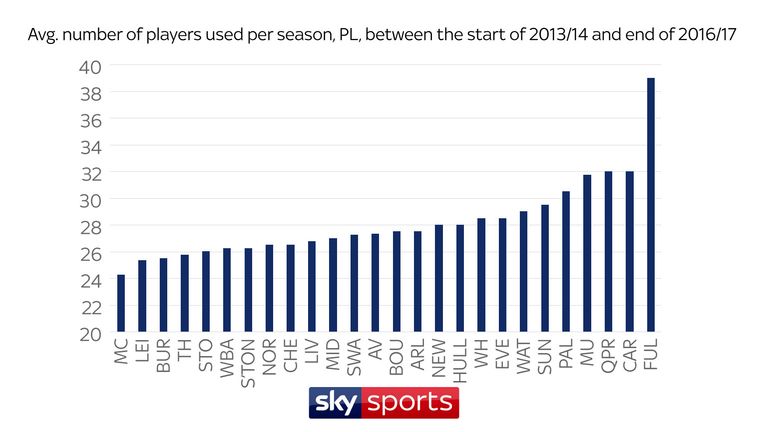 THIS SEASON
This season, Burnley have fielded the most consistent line-up with an average of 582 minutes per fielded player, followed by Leicester (550) and Brighton (521).
Interestingly, despite typically being among the most rotated teams, Manchester United are joint with Brighton and Southampton with an average of 521 minutes per fielded player.
Therefore, like Liverpool last season, Jose Mourinho has bucked a long-standing trend at Old Trafford and found a favoured line-up, which also appears to have translated into positive results.
Meanwhile, rock-bottom Crystal Palace have been the least consistent side (396), followed by Watford (410), Everton (429), West Brom and Swansea (both 430).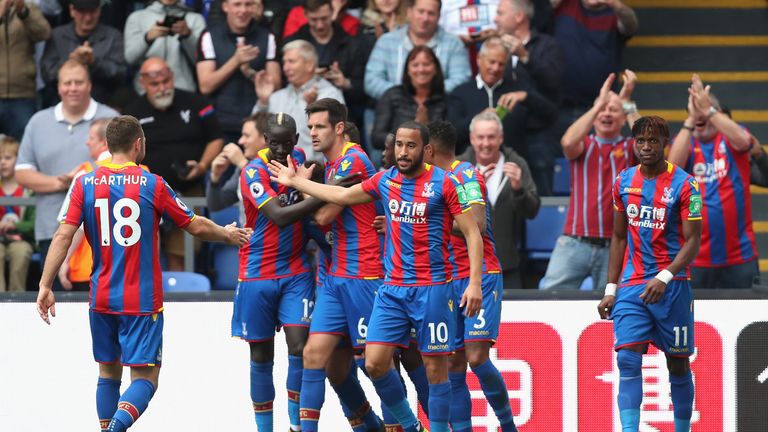 It's difficult to determine whether poor results are the catalyst for team changes, or whether team changes are the catalyst for poor results - it's more likely that the former makes a bigger impact.
However, there appears to be advantages with sticking to a regular XI - epitomised by Leicester's fairy-tale season in 2015/16 and Burnley this term.