David Moyes takes charge of West Ham at Watford live on Sky Sports this Sunday after replacing Slaven Bilic at the helm - but does replacing a manager mid-season improve results?
Bilic became the fourth Premier League boss to lose his job this term after Ronald Koeman and Craig Shakespeare were sacked in October and Frank de Boer got the boot in September after only 77 days at Crystal Palace.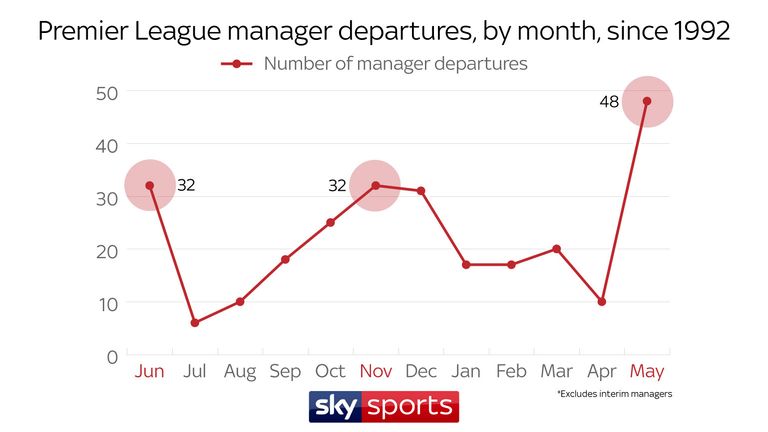 But how does sacking a manager affect results?
Leicester sacked Claudio Ranieri in February this year after five consecutive defeats - just 25 league games after guiding the Foxes to their first Premier League title against 5000-1 odds.
Assistant Craig Shakespeare took the helm and instantly produced five back-to-back league wins. However, results began to decline after the initial purple patch and Shakespeare lost four of his opening six league games this season before being axed last month.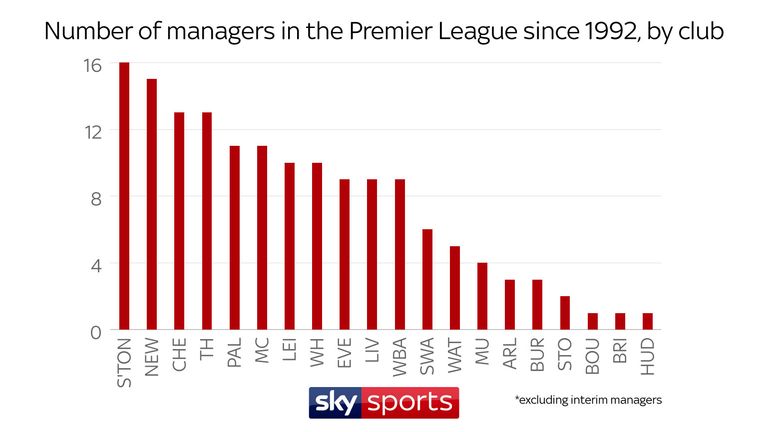 So was the initial 'bounce' in good form typical after sacking a manager, and would those results have occurred anyway?
First of all, we looked at 10 mid-season managerial causalities to see if results improved or declined after a sacking and whether the impact was sustained or short-lived.
BOUNCE EFFECT
A similar, but less drastic bounce occurred at Crystal Palace after Neil Warnock was sacked in December 2014, and after replacement Alan Pardew was axed to pave the way for Sam Allardyce, who proceeded to secure Premier League survival before resigning at the end of last season.


In almost all cases, the immediate upturn in form after sacking a manager is temporary, followed by a gradual return to average results - particularly in the cases of Garry Monk at Swansea and Paul Lambert at Aston Villa.
The graphic below shows the five-game rolling points average from 10 league games before a sacking and up to 30 fixtures after.
We combined the results of all 10 managers to work out an average impact of sacking a manager, shown at the bottom of the graphic.
On average results improve for the first six games after dismissing a manager, after which, results taper off and return to levels recorded nine games before the sacking.
However, what if a manager isn't sacked when his side reaches rock-bottom form - do results still improve? Several examples suggest they do.
The graphic below shows the rolling five-game average points ratio for Bilic at West Ham - starting five games into his reign.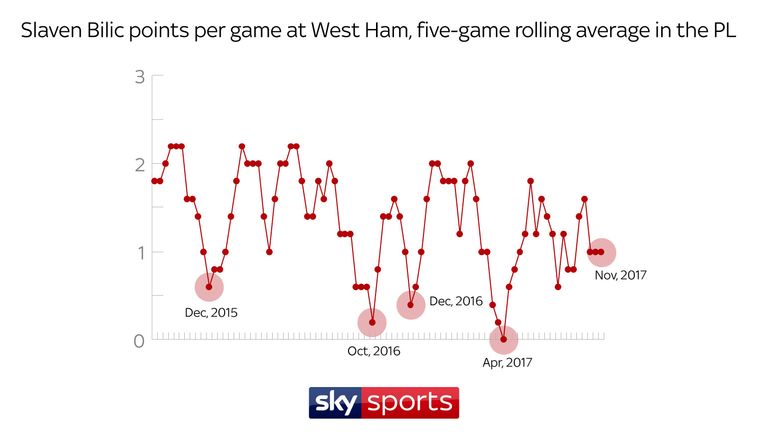 Every low point during his 27-month tenure was followed by an upturn in form - identical to the bounce effect that frequently occurs after clubs sack their manager.
Indeed, Arsene Wenger has experienced numerous lows during his 21 years at Arsenal. But, again, every notable low has preceded a bounce in good form.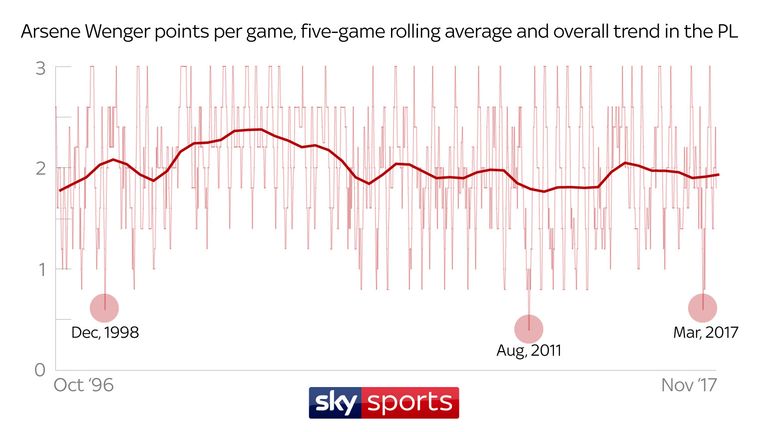 Therefore, with fine margins dividing title-winning, relegation and European qualification places - clubs may well sack a manager to benefit from the so-called bounce effect.
But the data suggests that when results hit rock bottom and teams are under-performing, the return to expected form is inevitable - with or without sacking a manager.
Will David Moyes start a positive resurgence at West Ham and record the Hammers' first league victory since September?
Watch Watford v West Ham live on Sky Sports Premier League from 3.30pm on Sunday to find out