Jean Sseninde interview: Common Goal's first African player to sign up
Last Updated: 28/12/17 8:46am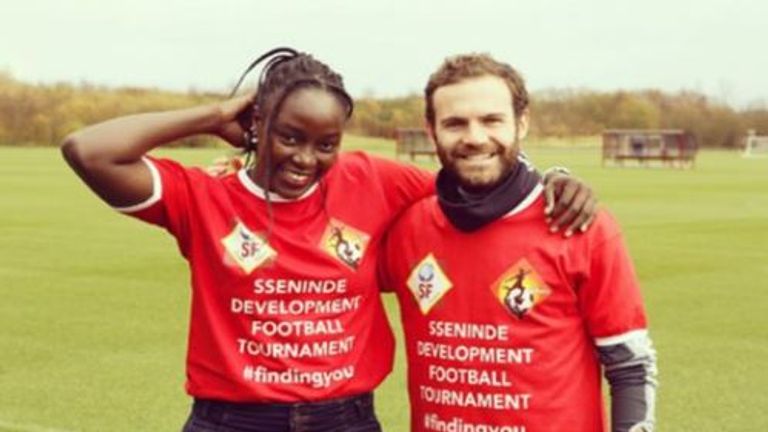 Crystal Palace Ladies player Jean Sseninde was the first African to join the Common Goal initiative. Adam Bate spoke to her about what it means to have Juan Mata's support and why the work she is doing with young girls in Uganda is changing lives.
When Juan Mata helped to launch the Common Goal project, pledging one per cent of his salary to charity, he knew that he needed star names to attract attention. Mats Hummels and Giorgio Chiellini soon followed. But Common Goal also needed people from different backgrounds to get involved in order to underline that this is a truly global initiative.
People like Jean Sseninde.
The Crystal Palace Ladies player became the first African to join Common Goal. She has already launched her own foundation to help girls in her native Uganda and when she heard about Common Goal, it was obvious this was the perfect fit.
"I saw it on social media when it started and read up on it," Sseninde tells Sky Sports. "I did my research and realised that everything they wanted to do was what I wanted to do too. I was never going to think twice about it. It is the best organisation I have been a part of."
Sseninde was in Uganda last month to host her second annual women's development tournament and has Mata's backing. "He was really good," she says. "Because of the schedule, it was obviously impossible for him to come, but just having him support us doing something for these girls, it shows that we have this common goal together."
The aim of Sseninde's work in her homeland is to ensure young girls have the same opportunities that she had. Introduced to the game through her school, she is acutely aware that not all of her compatriots are so fortunate. "It is mainly to do with poverty," she explains. "It is very difficult for these girls because some of them don't even have shoes.
"We are working with them to expose them to the game. It is about inspiring people and empowering them. I want every girl to be able to make their dreams possible. I don't want any of these girls to put limitations on what they can achieve."
The foundation has three branches. The first focuses on skills training with a view to enabling youngsters to start their own small businesses. The second concentrates on sport and health, giving girls the chance to play sport in the community. The third helps to provide bursaries allowing those who would otherwise not get the chance to go to school to do so.
"When I am in the UK these feel like normal things that everyone should have," says Sseninde. "But because they don't have them here everyone is so excited and surprised. It has excited so many Ugandans because things like this do not happen to people like us. It is so inspiring to see that we have this support from players like Juan."
She adds: "The desire is here in Uganda. The passion to play is here. But even some parents aren't informed about the importance of playing sport. Being in the UK has exposed me to new ideas so I feel that when I come here I can teach everyone else. The organisation, the administration, the management and the branding side of it all needs work.
"But I have seen women's football grow in the UK and I have seen what is achievable so I know we can achieve the same things in Uganda. We do not need a lot of money to make the difference, we just need to be the change that we want to see. I really can't wait to see what is going to happen next. For sure, we are making a difference.
"Last year, people who participated in the development tournament got various opportunities in universities and schools. Some of them were selected for the women's top league here. These are some of the reasons why we are putting on these tournaments and clinics because they give these girls the opportunity to be seen."
With so few Ugandan women playing football around the world - Sseninde knows of a couple in the United States and one in Norway - she takes her responsibilities as a role model seriously. While she insists that she would do this work anyway because she enjoys it, her attitude is closer to that of a civic leader than a footballer.
Asked if her work can inspire others, Sseninde explains: "That's my goal because once people are following you it is a good platform for you to say something meaningful and be an example to other people. They will listen to you. So I am using that profile to help everyone else. This is about being a voice for others. It is up to me to make a difference."
In Sseninde, Africa found its first Common Goal representative. It could hardly have a better one.