Juan Mata's Common Goal and the ambitious plans to change football
Last Updated: 15/11/17 9:42am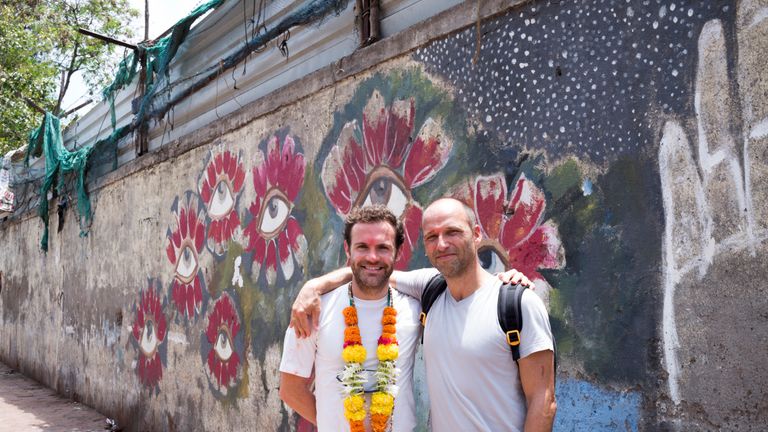 Juan Mata caused a stir when he launched Common Goal in the summer, pledging to pay one per cent of his salary to charity. Adam Bate spoke to Mata's co-founder Jurgen Griesbeck to discuss their ambitious plans and discover the extraordinary inspiration behind the venture...
There is no hint of bombast. Jurgen Griesbeck is softly spoken. As a result, it takes time for the weight of the words to hit home. "You could argue that football is one of the very few movements that could inspire the idea of one humanity," says the 52-year-old German.
"Religions and political leaders actually struggle to achieve that but if we really aim for the stars this could be something beyond aligning an industry behind doing something for social good. It could be an example of how the world could and should work. It is much more than just a project."
It is two months since Juan Mata launched the Common Goal initiative, a pledge to give one per cent of his salary to charity. He has since been joined by Mats Hummels, Giorgio Chiellini, Alex Morgan and Megan Rapinoe. A sixth player, Serge Gnabry, was confirmed on Thursday.
But the kernel of the idea began long ago. In Medellin, Colombia, in 1994 to be precise. It was then that Griesbeck, Common Goal's co-founder alongside Mata, was inspired to abandon his academic studies in the country to devote his life to utilising football for good.
The catalyst was the murder of Andres Escobar, Colombia's captain at that summer's World Cup in the United States. Escobar had scored an own goal in the defeat to the United States. Six days later he was killed in a Medellin car park. Shot six times with a handgun.
"I went to university the next day and told them I would not be coming back," recalls Griesbeck, who was in the country doing a field study as part of his PhD. "I handed over my assignment and started to think about how to build a legacy out of what had happened.
"It was a bad time in Medellin. There were about 5,000 dead young people every year just in the city. I could see that football created the possibility of non-violent communication and a peaceful dialogue. From there to translate it into everyday life, that was the initial step."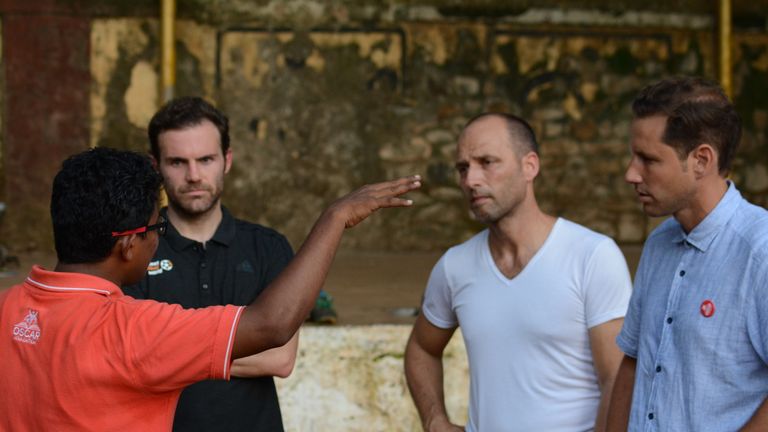 Griesbeck launched Football for Peace in Colombia and then something similar back home in Germany. He understood that by developing a network of charitable organisations he could create something much more powerful and efficient, forming streetfootballworld in 2002.
"Today we are 125 organisations working out of 80 countries," he says. "On a daily basis we are working with two-and-a-half million young people and there are so many individual stories we have come across over the years. I admire the leadership shown by people.
"They identify a problem locally and see that there is nobody taking care of it, not the government, nobody, so they create the solutions out of nothing. Often they face life-and-death risks with no resources but they still do what they need to do.
"There are also the young people who are just ignored by society but through football are integrated into that society and find a future. It inspires them to be someone in life and convince them that they can create a sustainable livelihood out of their own skills.
"Football attracts them and allows them to build trust with other people. It exposes them to a dignified environment and makes them believe in themselves. There are so many stories, whether it is girls in India, HIV positive people in South Africa or homeless people in the UK."
It is clear that football's power is already being mobilised. FIFA and UEFA have projects of their own. Many players have foundations in their name. But what was missing was the big idea. Griesbeck feels the time has come to stop acting in isolation and do something bigger.
Player foundations, in particular, can prove problematic. Administrative costs can spiral out of control with studies suggesting up to 80 per cent of them are underperforming. Many close down. Some have even found themselves investigated by the Charity Commission.
'Power for social good'
"Many times there is not the necessary expertise in place," explains Griesbeck. "So from an efficiency perspective, relative to the amount of money that is put into these foundations and the administrative costs behind them in order to make them happen, it is inefficient.
"I think in the first instance, any player looking to do something should be applauded. Hats off to them. But then they need help. They need to do it with the right motivation behind it and listen to the experts in that social field with the efficiency knowledge behind it."
Griesbeck is keen to stress that it does not need to be a choice between a foundation and Common Goal. "This is more of an attempt to embed philanthropy at the core of what football is about," he adds. "This is why we talked about one per cent and not 10 per cent.
"The idea was to say that football has this massive power for social good so why don't we make it part of what football is all about. Let's take one per cent of everything that is generated from football, put it into a central fund and maximise its impact.
"Let's just do it and make the new 100 per cent in football, the 99 per cent instead. We can integrate this power for social good. With the football industry having developed into an economic powerhouse in the last 20 years, we felt it was the right time."
Griesbeck was not alone. There were other people in football increasingly uncomfortable with the staggering wealth generated by the game. People uncomfortable with the juxtaposition between the richest players and the poverty-stricken fans who adore them.
People like Juan Mata.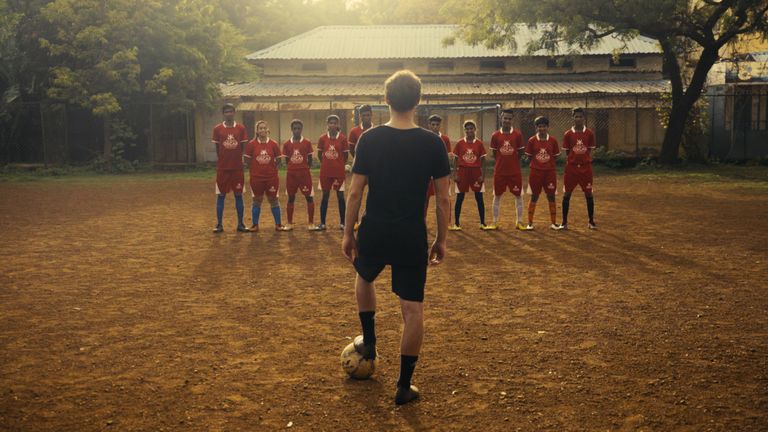 "My initial awareness of Juan as a person came from a Spanish television interview where he said that football is happening in a bubble and that real life was happening outside," says Griesbeck. "He also said that he would actually be prepared to accept a pay cut.
"We did further research into the person and we saw the integrity of the man. We saw that he was walking the talk. So we linked up with him through a shared friend and it clicked very quickly. We realised it was something that we could actually do together.
"We ended up more or less co-creating it. Very genuinely, I thought it was quite courageous of him. Juan is someone who believes in it, who lives up to it and who is in a position to talk eloquently about it. He has captured people's imaginations.
"Now people are starting to follow him. I also think that shows this was the best way to go about it strategically. The players themselves have to lead it. That is quite powerful. A lot of people are now really attracted by the idea of what it can be if everyone gets behind it."
Griesbeck has been overwhelmed by the public response. He has received long letters from people who are proud to be football fans again. The man who can now reconcile his love of the sport with his beliefs. The woman who can finally see light at the end of the tunnel.
But there is still some scepticism. Outside of football there are what Griesbeck describes as the "sarcastic comments" by those who say a one per cent donation is hardly worthy of praise. Within the game, there is caution about do-gooders seeking a slice of the pie.
"There is still a huge protective wall around most players," Griesbeck admits. "People try to avoid players actually thinking about what they do. Clubs and agents want them to focus on just playing football because this is the immediate value they get out of the players."
But such logic could be flawed. What if players are better outside of the bubble? "They could perform better because they feel better about who they are and what they do when there is a bigger purpose behind it than just playing football and winning trophies," he adds.
"Before being a football player they are human beings and they feel the same as the rest of us do. So they want to be in charge of their own lives. I think people will be surprised to see that players will be very open to this proposition and actually feel empowered by it."
While five players have been announced so far, many more are signed up. Some are well known, others are not. All have a story to tell. All are ready to contribute by playing the game they love. "These are football players united by this shared vision," says Griesbeck.
The ambition is for this to extend well beyond the playing careers of Mata and the rest. For example, it is anticipated that those involved will continue to contribute during their coaching and media careers. "The idea is to make this the standard," adds Griesbeck.
In doing so, it could also restore the game's standards at a time when it risks being diminished by the ever-growing gulf between the richest and poorest in society. As a result, maybe Common Goal can even help to save football from itself.
"We believe this is an investment," Griesbeck goes on. "It is a donation but from a football industry perspective it is an investment with a huge return. Reputation is one thing but we are talking about lifting a big part of the bottom billion people into an active part of society.
"Many of those billion people love football. In many cases, they have survived thanks to football. They will definitely be consuming football if they are in a financial position to do so. So there is a lot that football stands to gain from Common Goal.
"If everyone can get behind it, this is something that could raise 300 to 500 million pounds a year. This sounds like a lot of money but for everyone involved it is just one per cent to the 99 per cent. I think it would be a very clever investment."
And an unexpected legacy of the tragic events in Medellin 23 years ago.