Manchester United and Chelsea meet on Sunday, live on Sky Sports, with one player who has played for both clubs' managers under scrutiny.
Paul Pogba developed into one of the most sought-after midfielders playing for Antonio Conte at Juventus, but under Jose Mourinho this season his form has stalled and his performances have been criticised.
So how did Conte get the best out of Pogba? James Walker-Roberts takes a look...
Left of a three? Middle of a three? Pushed further forward?
'Where is Paul Pogba's best position?' has been the seemingly unanswerable question since his arrival at Old Trafford.
Jose Mourinho does not yet seem to have the solution, with Sky Sports pundit Graeme Souness saying this month that he is "a country mile from being a great player" and he has an "inability to grasp the responsibility that comes with being a central midfielder".
So how does Mourinho get the best from Pogba? He could do worse than ask his opposite number this Sunday when Manchester United host Chelsea in the Premier League, live on Sky Sports.
Antonio Conte signed Pogba as a 19-year-old from United in 2012 when he was head coach of Juventus and worked with him for the next two years. In his first year under Conte, Pogba started 18 Serie A games, in his second he started 45 matches in all competitions. Juventus won Serie A by 11 points in the first season, in the second they broke the 100-point mark and won by 17 points. Pogba became a key figure.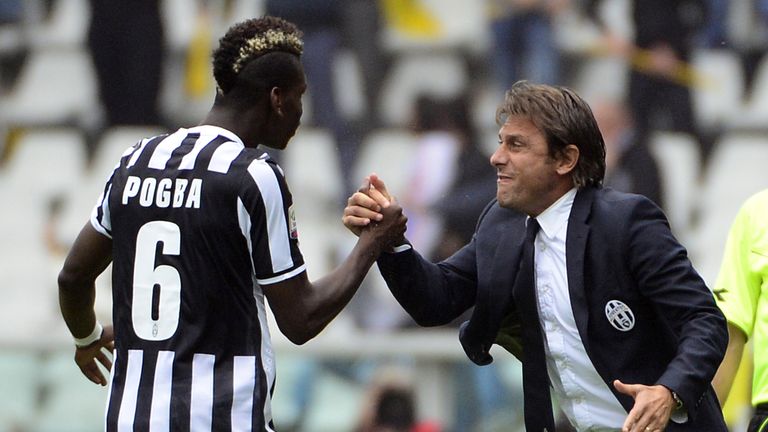 As now with Chelsea, Conte's preferred formation was a 3-5-2, with Pogba initially played in a midfield three on the right or left of Andrea Pirlo, who said of Pogba: "I will always remember the first day he trained at Juventus. He was only young, but we could see he was special."
In December 2013, Pogba won the Golden Boy award for the best young player in Europe. "In the space of a year and a half, Pogba has developed in an exceptional way," said Conte. "He's got all the potential to reach the very top."
He would continue to develop into a key player under Conte and in the 2013/14 season started 33 of 38 games in Serie A for Juventus, providing seven goals and seven assists. Perhaps significantly for Pogba's development was the fact Juventus had a clear and continued style and identity under Conte. Not only did they have the midfield three and overlapping full-backs in Kwadwo Asamoah and Stephan Lichtsteiner but they had a second striker in Carlos Tevez who dropped back to receive the ball. Pirlo, who would be regularly man-marked, would control the tempo and Pogba and Arturo Vidal would be given freedom to get forward.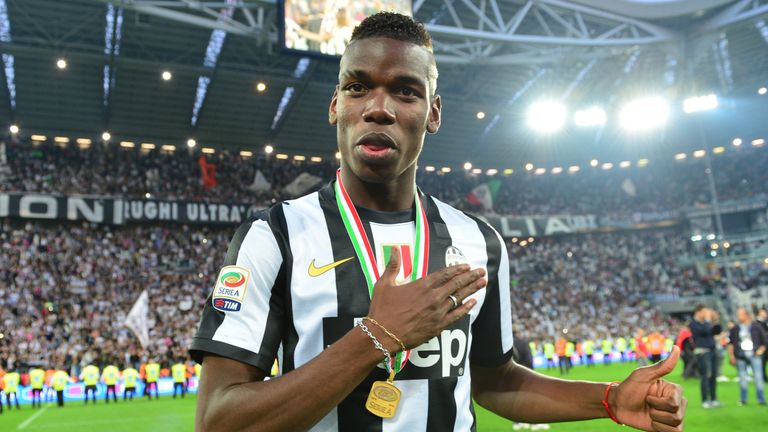 It was under Conte that Pogba started playing great football...Conte was very important for him because he launched him
"It was under Conte that Pogba started playing great football," says Sky Italy's Francesco Cosatti.
"He changed from being a young player who arrived from Manchester United for nothing to one of the key players of the team. Conte was very important for him because he launched him."
Cosatti adds that Conte was "harsh" on Pogba when he needed to be, such as in 2012 when he dropped the midfielder for two matches after twice turning up late for training.
"There are some rules to be respected and the leader of the group, who is Antonio Conte, decided on this course of action," said Juventus director Beppe Marotta at the time. "It is not punishment, but rather educational for a young player like Pogba."
Conte also did not hesitate in criticising Pogba, even after he scored a superb goal against Sampdoria in January 2014. "Tonight Pogba could've done a lot better," said Conte. "I'm not joking! I've certainly seen better performances from Paul. At times the goal fogs the vision of the whole game, but I get angry as people forget everything around it."
However, a few weeks later Conte was effusive in his praise of the 20-year-old after a match against Torino. "Pogba was definitely more solid in midfield, he fought for every inch defensively and I think this was a very important game for him tonight. He's got great potential and could be a great player both offensively and defensively for Juventus. That is me saying this, remember I used to be up and down the field myself in my playing days. Paul can fulfil his potential and become a great champion. It's our duty to make him grow in the right way in order to understand the game and adapt to different situations."
Conte has done nothing but push me...he has shown he is not afraid to give me a chance, and that age does not mean a thing
As Conte also tried out a 4-3-3 with Juventus, so Pogba's positions changed. There was even debate then over what his best position was - a mediano, centrale, regista or maybe a mezzala; the latter an Italian term that means false winger and a midfielder who drifts out to the flanks.
Pogba was able to excel in the latter role under Conte as he was largely deployed on the left-hand side of the three in midfield. But whatever Pogba's position, he continued to catch the eye under Conte, drawing comparisons with, among others, former Arsenal and France midfielder Patrick Vieira.
Vieira's take on that? "Compared to me, Pogba is more attacking, whereas I was more defensively-minded," he told France Football in March 2014. "He pushes forward more and therefore scores more goals. He is also better on a technical level and is certainly more talented than I was...In a three-man midfield I think it suits his style of football."
Pogba's effectiveness and ability to express himself with more freedom was helped by playing alongside the likes of Pirlo, Vidal, Sami Khedira and Claudio Marchisio. But it seemed Conte was also clear in how to get the best out of him and utilise him in his most effective roles.
"Conte has done nothing but push me," said Pogba after his debut season in Turin. "It is easy to end up nowhere, so I have to keep working hard. It is my first year, but the coach has shown he is not afraid to give me a chance, and that age does not mean a thing."
It says much about Pogba's progress under Conte, and then Massimiliano Allegri, that he joined Juventus on a free transfer and left as the world's most expensive player. Perhaps Mourinho needs to look back to see how to get the best out of Pogba going forward.
Watch Manchester United v Chelsea live on Sky Sports Premier League from 2pm on Sunday