Premier League clubs spent £1.24billion during the summer transfer window - but how much did your team spend?
The total expenditure was just over £200m shy of last summer's total but smashed the £1billion threshold for a third year running.
Liverpool splashed the most cash with an outlay of £177m - shelling out £67m on Roma stopper Alisson, in addition to adding Naby Keita (£52.8m), Fabinho (£43.7m) and Xherdan Shaqiri (£13.5m) to their ranks.
Chelsea were the second biggest spenders with £128.6m spent - primarily from splashing a window-topping £71.6m on Athletic Bilbao 'keeper Kepa and another £57m on Napoli midfielder Jorginho.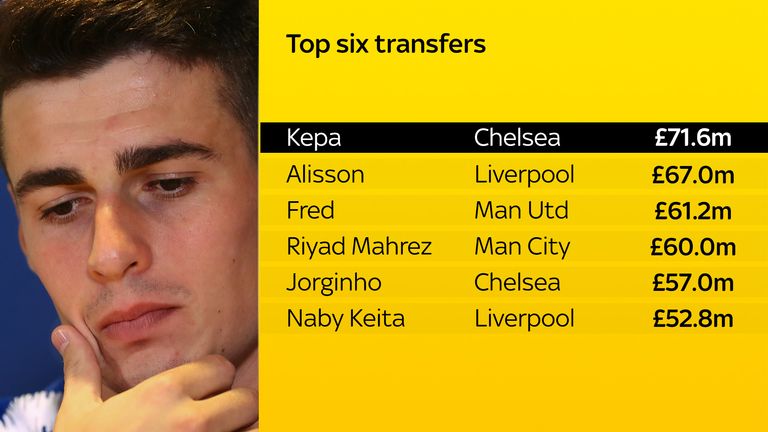 Incredibly, Fulham were next on the list with £105.3m - becoming the first newly-promoted club to smash the £100m transfer threshold in a window.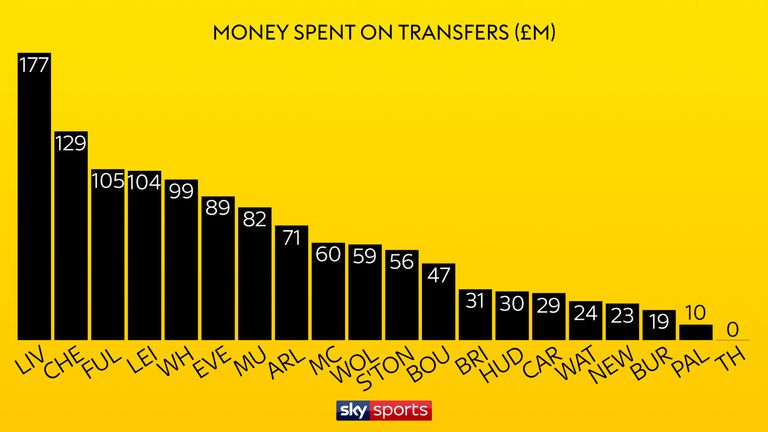 Leicester also spent heavily on seven new players with a £104.3m outlay, topped by Championship prospect James Maddison (£24m) but also secured the services of former West Brom captain Jonny Evans for just £3.5m.
Manuel Pellegrini's West Ham spent £99m, followed by Everton (£88.5m), Manchester United (£81.7m), Arsenal (£70.6m), Manchester City, Wolves and Southampton.
At the other end of the scale, Tottenham did not spend a penny or sign a single player, while Crystal Palace were also frugal spenders with £9.5m on three players - including scooping Schalke youngster Max Meyer on a free transfer.
Other clubs that spent below-average totals included Burnley (£18.5m), Newcastle (£22.5m), Watford (£24m), Cardiff (£29m), Brighton (£31.3m) and Bournemouth (£47.2m).
Income from transfers
Leicester topped the league for player sales, cashing in £60m from the sale of Riyad Marez to Manchester City, while Newcastle collected £43.5m - primarily from selling Aleksandar Mitrovic (£27m) and Mikel Merino (£10m).
Watford collected £40m from Richarlison's move to Everton and Chelsea mitigated their outlays after receiving £35m for Thibaut Courtois and £3.5m for Jeremie Boga.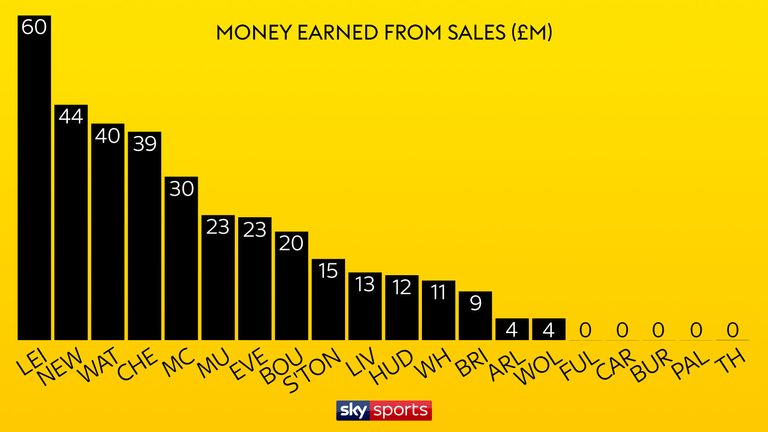 Manchester City received £30.2m, followed by neighbours Manchester United (£23.1m), Everton (£22.7m), Bournemouth (£20m), Southampton (£15m) and Liverpool (£12.5m).
Tottenham did not receive any notable cash from player sales and recorded a neutral balance during the window - despite offloading seven players, two for undisclosed fees.
Like Spurs, Crystal Palace, Burnley, Cardiff and Fulham all retained their key players and failed to make any cash from sales over the summer.
In terms of the overall net spend, Newcastle made the most with the accounts boosted by £21m from overall transfer activity, while Watford (+£16m) were the only other club to record positive figures.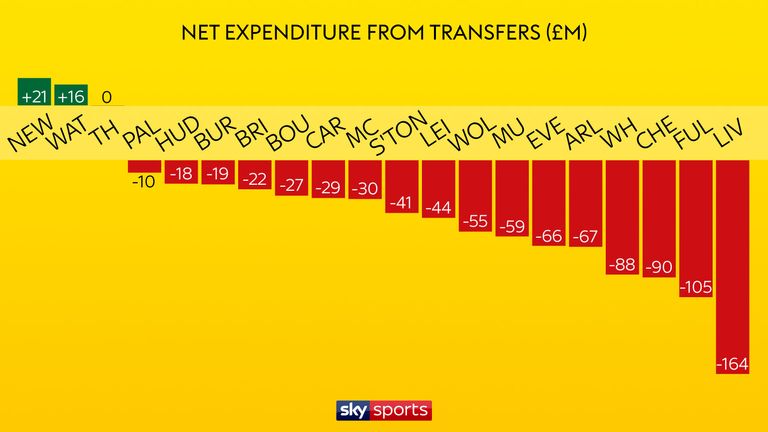 At the other end of the scale, big-spenders Liverpool recorded the biggest deficit with -£164.5m, followed by Fulham (-£105.3m), Chelsea (-£90.1m), West Ham (-£87.9) and Arsenal (-£66.6m).
Fulham also drafted a league-topping five players on loan, while Wolves signed three players on a temporary basis, and Newcastle and Cardiff both loaned two.
In terms of loaning out players, Chelsea topped the pack again with 22 players shipped out for experience, followed by Manchester City (13), Liverpool (10), Everton and Watford (both seven).