Arsenal and Liverpool have both made high-profile errors in attempts to pass from the back this season - so is it worth the risk?
Petr Cech has encountered numerous haphazard moments while trying to make short passes under new boss Unai Emery, while Alisson made an error leading to a goal when trying to force a short pass in a 2-1 win at Leicester.
Despite those mistakes, goalkeepers attempting to play out from the back has become a growing trend in the Premier League, with Manchester City boss Pep Guardiola another manager encouraging his shot-stopper to use his feet.
City's Ederson is among the most accomplished ball-playing 'keepers in the division, with 76 per cent of his passes going short to a team-mate.
Across the Premier League there has been a season-on-season rise in the proportion of goalkeeper passes being played short, rising from 21 per cent in 2014/15 to 31 per cent this term.
As a result, goalkeeper passing accuracy has picked up too.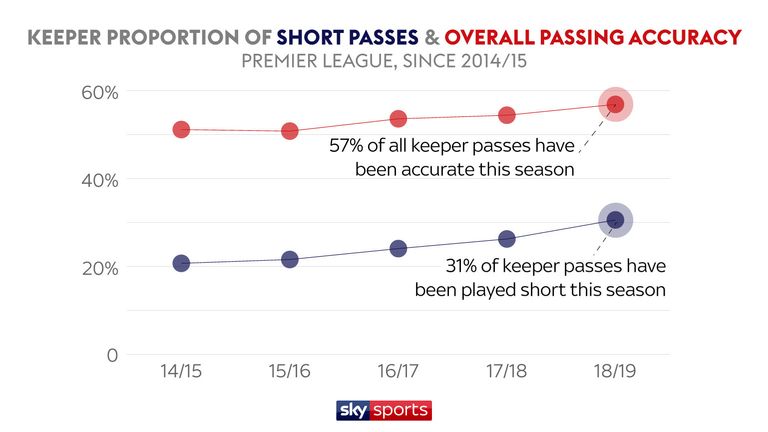 However, 70 per cent of goalkeeper passes still go long, leading to the relatively low 57 per cent passing accuracy among Premier League 'keepers.
What is a long pass?
Opta defines a long pass as a ball that travels in excess of 35 yards.
There's a divide in the Premier League. Typically, goalkeepers at Big Six clubs look to play the ball short, while 'keepers outside that elite bracket more often go long. The exception is Manchester United's David De Gea.
The graphic below shows how many short and long passes every top-flight 'keeper has attempted per 90 minutes and their overall passing accuracy this season.
Tottenham, Arsenal, Chelsea, Manchester City and Liverpool stoppers all make more than 15 short passes per game - with Ederson recording a league-low average of just six long passes per game.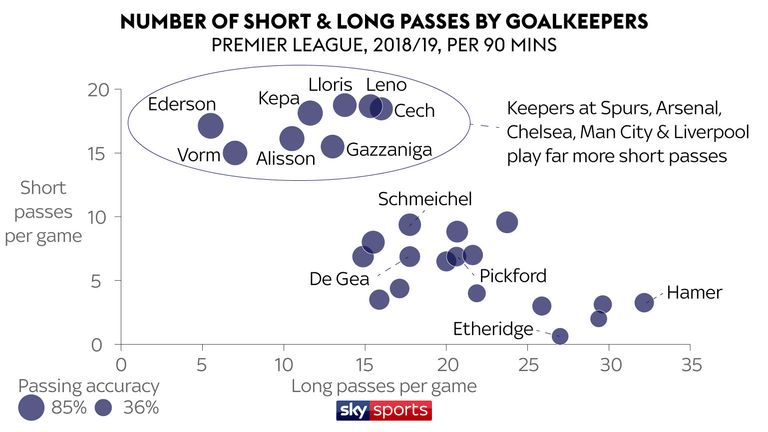 At the other end of the scale, Cardiff stopper Neil Etheridge has only attempted five short passes during the entire season and averages 27 long passes per game for his typically direct side - with a league-low accuracy of 36 per cent.
There are clearly two different approaches. So is the risk of encouraging your goalkeeper to play out from the back worth it? And does it result in passing sequences that produce shots or goals?
Goalkeeper involvement in shots and goals
Opta record 'open-play sequences'. These are passages of play with one team in possession and come to an end with a shot, stoppage in play or when they lose the ball.
By examining the number of sequences involving goalkeepers that lead to shots or goals, we get an indication of how often their passes - long or short - lead to a chance being created.
The results don't paint a picture of goalkeepers sparking match-winning attacks - revealing goalkeepers have been involved in passing sequences leading to 102 shots this season, of which 11 resulted in a goal.
In short, just five per cent of the 225 goals scored so far included a string of open-play passes involving the 'keeper.
Short passing from the back has been more advantageous, though. Short-pass sequences have led to 64 shots and eight goals, while long passes have been half as effective, with 38 leading to shots and three to goals.
Keeper sequence involvement
| | | |
| --- | --- | --- |
| Short pass | 64 | 8 |
| Long pass | 38 | 3 |
Ederson - the only goalkeeper with a direct assist this season after Sergio Aguero latched onto his 85-yard goal-kick - has been involved in a league-topping 12 open-play passing sequences leading to a shot or goal this season.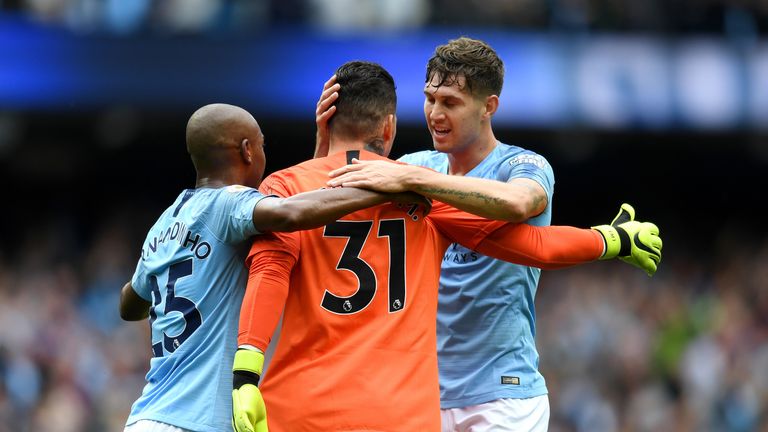 Interestingly, Chelsea's Kepa - who largely plays his passes short - has contributed to four open-play sequences leading to goals, of which three came from long balls.
As the graphic below shows, Southampton's Alex McCarthy, Alisson and Cech rank highly, while Everton's Jordan Pickford and Watford's Ben Foster rank bottom with just one passing sequence ending in a shot - despite both playing the full 720 minutes this term.
In addition, Spurs reserve stoppers Michel Vorm and Paulo Gazzaniga have both recorded impressive ratios from limited game time.
Conclusion
There are two schools of thought in the Premier League, with the Big Six sides - apart from Manchester United - encouraging their 'keepers to largely pass short, while the others prefer to go long.
While this can lead to some nerve-jangling moments, these 'keepers are increasingly looking to pass the ball short.
Ederson and Kepa have also shown that accurate long passes can split defences, too, and hitting the right pass at the right time is key.
However, despite the focus on playing out from the back, the vast majority of goals scored in the Premier League do not come from sequences involving the scoring team's 'keeper, but it does help teams retain possession.
Will Pickford go long when England face Croatia in the UEFA Nations League? Watch Croatia v England live on Sky Sports Main Event from 7pm on Friday


If reading on skysports.com, comment below to get involved in the debate, but please adhere to our House Rules. If you wish to report any comment, simply click on the down arrow next to the offending comment and click 'Report'.