West Brom manager Tony Pulis says injuries have cost Arsenal the consistency to challenge for the title this season.
A run of four wins from 13 Premier League games since mid-January means Arsenal's chances of winning the Premier League are all but over ahead of Thursday's game against Pulis' West Brom, live on Sky Sports.
Arsene Wenger is facing unprecedented criticism from an increasingly vocal section of Gunners supporters and again dealt with questions about his future on the eve of the Albion game.
But Pulis, who once accused Wenger of "moaning like a drain" during his time as Stoke boss, believes injuries to the likes of Santi Cazorla, Alexis Sanchez, Danny Welbeck and Jack Wilshere this term mean the Frenchman has a genuine hard-luck story.
"Arsenal can beat any team in Europe on their day," he said. "And I think Arsene has been incredibly unlucky with injuries this season. He has missed big players at important times.
Live Ford Football Special


"Once all those players are fit, he has got a strong enough squad to win this league. He will be disappointed with the inconsistency but all the other clubs will be saying the same thing, apart from Leicester and Tottenham."
West Brom have lost back-to-back games since hitting the 40-point mark earlier this month, but Saido Berahino missed two penalties during the weekend defeat to Watford.
Pulis said: "The aim has to be to get as many points as we can. The next two games are going to be tough.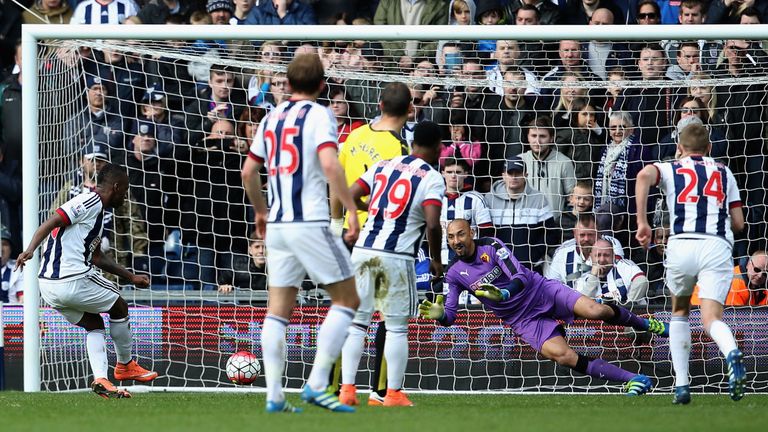 "I am desperate to get to the next stage and the next stage. And as we have seen, we have played well enough in the last two games to pick points up and not got points.
"If you look at the stats, the running stats against Manchester City and against Watford were fantastic. We have had opportunities in both games to score goals and we have missed those chances."
Pulis confirmed Berahino will remain on penalty duty, saying: "He will pick the next one up and take that as well and hopefully he will smash it into the back of the net."