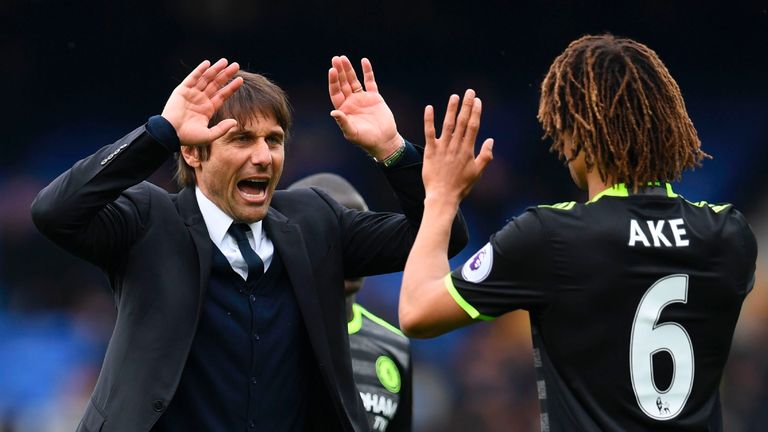 Who impressed over the weekend in the Premier League and who disappointed? Former England manager Steve McClaren gives his grades.
There were wins for Chelsea and Tottenham while Manchester United and Manchester City were held and Sunderland were relegated after defeat to Bournemouth.
So did your team get an A+, an F, or something in between? Premier League Daily guest McClaren takes us through his weekend grades...
Premier League results
Southampton 0-0 Hull
Stoke 0-0 West Ham
Sunderland 0-1 Bournemouth
West Brom 0-1 Leicester
Crystal Palace 0-2 Burnley
Man Utd 1-1 Swansea
Middlesbrough 2-2 Man City
Everton 0-3 Chelsea
Tottenham 2-0 Arsenal
Watford v Liverpool (MNF, 8pm)
Chelsea - A+
A great win for Chelsea at Everton. It was probably the last big hurdle before they go on to win the title. Antonio Conte has really turned things around this season and they are hard to beat and have players who can score goals.
Spurs - A+
Excellent from Spurs. They continued their fantastic form and kept the title race alive. They have carried on from last season and continue to impress. Like Chelsea, they have the right balance in the team.
Burnley - A
Sean Dyche has done a great job this season and to get their first away win of the season at Palace is a really big result that should be enough to keep them in the Premier League. The pressure has been on them after their recent form.
Hull - B+
They haven't got many away points this season but their draw at Southampton was well deserved and the goalkeeper takes great credit for the penalty save at the end.
Bournemouth - B+
Another excellent season for the Cherries. They look as though they will comfortably survive in the end and picked up a good away win.
Leicester - B+
It was a smash-and-grab win for the Foxes with Jamie Vardy scoring again. They are now comfortably out of danger which is impressive given their situation a few months ago.
Swansea - B+
A good point at Old Trafford and it could have been even better. They will be buoyed by this performance and their display against Stoke in their last game as they look to avoid relegation.
Middlesbrough - B
It was a very good performance from Boro but they failed to get over the line and they have it all on now to stay in the Premier League. They needed to win this one to really give themselves a better chance of survival.
Stoke/West Ham - B-
The 0-0 scoreline says it all. Two teams who are scrapping for every point in mid-table and there wasn't much in it. West Ham haven't built from last season and they have lost their momentum, partly due to the new stadium.
Mark Hughes has done a good job at Stoke, quietly going on and doing their job, not really getting near the relegation zone, and they have picked up some good results.
Southampton - C
They have been a little disappointing at home and haven't scored enough goals. The crowd made that known on Saturday. It wasn't a great result for Saints.
Sunderland - C
Disappointment for Sunderland as they were relegated. It's been a long wait and it has finally happened. The mood was not good at the ground. Now Sunderland's future depends on the owner's ambitions and how they will back their manager. But who will the manager be and will he be given the resources to change what needs to be changed?
West Brom - C
Tony Pulis has done a great job but their form has faded and they will be bitterly disappointed with defeat at home.
Crystal Palace - C
Palace beat the big teams and get themselves in a good position to pull away from the bottom three, so this will be so disappointing. They have to travel to Manchester United and Manchester City in two of their last three games.
Manchester United - C
They will very disappointed not to beat Swansea with some tricky fixtures left to play. It's one they would have really expected to win, and it could have been significant with Man City and Arsenal dropping points.
Manchester City - C
They would have expected to win this game. They did show character to come back twice but they could have strengthened their top-four place with a win.
Everton - C
Everton were in the game for most of it against Chelsea but they will be disappointed with the final result.
Arsenal - C
They were overpowered, outplayed and they did not put in their best performance in a derby game.