Man United to beat Man City to top-four Premier League place, says Sky Sports Premier Predictor
By Harry Carr
Last Updated: 04/05/17 7:13pm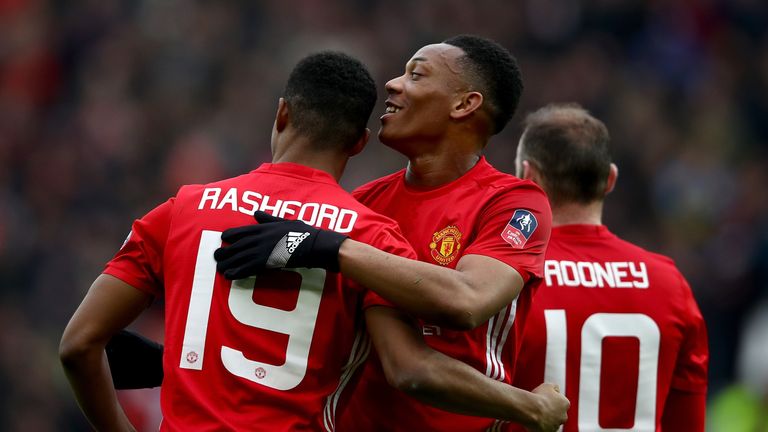 Manchester United will beat Man City to top-four Premier League place, says the Sky Sports Premier Predictor.
Jose Mourinho's side are currently one point behind their neighbours and face a tough test at Arsenal on Sunday.
However, the Sky Sports Premier Predictor - which uses an algorithm to rank results, previous performances and the difficulty of upcoming fixtures - says United will win that game at the Emirates and finish the season with 73 points, one ahead of City.
The Predictor also expects Chelsea to wrap up the title, but says at the other end of the table Middlesbrough and Swansea will be relegated with Sunderland.
As for this weekend's other games, the Predictor is tipping victories for Tottenham, Leicester and Hull City. Read on to see the full predictions - and then click here to listen to the latest Sky Sports Stat Attack podcast.
Premier Predictor Premier League table 2016/17
| Team | Title chances | Top 4 chances | Relegation chances | Simulated points total |
| --- | --- | --- | --- | --- |
| Chelsea | 88% | >99% | <1% | 89 |
| Tottenham | 12% | >99% | <1% | 85 |
| Liverpool | <1% | 88% | <1% | 74 |
| Man Utd | <1% | 67% | <1% | 73 |
| Man City | <1% | 40% | <1% | 72 |
| Arsenal | <1% | 5% | <1% | 67 |
| Everton | <1% | <1% | <1% | 64 |
| West Brom | <1% | <1% | <1% | 51 |
| Southampton | <1% | <1% | <1% | 46 |
| Watford | <1% | <1% | <1% | 45 |
| Stoke | <1% | <1% | <1% | 45 |
| Bournemouth | <1% | <1% | <1% | 44 |
| Leicester | <1% | <1% | <1% | 44 |
| Burnley | <1% | <1% | <1% | 42 |
| West Ham | <1% | <1% | <1% | 42 |
| Crystal Palace | <1% | <1% | 1% | 41 |
| Hull | <1% | <1% | 24% | 37 |
| Swansea | <1% | <1% | 75% | 35 |
| Middlesbrough | <1% | <1% | >99% | 30 |
| Sunderland | <1% | <1% | >99% | 25 |
Premier Predictor weekend predictions
| Home team win | Draw | Away team win |
| --- | --- | --- |
| Bournemouth - 41% | Draw - 30% | Stoke - 30% |
| Arsenal - 29% | Draw - 29% | Man Utd - 41% |
| Burnley - 41% | Draw - 30% | West Brom - 5% |
| Chelsea - 90% | Draw - 5% | Boro - 5% |
| Hull - 53% | Draw - 27% | Sunderland - 20% |
| Leicester - 60% | Draw - 24% | Watford - 16% |
| Liverpool - 73% | Draw - 17% | Southampton - 10% |
| Man City - 73% | Draw - 14% | Palace - 8% |
| Swansea - 22% | Draw - 25% | Everton - 53% |
| West Ham- 18% | Draw - 18% | Tottenham - 64% |