Premier League grades: West Ham, Leicester and Swansea impress Tony Gale
Last Updated: 08/05/17 3:24pm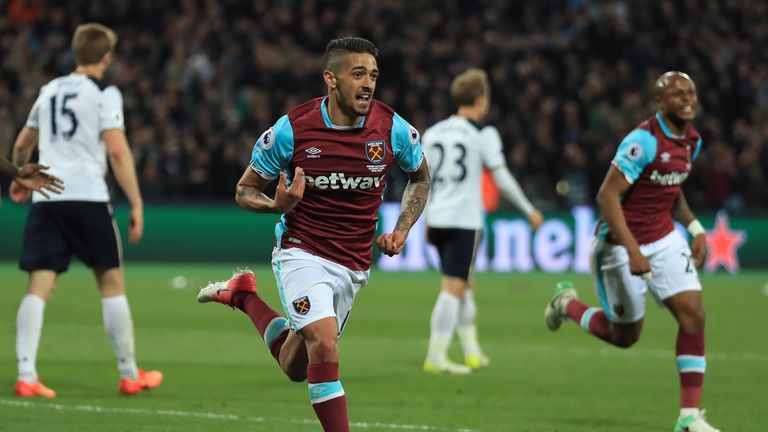 Who impressed over the weekend in the Premier League and who disappointed? Tony Gale gives his grades.
Weekend results
| | |
| --- | --- |
| West Ham 1-0 Tottenham | Leicester 3-0 Watford |
| Man City 5-0 Crystal Palace | Swansea 1-0 Everton |
| Bournemouth 2-2 Stoke | Liverpool 0-0 Southampton |
| Burnley 2-2 West Brom | Arsenal 2-0 Man Utd |
| Hull 0-2 Sunderland | Chelsea v Middlesbrough (MNF) |
West Ham - A+
Slaven Bilic's side were up for this game and it was a great performance, bearing in mind it was the big one of their season. They satisfied their fans and they satisfied themselves.
Leicester - A
A result which should secure Craig Shakespeare the job, he needed a good end to the season to convince the owners and it looks like he's done just that.
Man City - A
Almost the perfect performance, but they were playing against a Crystal Palace side without central defenders. I can't see them not making the top four and the difference Vincent Kompany makes is remarkable.
Sunderland - A
It was a great performance but too little, too late. I think there'll be a management change there as well at some point but it should be recruitment they're looking at. They've got to get their house in order.
Swansea - A
They kept a clean sheet, and when you do that and take your chances at the other end you have a chance of staying up, which I think they'll do now. 1-0 is the perfect result at this stage of the season.
Arsenal - A-
They played against a Man Utd side who were just coming to sit and defend, so it denies them top marks. It's too little, too late for the top four, but I still think Arsene Wenger will stay.
Southampton - A-
You have to give Southampton credit. Claude Puel has taken a bit of the flair out of them but they've become a very difficult side to beat and it was a good draw at Liverpool.
Bournemouth - B
The talk of the match was Harry Arter's tackle. Although there was some good stuff from Bournemouth, they did lack a little bit of something as well.
Burnley - B
You wouldn't have expected Burnley to stay up but they've done it on a low budget. It wasn't the prettiest game to watch but it was a good result to get to 40 points.
Liverpool - B
That was a poor game on Sunday! Liverpool never really looked like breaking the deadlock apart from the penalty save and they're looking over their shoulders again.
Stoke - B
Stoke have gone a bit stale under Mark Hughes. They've been safe from a long way out and haven't picked up many more points. They'll need a lot of investment over the summer to freshen things up.
West Brom - B
A good away point against a team with such a good home record. Their small squad has cost them towards the end of the season, but Tony Pulis will strengthen over the summer and they'll be even better.
Everton - B-
I expected more from Everton, they can't qualify for the Champions League anymore but it would have been nice to have a good end to the season. They didn't come to life until near the end.
Tottenham - B-
Spurs only created a couple of chances and looked a bit flat, I don't know why. Perhaps the nervousness of the title race finally caught up with them.
Crystal Palace - C
Palace played like they've packed up their season and they may have done that too early. I think they'll stay up but they might stumble over the line. They didn't really create any chances.
Manchester United - C
Jose Mourinho clearly put his eggs in the Europa League basket, which was a brave decision as anyone can lose a final. If they had beaten Arsenal they'd be on the front foot now, so I hope it doesn't come back to haunt them.
Watford - C
Their season is petering out and I'll be very surprised if Walter Mazzarri keeps his job with the way things are going. They've got to get some points but you sense they're not doing it for the manager at the moment.
Hull - D
They failed the big test, this was the 'gimme' game of the season and the one you would have wanted out of all the fixtures. They blew it, frankly.