Roy Hodgson hails Crystal Palace's first-half display against Brighton in 3-2 win
Last Updated: 14/04/18 7:52pm
Roy Hodgson hailed Crystal Palace's first-half performance in their 3-2 win against Brighton as the best since he arrived at the club.
Two goals from Wilfried Zaha and one from James Tomkins put Palace ahead at the interval but having conceded twice too they were forced to scrap for the three points that took them six clear of the drop zone.
"We are made up with it, especially given that we were made to work so hard for it in the second half," Hodgson told Sky Sports.
"I thought after our first-half performance, which was arguably one of the best performances we have given here since I have come to the club, it was a little unfortunate that we conceded two goals from the only two clear-cut opportunities that came their way.
"Of course, that meant that in the second half, if they step up their game and play a few more balls forward into our penalty area, we would have to find a way to hang on to the victory.
"I am very pleased that the players managed to do that because so many times this season we have come in after a single-goal defeat and we have said among ourselves or to the media that Palace haven't deserved that result.
"For once, it was nice to come in with Chris Hughton feeling that maybe his side were a little bit unlucky in that second half not to get the equalising goal. Sometimes you have to cling on, especially at the bottom of the table, and cling on for your victories."
Southampton's defeat earlier in the day means that Palace are now six points clear of the team in 18th but Hodgson believes there is work still to do.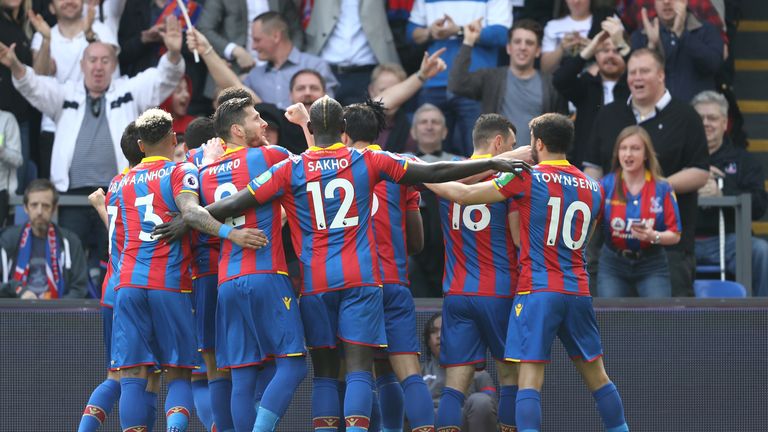 "We still need six more points, I think, and there are four more games in which to get them," he added.
"We are in there with a bunch of clubs and like those clubs we will have to keep that desire and determination going.
"If we keep that football going that we played in the first half then maybe we can play our way out of trouble."