Dermot Gallagher
Former Premier League referee
Ref Watch: Dale Stephens red card, Sol Bamba's winner assessed
Cardiff beat 10-man Brighton 2-1 to secure second Premier League win of the season
Last Updated: 10/11/18 4:33pm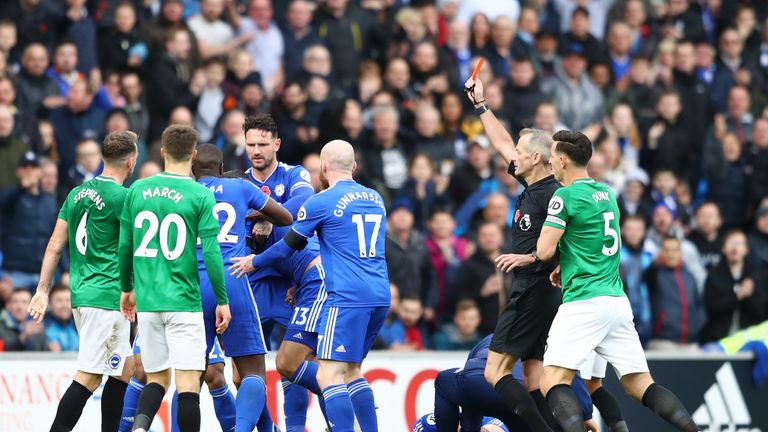 Former Premier League referee Dermot Gallagher reflected on the big refereeing decisions in Cardiff's dramatic 2-1 victory over Brighton on Saturday.
Sol Bamba's 90th-minute winner saw Cardiff come from behind to secured a vital second win of the season at the Cardiff City Stadium against 10-man Brighton.
Lewis Dunk headed Brighton into a sixth-minute lead but, after Callum Paterson's equaliser, Dale Stephens' straight red card for a lunge on Greg Cunningham shifted the game in Cardiff's favour.
The game's defining moments - Stephens' dismissal and Bamba's late winner - were the result of huge decisions by referee Martin Atkinson and his officiating team, with Brighton claiming the red card was harsh and Bamba's goal should have been ruled out for offside.
But were Brighton's protests justified? Dermot has his say...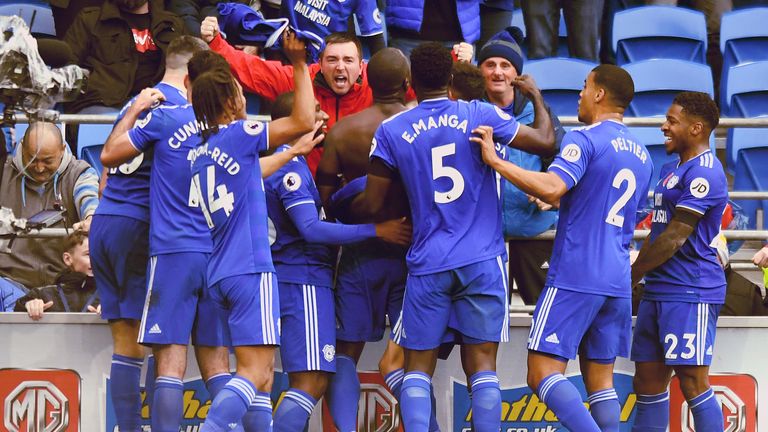 INCIDENT: Dale Stephens overruns the ball in midfield, stretches to prevent Greg Cunningham from dispossessing him but catches the Cardiff full-back on the shin with a forceful challenge. Referee Atkinson immediately brandishes a red card.
VERDICT: Correct decision.
DERMOT SAYS: "Every decision is clear-cut when you get it right. What I would say about Martin Atkinson is that without doubt, he got this right.
"It's unfortunate because Stephens wins the ball and it runs away. This is what referees are taught to watch. The ball is running away, Stephens is eager to get it back, he lunges forward, his speed and intensity is too much for the player and catches him on the ankle.
"The referee is duty bound to send him off and the good thing about it is that Atkinson is in the perfect position, has a great view of it and acts instantly.
"In his mind, he knows it's wrong, everything in his instinct tells him it's a red card, he reaches for the pocket and I think he is absolutely correct."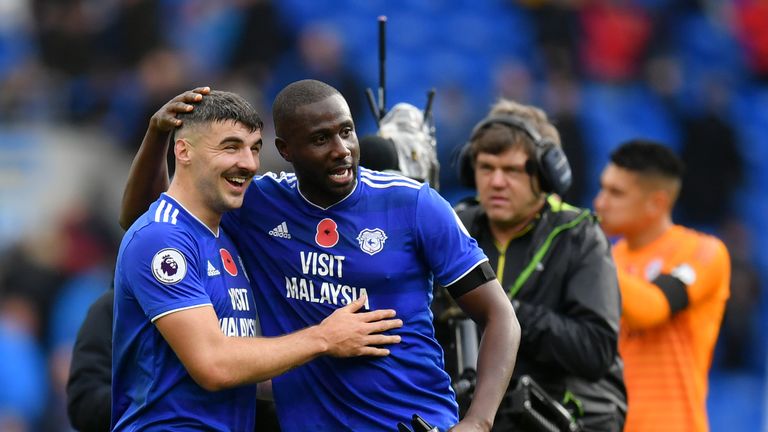 INCIDENT: Cardiff snatch victory in the final minute as Sol Bamba, after seeing an overhead kick strike the post and attempted rebound come blocked onto the crossbar, lashes home the winner from close range. Bamba appears to be in an offside position when the free-kick is played into the area, but with Junior Hoilett blocking the linesman's view, the game stands.
VERDICT: Incorrect decision.
DERMOT SAYS: "It's a really tough call. The linesman has to judge the first one when the ball comes off the Brighton player's head.
"Junior Hoilett also impacts on his vision. That was the linesman's first point of contact and, at that point, I don't think he can see where Sol Bamba is.
"In that case he is duty bound to continue play but it's a tough call for him. When you draw a line across the pitch you can see he's just offside, but only just.
"Bamba is going backwards which doesn't help the assistant and it isn't the direction for a forward to be going."