Is Bournemouth vs Liverpool the ultimate Premier League goal fest?
Eddie Howe's side frequently produce goal fests against Everton, West Ham, Manchester City and Liverpool.
Last Updated: 08/12/18 11:15am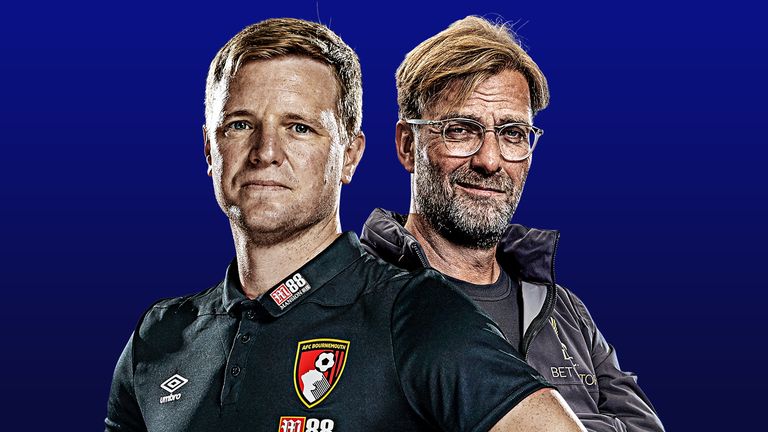 Bournemouth vs Liverpool has produced stacks of goals - but which Premier League fixture delivers the most on average?
In their six Premier League meetings, there have been 22 goals scored in matches between Bournemouth and Liverpool, with 18 of those coming in the past four match-ups.
Liverpool have usually come out on top - thrashing the Cherries 4-0 and 3-0 last season - but lost a 4-3 thriller during the festive period two years ago before a 2-2 draw in April last year.
However, there are four other regular fixtures between current top-flight sides that average more goals per game in Premier League history - although, remarkably, three of them also involve Bournemouth!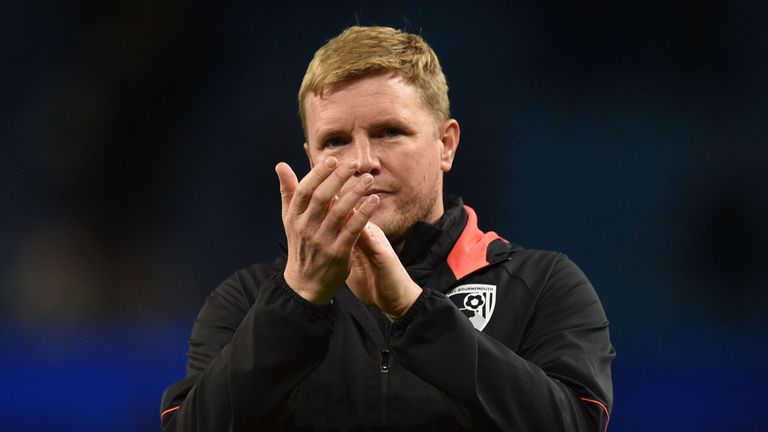 Looking at fixtures that have been played a minimum of six times in the Premier League, Bournemouth and Everton produce a league-topping 4.1 goals per game on average - with the Toffees edging the goal race on 2.3 per game.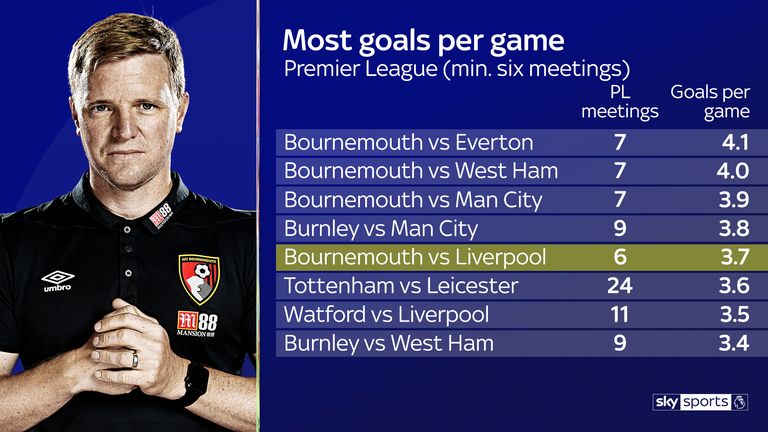 Eddie Howe's side have also seen the goals fly in against West Ham (4.0 per game), Manchester City (3.9 per game) and, indeed, Liverpool (3.7 per game).
Despite matching West Ham for goals in head to heads, the Cherries concede 3.4 goals per game against Manchester City and 2.5 against Liverpool, on average.
Tottenham and Leicester usually produce a goal-packed event, too, with an average of 3.6 goals per game from 24 Premier League meetings - with the goal share split 1.8 each.
Going right back to 1888 and looking at all matches across the top-four tiers, Newcastle and Newport County hold the record for the highest goals-per-game rate, averaging at 9.5 per game from two meetings.
The Magpies claimed a joint-record 13-0 win in 1946 before Newport enacted revenge one year later with a 4-2 victory.
Get Sky Sports Premier League to see Liverpool's trip to Bournemouth. Find out more here.