David de Gea vs Alisson Becker: Who is the better goalkeeper?
Manchester United face Liverpool on Super Sunday
Last Updated: 19/02/19 2:05pm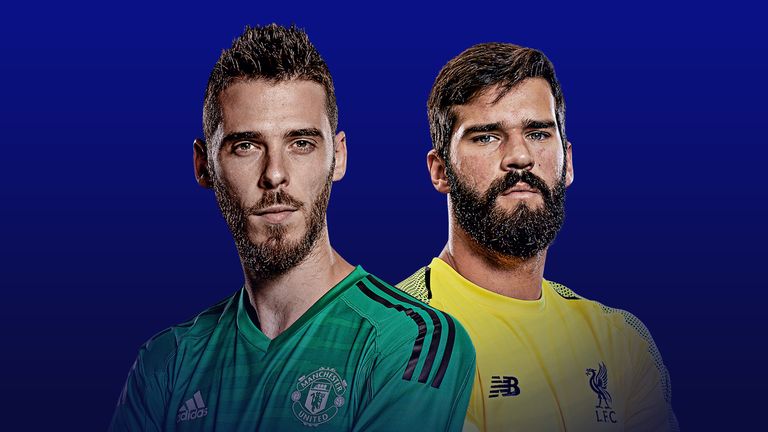 Manchester United versus Liverpool invites comparisons of all kinds but the relative merits of the two goalkeepers might make for one of the most intriguing debates on Sunday.
David de Gea's reputation as the outstanding goalkeeper in the Premier League in recent years is hard earned and well deserved, but the performances of Alisson Becker for Liverpool have been pivotal in taking his club to the top of the table this season. For the first time in a long time, is there a case to be made for Liverpool having the superior goalkeeper?
That's a big claim given De Gea's record. While it is almost six years now since he won his one and only Premier League title with Manchester United, the team's decline in fortunes has not been reflected in his own performances in that period. The Spain international has been named in the PFA team of the year in each of the past four seasons.
De Gea continues to produce the saves that others cannot, most notably in his man-of-the-match display against Tottenham at Wembley last month. De Gea made no fewer than 11 saves during the second half of United's 1-0 victory - a series of improbable stops with his feet to deny Spurs providing a reminder of his ability to delivered points for his team.
However, his form was not quite so impressive at the start of the campaign. De Gea went into the season having been blamed by many in his home country for Spain's disappointing showing at the World Cup last summer. His levels dipped a little on his return to Manchester and he managed to keep only two clean sheets in the first 17 games under Jose Mourinho.
That is reflected in the underlying statistics of De Gea's season. The post-shot expected goals data calculates the likelihood of the shots that a goalkeeper faces resulting in a goal based on where the attempt was taken from, the type of attempt and the direction in which it was hit. These numbers do not tell the tale of excellence that one might expect.
De Gea was brilliant that afternoon at Wembley. Tottenham's post-shot expected goals figure for that game was 1.5 - meaning that, on average, those shots would yield that many goals per game. But take that extraordinary performance out of the total and De Gea has actually conceded more goals this season than expected from the shots faced.
Overall, United have let in 35 goals this season. The statistics suggest that opposition shots should have resulted in 36.06 goals - so De Gea has saved one goal more than might have been expected. It is a positive contribution but nowhere near as remarkable as his record from last season when the same stats really highlighted his significance to the United team.
De Gea conceded only 28 goals in 37 Premier League games last season, ensuring Mourinho's United had one of the best defensive records in the competition. They let in only one more goal than runaway champions Manchester City but that was largely down to De Gea's excellence. The stats suggest he would have expected to concede nearly 40 goals.
Those dozen goals might have been the difference between United's second-place finish and a place outside of the top four. When De Gea stopped saving them, Mourinho had problems. Interestingly, his form under Ole Gunnar Solskjaer has been much improved - conceding six times when the data suggest those shots should have yielded nine goals.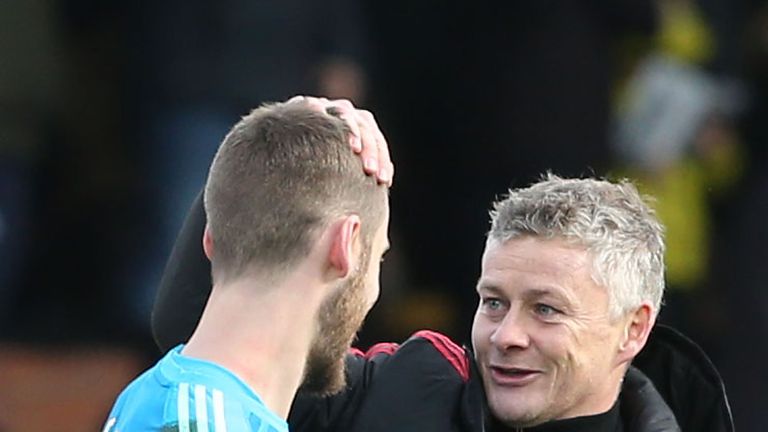 That recent form is more in line with what Alisson has been producing for Liverpool for much of the season. Despite keeping fewer clean sheets of late, Jurgen Klopp's team still boast the best defensive record in the Premier League. Indeed, their three-point advantage over Manchester City can largely be explained by the efforts of their new goalkeeper.
While Ederson has conceded 20 times from shots that suggest 20.71 goals would have been expected - a similar impact to De Gea - the difference that Alisson has made is more obvious in the numbers. The shots that Liverpool have faced come out at 19.84, suggesting that through his positioning and shot-stopping, Alisson has denied nearly five extra goals.
The Brazilian has been far from flawless. His error against Leicester back in August gifted a goal to Kelechi Iheanacho and was one of four such mistakes leading to shots this season, according to Opta. De Gea has made only one error. But Alisson has been encouraged by Klopp because he wants his goalkeeper to be proactive. It is a very different approach.
Alisson has made 15 accurate keeper sweepings this season, coming off his line to help his defence. De Gea has done that only once, partly because his default reaction is to retreat and back his prodigious shot-stopping ability. Effectively, Alisson is stopping these chances from even becoming chances and allowing Liverpool to play with a higher defensive line.
"Alisson is unbelievably important," Klopp explained recently. "They all have their specific importance, for sure, but Ali is not only the goalkeeper. He is an outfield player as well and that helps of course." This is not just because of Alisson's appetite for coming off his line but also because of his general distribution when the ball is at his feet.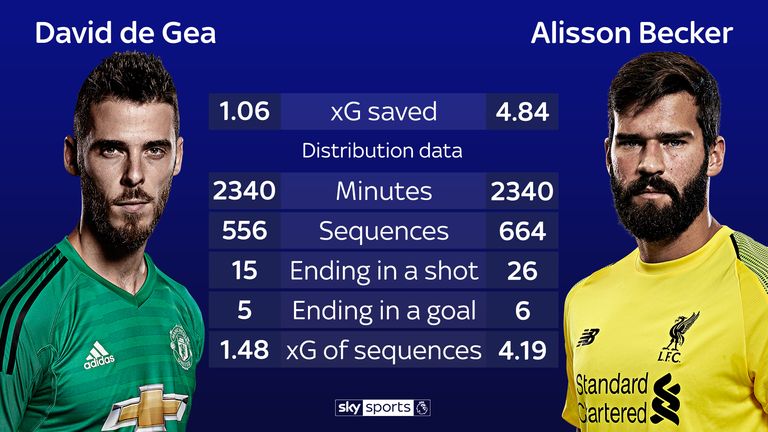 Definitions
Sequences – unique open-play pass sequences that a player was involved in.

Ending in a shot – the number those open-play sequences ending in a shot

Ending in a goal – the number of those open-play sequences ending in a goal

xG of sequences – the summed xG of the shots taken from those sequences
Opta's sequence data now helps to explain why that is so significant for Liverpool. When a goal is scored there are more players involved than just the scorer and the provider of the assist. Sequence data tracks the involvement of every player in the build-up. Alisson has been involved in more sequences leading to goals than any other goalkeeper this season.
Conclusion
De Gea and Alisson have very different styles but both are vital figures for their respective clubs. The Liverpool goalkeeper is more of a risk taker and is therefore more prone to making mistakes that could cost his team. However, Alisson's ability to sweep up and distribute the ball from the back has given his side a new dimension this season.
What is perhaps more surprising is that Alisson's shot-stopping numbers have also been top class - better even than De Gea over the course of the season. That can be explained by the dip in form that the United man suffered in the autumn. De Gea seems to be back to his best now - and that makes for a fascinating comparison when they face off this Sunday.