Manchester City and Tottenham played out an enthralling and exhausting Champions League encounter on Wednesday, and they go again in the Premier League on Saturday, live on Sky Sports.
It is the final part of an intriguing trilogy. The first two instalments came in the Champions League, as Spurs took a 1-0 lead to the Etihad before advancing 4-4 on away goals after a thrilling 4-3 affair which had it all.


Now, the Premier League takes centre stage, with City hosting Spurs at the Etihad once more in a crucial encounter as far as the title and top-four races are concerned.
With just two full days to recover and prepare for the lunchtime kick-off, City boss Guardiola stressed rest was essential as they look to bounce back from their quadruple hopes being dashed and focus on their league defence.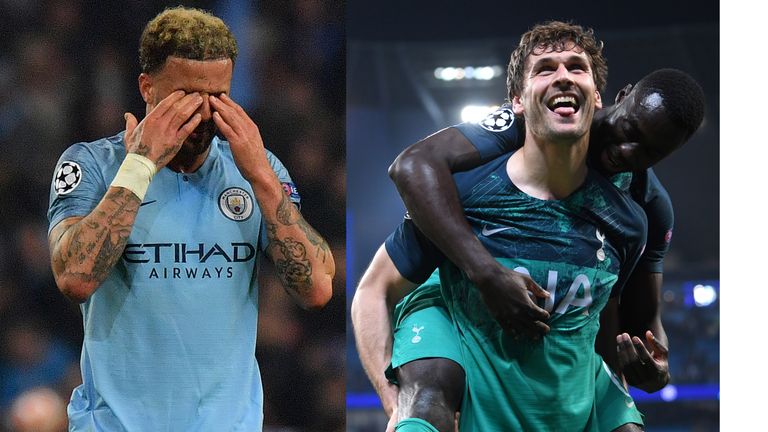 "We have to react on Saturday," Guardiola said after Wednesday's Champions League exit. "But don't think too much right now, sleep as much as possible and then we will prepare for the game.
"It's tough. It's cruel, but we have to accept it. We fought a lot, nine, 10 months for the Premier League. It's in our hands. It's tough, but we have to do it."
The Run In - Remaining fixtures
| | | | |
| --- | --- | --- | --- |
| April 21 | Cardiff (A) - SSPL | April 20 | Spurs (H) - SSPL |
| | | April 24 | Man Utd (A) - SSPL |
| April 26 | Huddersfield (H) - SSPL | April 28 | Burnley (A) - SSPL |
| May 5 | Newcastle (A) - SSPL | May 4 | Leicester (H) - SSPL |
| May 12 | Wolves (H) | May 12 | Brighton (A) |
City know victory in their five remaining league games will secure back-to-back titles, but they can ill-afford to drop points with Liverpool - in action at Cardiff on Super Sunday - currently leading by two points having played a game more.
Live Renault Super Sunday


Poch: You find energy when happy
Meanwhile, Spurs know they can secure Champions League football next season if they go on to win the tournament by beating Ajax in the semi-final and then Liverpool or Barcelona in the June 1 final.
However, it is a risky strategy, and Mauricio Pochettino's side must regain their focus after the highs of Wednesday as they look to maintain their third-placed position in the league table.
Premier League top six
| | | | |
| --- | --- | --- | --- |
| 1. Liverpool | 34 | 57 | 85 |
| 2. Man City | 33 | 64 | 83 |
| 3. Tottenham | 33 | 30 | 67 |
| 4. Arsenal | 33 | 26 | 66 |
| 5. Chelsea | 34 | 21 | 66 |
| 6. Man Utd | 33 | 19 | 64 |
"There's a lot of work to do, the competition doesn't wait and does not allow you to relax or enjoy this type of situation," Pochettino told Sky Sports News. "We need to be competitive on Saturday again.
"It is difficult to stop your mind and realise all that happened [on Wednesday]. We arrived back so late, tried to sleep a little bit, but this morning [Thursday] I started to work and prepare for the next game, assess the players and talk a lot.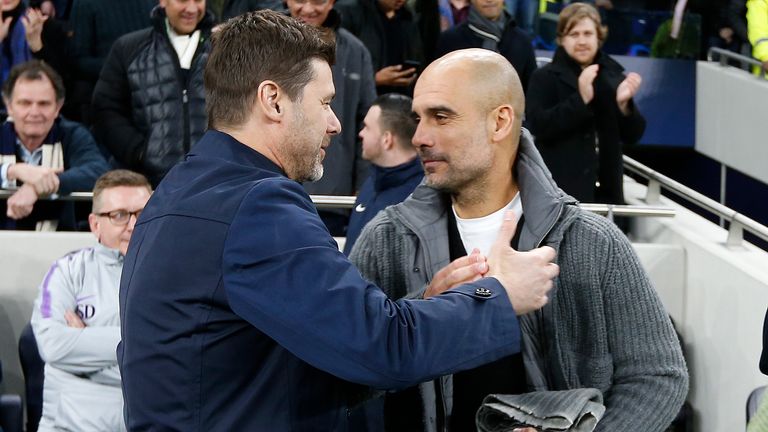 "There are many things you are thinking about. In the end, you are in a bubble, from the plane, to the stadium, to the plane, the training ground, it's so difficult to realise the magnitude of the result [on Wednesday] and what it means for everyone.
"City are a great team, but always it's better to play after achieving what we achieved. Always when you are happy you can find the energy to run and be ready.
"We are going to play in a different competition. City are fighting for the Premier League. It's not because it's Tottenham that they are going to find revenge, they are going to fight for the three points like us. We want to be in the top four for the end of the season. It's going to be another battle."
Higginbotham on Sissoko and Sane
Will Manchester City rotate and bring Leroy Sane into Saturday's starting XI? And how will Spurs cope without Moussa Sissoko - who is set to be assessed on Friday - if the midfielder fails to recover from the injury which saw him limp off on Wednesday?
Danny Higginbotham was on Sky Sports News to offer his analysis…
On City and Sane: "Mentality wise it would have been a huge blow for the City players. It was ecstasy to agony in a few seconds. The professionalism of the players and the manager, he will be getting them together and saying, 'Listen, it's gone now, we have to forget it. Let's look at what our next goal is.' And it is now to win the Premier League.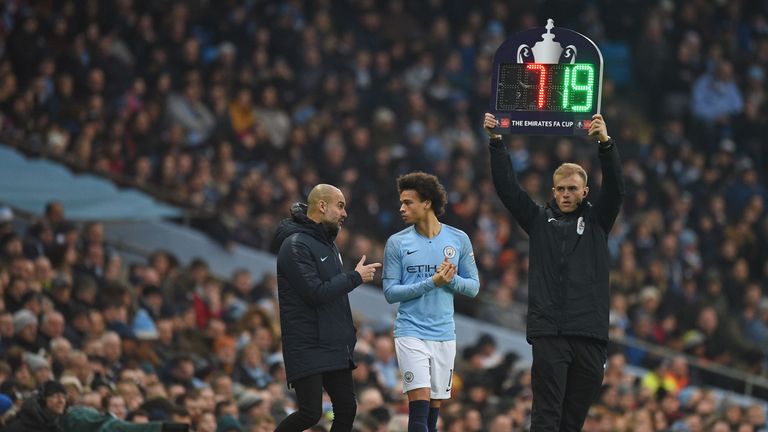 "They have great strength in depth. Gabriel Jesus, Riyad Mahrez and Leroy Sane were on the bench. Sane hasn't started against the big teams since the start of January against Liverpool and scored. That tells you a lot, does Guardiola trust him in the big games? But his stats are still phenomenal this season in terms of goals and assists.
"When you look at City and how they want to line up, Sterling is going to be in the team, and if he's going to play on the left there's no room for Sane.
"The front three has to be interchangeable, but with Sane he's more of a natural winger, so I wonder whether Guardiola looks and thinks if they play in his team, they need to be flexible. I think was a problem initially with Aguero, but now he drops deep, stretches the game and moves to the left and right."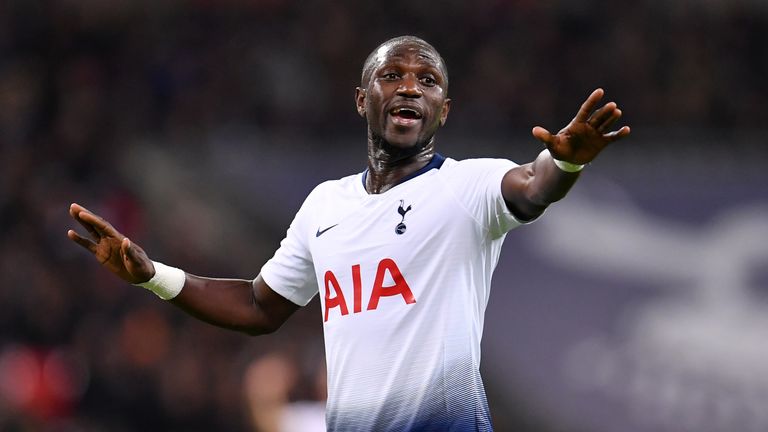 On Spurs potentially without Sissoko: "He has to be one of the most improved players that I've ever seen, and you have to give great credit to Pochettino and to the player as well. He had to go off on Wednesday and will be a huge doubt for the weekend.
"What we saw when he went off on Wednesday was Dele Alli drop a little deeper and Christian Eriksen are bit more advanced. Alli spoke about the midfield position and how he likes more time on the ball, but that could be a problem. With Sissoko, he knows this defensive shape really well and along with Wanyama there's no space between them and the defence
"But what we saw on Wednesday for Aguero's goal was Alli playing higher up, because that's his instinct, and De Bruyne took advantage of it to feed in Aguero. That becomes a problem as one of the centre-backs has to step out.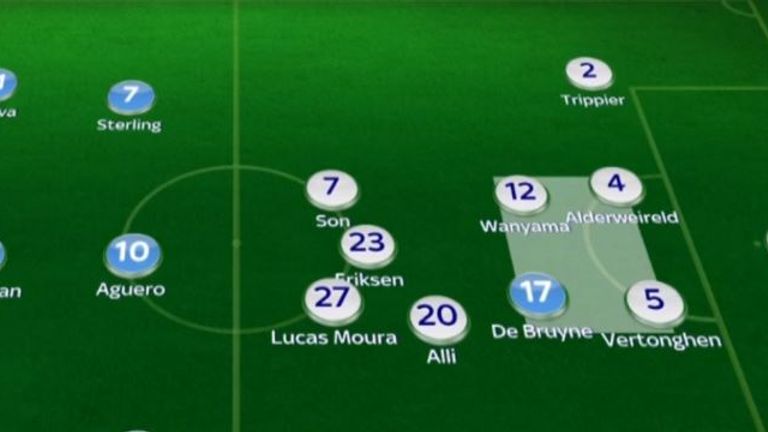 "I'll be interested to see how Tottenham go about this on the weekend. Does Alli stay in that position? He's a fantastic player but the defensive side of his game probably wouldn't be considered one of his strongest points.
"Alli performed well on Wednesday, but you could see a reason why they opt to move him further forward and bring somebody else into that position."
Goater backs City to bounce back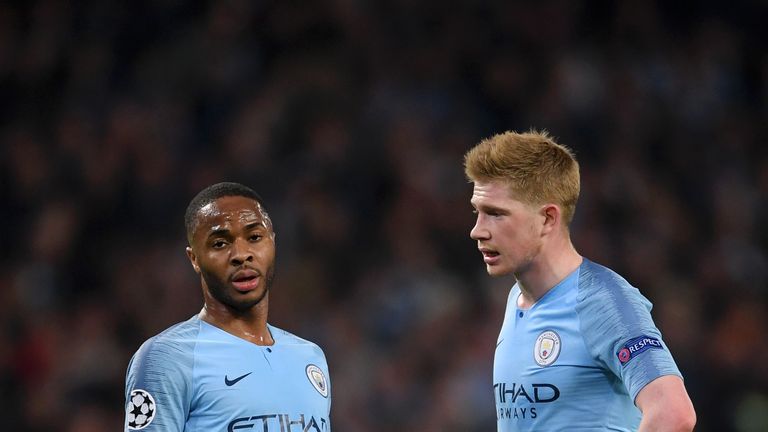 Milner: City will react like champions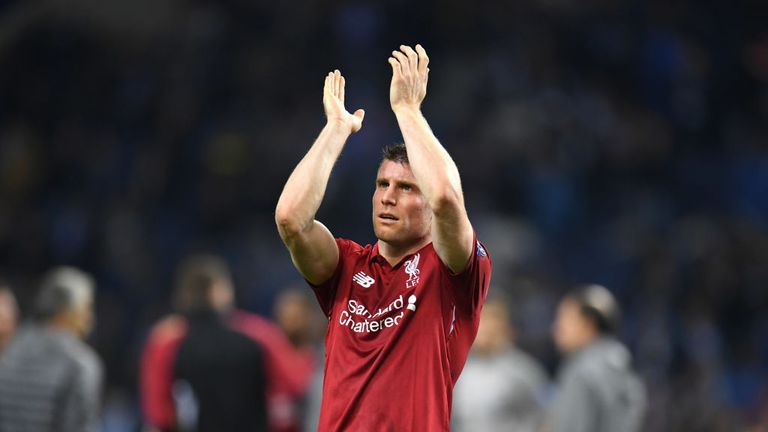 If you're reading on skysports.com comment below to get involved in the debate, but please adhere to our House Rules. If you wish to report any comment, simply click on the down arrow next to the offending comment and click 'Report'.