Tottenham knock out Manchester City: What the papers say
Spurs reach first Champions League semi-final with sensational away-goals win over Manchester City; Watch Man City vs Tottenham on Saturday, live on Sky Sports Premier League from 11.30am; Kick-off 12.30pm
Last Updated: 18/04/19 2:57pm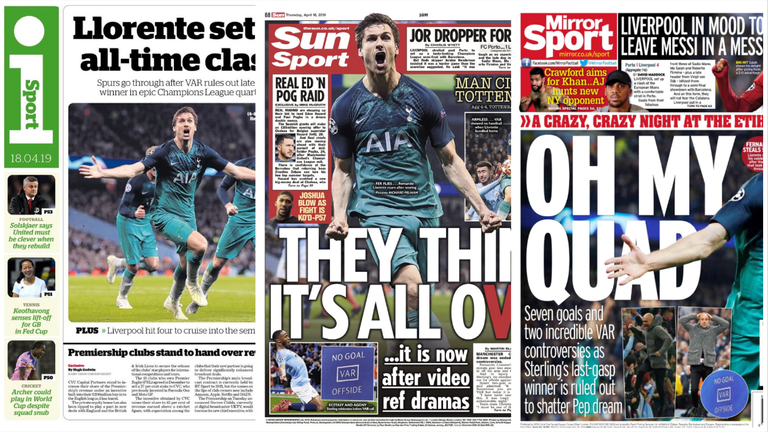 Tottenham left a stunned Manchester City's quadruples hopes in tatters by reaching their first-ever Champions League semi-final in the most-dramatic fashion on Wednesday. Here's how the national press reacted to the epic events at the Etihad...
They think it's all OVAR
"It is the greatest night of their lives. Tottenham played hokey cokey football - in, out, in, out, very much in - for 90 crazy minutes. On a big night of football, they can finally say they are big club." - Neil Ashton, The Sun
Mayhem and magic
"During 21 minutes of glorious mayhem, it was difficult not to shake your head in disbelief at the sheer lunacy of it all. Breathlessness, dizziness, accelerated heart rate. This was not so much a sporting contest as a serious medical condition." - Dave Kidd, The Sun
European failure haunts Pep again
"Pep Guardiola is the greatest manager of his generation, a serial trophy winner who has revolutionised the way football is played, yet still he will be forced to endure accusations that he has fallen short, that he has, with all the resources at his disposal, underwhelmed." - Luke Edwards, Daily Telegraph
Awesome De Bruyne can't save City
"There will be an inquest and there will be much to consider in how City conceded three goals at home, VAR and so much more besides after another European failure. Also, how one of the world's best players could have done even more, given the chance." - Matt Dickinson, The Times
OH MY QUAD
"No wonder Pep Guardiola so often wears the look of a man who cannot wait to walk away from his job. No wonder he once felt the need to take a sabbatical and lose himself in the hurly-burly of Manhattan. No wonder he seems psychologically drained at the conclusion of even the most straightforward of football matches.
"Quite how he felt in the aftermath of this remarkable event is anyone's guess. The Champions League is gone, the quadruple has gone and when VAR ruled out the late goal from Raheem Sterling, Guardiola had gone… at all levels. Hardly surprising." - Andy Dunn, Daily Mirror
Hip, hip, hooray...
Pochettino strikes gold
"A great night for English football, a great week for the Champions League. European football's stellar competition has been accused of being a closed shop in recent years, in particular from Spain and Italy.
"Now, after Ajax sent Juventus home defeated on Tuesday, we were presented with this. A game fitting for its time, a time when standards of entertainment in this country have never been higher." - Ian Ladyman, Daily Mail
All-time classic
Spurs go through after VAR rules out late Sterling winner in epic Champions League quarter-final - The I Paper
'VAR was right'
"The use of VAR in checking and then allowing Fernando Llorente's goal was a fantastic example of the system at its best - and the right decision was made. For such a critical moment in a high-profile match it is important that the referee gets a second chance to look at the incident.
"If it had touched his arm or hand then it would have been disallowed, even if the contact was not deliberate. But the slow-motion replay clearly showed the ball went in via Llorente's upper thigh." - Former Premier League referee Mark Clattenburg, Daily Mail
Salah and co seal the deal
"We hardly needed a Time Magazine front cover to know Mohamed Salah is a man of influence. Yet his recognition as one of that periodical's 100 most influential people could not have been more timely, given his emphatic return to the sort of form that made him a world star. In the Estadio do Dragao he scorched poor Porto with a goal and an assist to send Liverpool into a semi-final with much to spare." - David Maddock, Daily Mirror
Who's on the Sunday Supplement?
Sam Wallace, Henry Winter and Martin Samuel join Neil Ashton in the studio this weekend to reflect on a dramatic week of football.
Watch live on Sky Sports Main Event, Premier League or Football this Sunday from 9.30am - and never miss a show by subscribing to the podcast.