Fernando Llorente tells Sky Sports about the physical and mental challenges of playing back-up to Harry Kane, why he has no regrets about joining Tottenham over Chelsea, what makes Mauricio Pochettino special and why he would "love" to extend his contract.
It is two days on from Tottenham's 1-0 defeat to Ajax in the first leg of their Champions League semi-final, and Fernando Llorente is reclining on a sofa at their north London training ground as he tries to find the right words to sum up the opening 30-minute spell which ultimately cost them the game.
"Sometimes it's difficult to explain why, but they were able to dominate the beginning of the game and the truth is that we weren't able to put them under enough pressure," he tells Sky Sports. "We wanted to start well, to be aggressive, but we didn't manage it and it left us in a bad place."
A bad place, but not an impossible one. The narrow deficit means Tottenham can still dream of reaching their first Champions League final. It is a tantalising prospect. For Llorente, it is also a case of unfinished business. The striker, a late substitute when Juventus were beaten 3-1 by Barcelona in the 2015 final in Berlin, has been there before.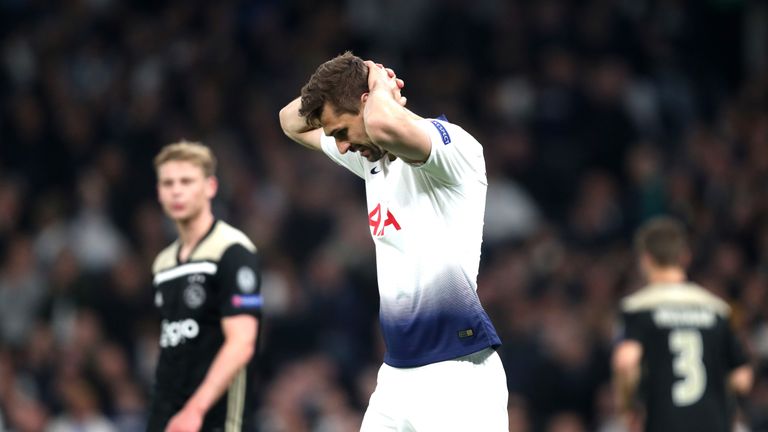 "It's true I have a little bit of unfinished business," he says. "It's not easy when you come up against a player like Leo Messi, who is from another planet, as well as guys like Neymar and Luis Suarez. You can give your absolute maximum, but this is a sport, and if your opponent is better than you and they beat you for that reason, then there's nothing you can do."
The bad news for Llorente is that, even if Spurs do pull off a historic comeback against Ajax, Messi's latest masterclass against Liverpool means the little genius is likely to stand between him and the trophy once more.
And given Harry Kane's anticipated return from injury, Llorente is also aware that he would probably find himself back on the bench again, too.
'Internally, it's a struggle'
Such is the life of the back-up striker.
Llorente, now 34, had racked up more than 500 appearances for Athletic Bilbao, Juventus, Sevilla and Swansea prior to joining Tottenham in 2017. He had scored close to 200 goals, won a World Cup and a European Championship with Spain as well as a string of club trophies. But since his arrival at Spurs he has swapped regular starts for a supporting role.
Deputising for one of the world's best strikers is an unenviable task.
Llorente has made vital contributions this season, not least his decisive goal in Tottenham's extraordinary Champions League quarter-final win over Manchester City. But Wednesday's game against Ajax was only his 20th start in the last two years.


"It's something you have to adapt to," he says. "I am at a great club with incredible players, and in the end the manager has to make decisions, because only 11 players can play. It's not easy for him and, with players of that quality, it's not easy to get into the team.
"Internally, it's a struggle. Because in the end what all players want is to play every Sunday, so every time you don't, it's a disappointment. But that's also where you learn to be mentally strong and say, 'Okay, I'm not playing but I have to keep working hard every day and I have to be ready when the opportunity comes and the míster needs me.'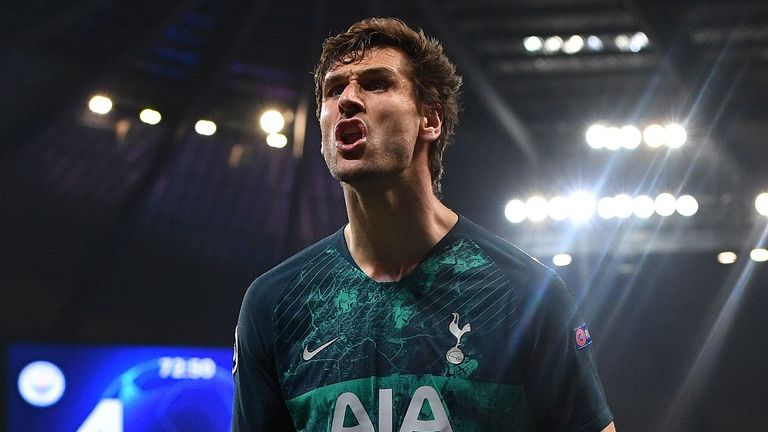 It was one of the best moments of my whole career. It was an important goal and a historic moment for Tottenham.
"That is the idea I always have in my head, but it's also where it is most difficult, because the only way to really get up to speed is to play 90 minutes regularly. That's particularly the case for me because of my attributes as a striker. I need to feel strong and be in the best physical condition possible in order to show my best."
'It has definitely been worth it'
It is a testament to his professionalism that Llorente has still succeeded in doing that on numerous occasions this season, scoring eight goals in total, and it also reflects his happiness at the club despite his limited playing time. Llorente had other offers before leaving Swansea for Spurs in 2017, most notably from Chelsea, but he has no regrets.
"At that time I had spent a lot of time talking with Chelsea but they didn't have an agreement with Swansea, whereas Tottenham came in and quickly found an agreement with them," he recalls. "That told me that Mauricio [Pochettino] and his team had a lot of belief in me, and when you are making a decision, that's very important.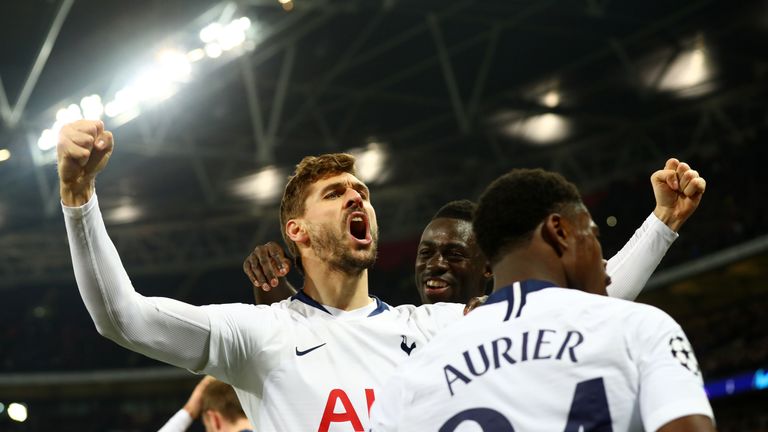 "The project excited me, and despite having a secondary role in the team, it has definitely been worth it. It has been a wonderful experience.
"In the majority of my previous clubs I was a regular starter, but I have learnt to experience it in another way. Trophies and games are won by all the players, not just the 11 who start. If something happens during the season and the squad players don't keep fighting and don't keep believing that they can be important, then you are in trouble."
Llorente's contract is due to expire at the end of the season, but does he see himself extending his spell in north London? Does he want to stay at Spurs? His response underlines his team ethic.
"I would love to stay for another year, but the truth is I am not thinking much about that right now. I believe the important thing at the moment is the team, not for individual players to think about themselves.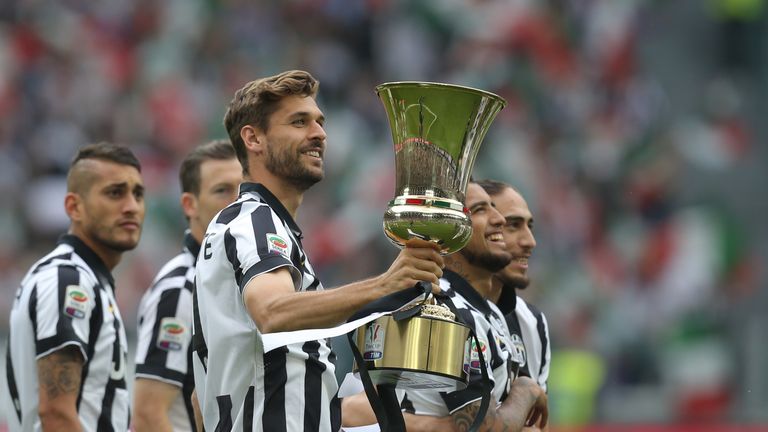 "We are playing super-important games every few days. We have a very, very difficult match against Bournemouth, who are very strong at home - they beat Chelsea 4-0 there, remember - then it's back to the Champions League. We have to be focused on the job. In a few weeks I'm sure there will be time to think about my future and see what's best for everyone."
'Pochettino gives his players a lot of freedom'
If he does end up staying at Spurs beyond this season, it will owe a lot to his close relationship with Pochettino. Llorente has played under a long line of distinguished managers, from Ernesto Valverde and Marcelo Bielsa at Athletic to Antonio Conte and Massimiliano Allegri at Juventus, but he ranks Pochettino as one of the very best.
"He's a manager who gives a lot of freedom to his players in order to get the best out of them," he says. "He's not the kind of manager who says, 'You have to do this, this and this.' He shows you that he trusts you and he doesn't kick you off the team if you mess up or you do something bad."
That trust has been particularly important during a season in which Tottenham have not signed a single player. In fact, according to Llorente, Pochettino has used it to further strengthen the team's mentality.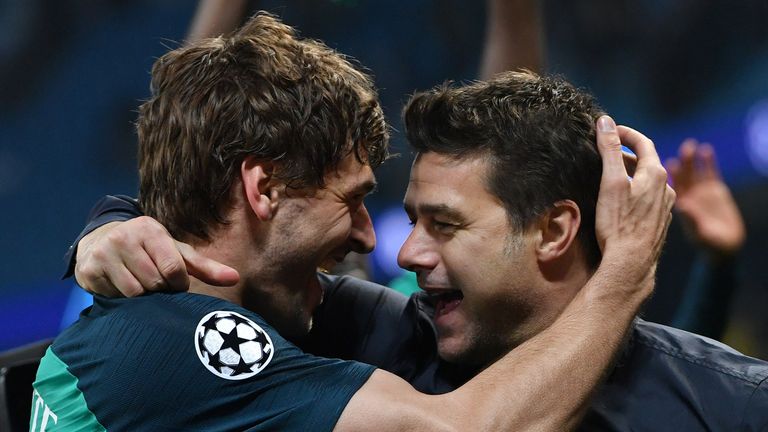 "That mentality is something he drums into us. He knows how to motivate us and get the best out of us. It's the way he has of managing the group, planning the training sessions and making sure we are all happy.
"Me, for example, if I am happy and determined every day, if I am enjoying every training session even when I am not playing, it's because of the great job he does managing and planning everything. We have a very good relationship."
The challenge now for Llorente, Pochettino and everyone at Spurs is to finish the season as strongly as possible and see how far it takes them.
"It has already been a brilliant season," says Llorente. "We are in the top four and we still have a chance of reaching the Champions League final. We know it's going to be difficult. Ajax have showed that they are a great side. But we are prepared and I really believe in this team. If we can play at the level we have shown on other occasions, I know we will be able to win."
Watch Bournemouth vs Tottenham live on Sky Sports Premier League from 12pm on Saturday; Kick-off is 12.30pm