Will Manchester City get past Leicester on Monday Night Football? Here's what the Magic Man thinks...
Manchester City vs Leicester (Monday, live on Sky Sports Premier League and Main Event from 7pm; kick-off at 8pm)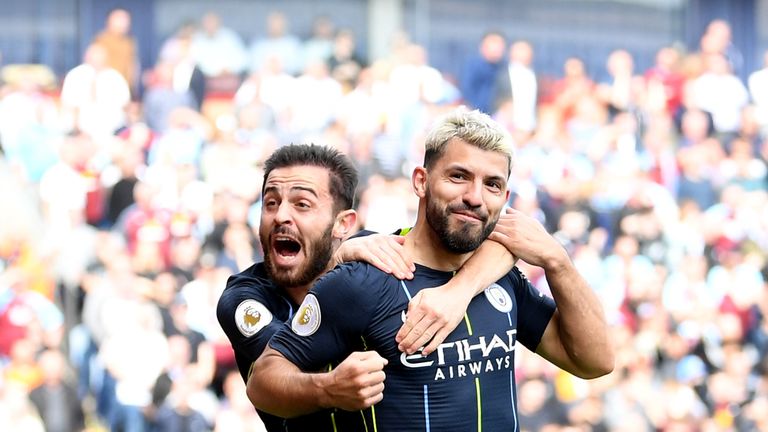 Never say never here. I've seen this Leicester team play and they're a decent team. Manchester City will have a go, and they've got the ammunition to hurt them on the break with Vardy's pace. They wiped the floor with Arsenal last week. They're not used to having the ball but Brendan Rodgers has got them looking like a real good team.
I'm not saying they're going to win, but if you were Liverpool and you had to pick someone for City to play outside the top boys, who didn't have much to play for, you'd pick them. City looked nervous against Burnley, but the longer it's 0-0 or 1-0 here, you never know.
PAUL PREDICTS: 2-0


Saturday's games...
Bournemouth vs Tottenham Hotspur
Tottenham need to get something, because if Chelsea or Arsenal pick up points that'll make life difficult, but they're still in the Champions League - they're still in it, and I think the players will be a bit like they were against West Ham. They'll be thinking about that game on the Wednesday.
Bournemouth have a go. I watched them against Fulham and Fulham deserved it, they went to Southampton and were never in the game, but then got one of the goals of the season. They are hot and cold but they'll cause problems and I think Spurs will rest players.
PAUL PREDICTED: 2-1
West Ham vs Southampton
They can embarrass you, West Ham. Look at them and think yep, they'll beat Huddersfield easily but it takes a last-minute goal to score their fourth. They should have won against Manchester United, I gave them no chance at Tottenham and they won.
Southampton will have a go too, the way they're set up now. Both teams are safe, it's always important to win your last home game.
PAUL PREDICTED: 3-2
Wolves vs Fulham
Hopefully Scott Parker gets the Fulham job. They were comfortable last weekend except in the last 10 minutes when someone told Cardiff they had to win. Fulham look a much better team than they did before though.
Wolves find it hard against teams that don't come at them; Brighton didn't, Fulham won't. They need to look at that for next season - Huddersfield did the double against them! But they should have enough.
PAUL PREDICTED: 3-1
Cardiff vs Crystal Palace
Cardiff have to win this and go to Manchester United on the last day knowing they have to win, there's no point going there already down. If you're only one game away from staying up, you've got a chance. Anyone can win a one-off game.
If Palace turn up and Cardiff have a go at them, there's only one winner - but their fans wouldn't mind a Cardiff win with the Brighton connection! You don't know which Palace is going to turn up, but I think Cardiff will keep it alive.
PAUL PREDICTED: 1-0
Newcastle vs Liverpool
You hope Liverpool win, you really do, because otherwise you look at it and the fact they lost 3-0 at Barcelona, and if they draw here their season's fizzled out in four days. I think they'll win, the other night they just came up against an extraordinary club. They don't deserve their season to fizzle out. They should at least take it to the last day.
Newcastle will make it a long night for them, they're used to being tight, they don't have to entertain, their fans know what they're like, they'll make it hard and it'll be a tough one.
PAUL PREDICTED: 0-2
Sunday's games
I think Chelsea will win. They have to win, if they do United are out of it and that's it. If someone says you've got to beat Watford at home to get in the Champions League, you'd take that.
There's not been a lot in Watford's games recently, they're a hard team to play against but you're sitting there thinking have they got one eye on the FA Cup final?
PAUL PREDICTS: 2-1
Huddersfield vs Manchester United (Sunday, live on Sky Sports Premier League from 1pm and Main Event from 1.30pm; kick-off at 2pm)
I remember last year - but Manchester United will win this comfortably. Anything less than 4-0 is disappointing. You're playing a team who can't win for toffee, look out of their depth, and surely United should have the ammunition to rip them to shreds.
They can't put it together for a 90 minutes though. They huffed and puffed last weekend, that's not the Manchester United I remember.
PAUL PREDICTS: 0-4
Arsenal vs Brighton (Sunday, live on Sky Sports Premier League and Main Event from 4.15pm; kick-off at 4.30pm)
If Cardiff have already won, it's panic time for Brighton. I can't see anything but an Arsenal win, they need to win to keep the pressure on.
Brighton are very fortunate - they stuck in there against Newcastle and got a result, but it could've been very different in that game. They weren't in it for long stages.
PAUL PREDICTS: 3-0