The tightest title race?
Just one point divided champions Manchester City and runners-up Liverpool, making it the closest title race since Sergio Aguero's late strike won City the title on goal difference over Manchester United in 2012.
During the entire Premier League era, the top two have only ever been separated by one point or fewer on six occasions: 1994/95, 1997/98, 1998/99, 2009/10, 2011,12 and this season.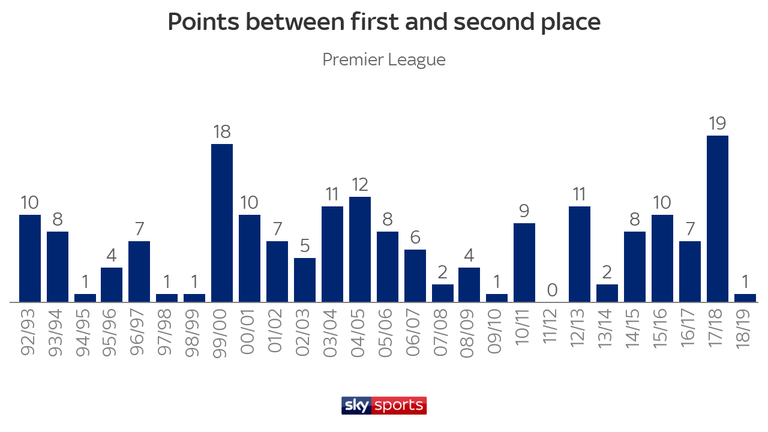 But it would be safe to say, across the entire season, this title race was the tightest ever during the modern era - with City and Liverpool averaging only 1.6 points apart after matchdays since August.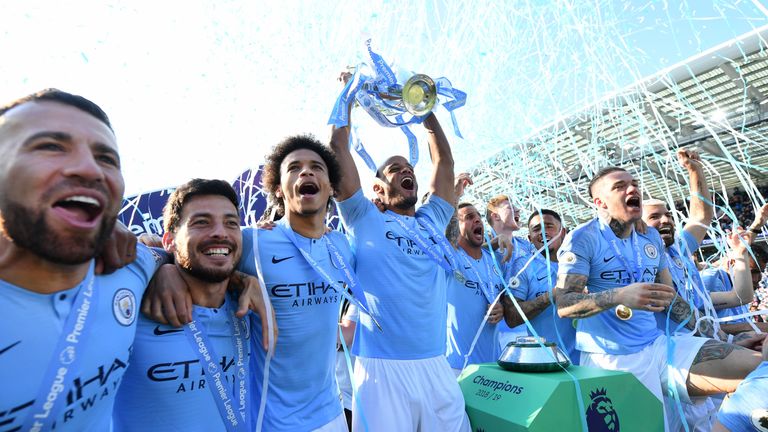 City actually trailed the Reds for longer and sat 10 points shy of Liverpool in late December, albeit with a game in hand - while Jurgen Klopp's side never trailed City by more than five points.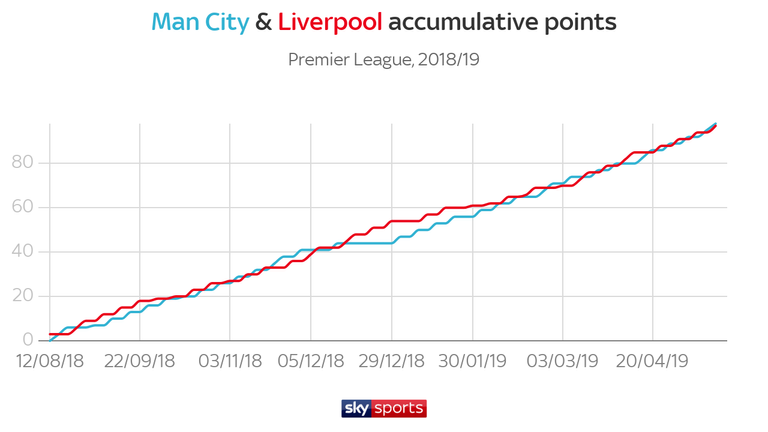 The final-day drama was a result of City maintaining breathtaking form, with their haul of 98 points only two shy of their record-breaking 100 last time out - producing a slight dip in goals scored, but conceding fewer at the other end.
But while City maintained their unprecedented levels from last term, Liverpool were a team transformed with 22 more points, five more goals and conceding 16 fewer, as the graphic below shows.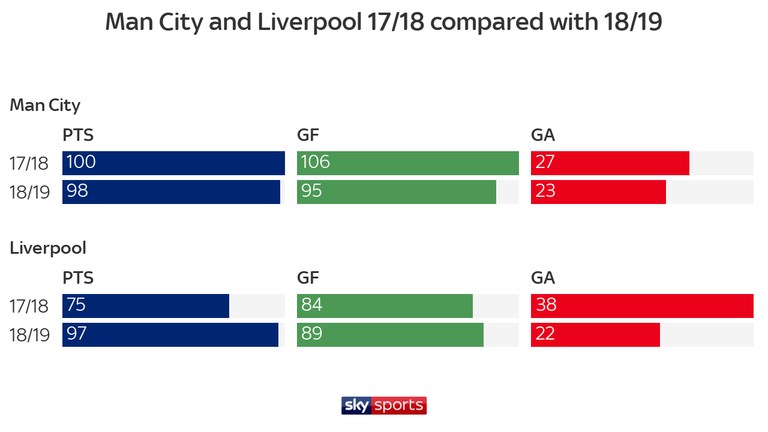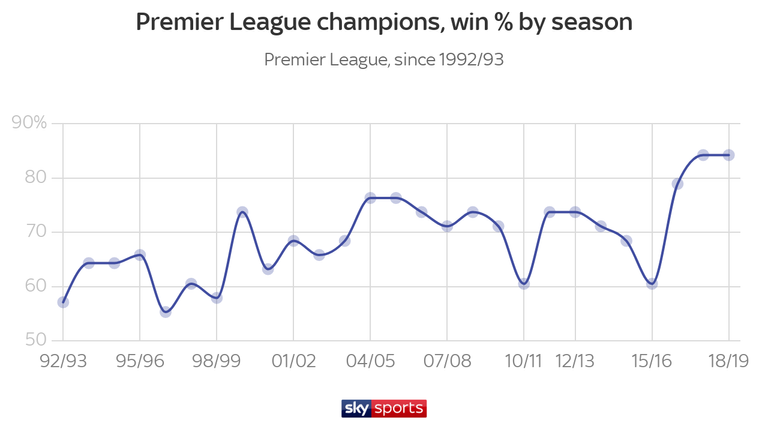 Top two domination
While the title race was arguably the tightest ever, the distance between second and third was greater than in any other season, with Liverpool finishing 25 points ahead of Chelsea - trumping Manchester United's 19-point advantage over Arsenal in 2011/12.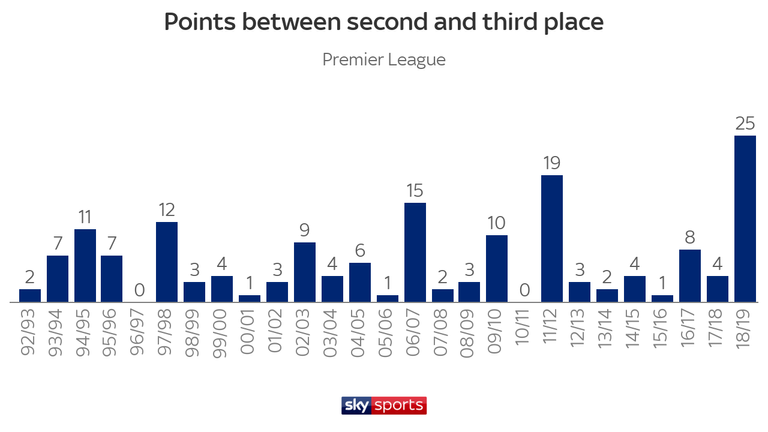 And that gap was forged purely from the top two teams' superiority, with City and Liverpool collectively collecting 195 points - another Premier League record.
The gap to seventh
Manchester City, Liverpool, Chelsea, Tottenham, Arsenal and Manchester United have collectively earned the title of 'big six' in recent years, and that phrase was reinforced further this season.
Wolves ended the season nine points adrift from Manchester United - a gap between sixth and seventh that has remained almost identical for three seasons running now - having never previously lasted for more than one campaign.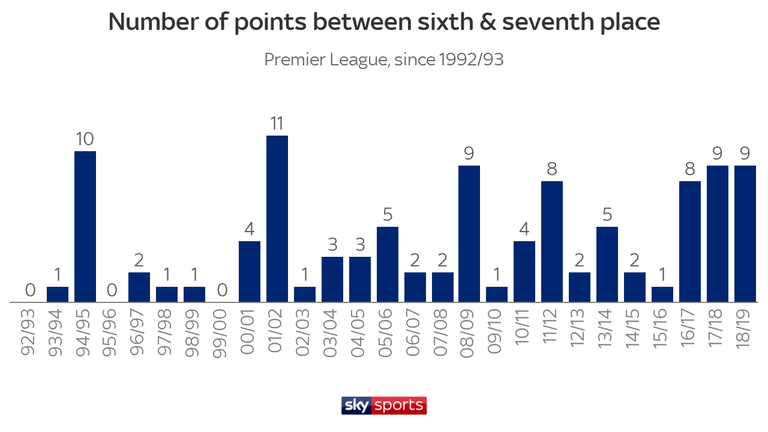 The last time the 'big six' was dismantled was during Leicester's title-winning campaign in 2015/16, when Southampton finished sixth, and, as a result, both Chelsea and Liverpool missed out.
But the 'big six' has generally reigned supreme for some time now, with 54 out of 60 top-six places being shored up by this group over the past decade.
Only Aston Villa (2009/10), Newcastle (2011/12), Everton (2012/13 and 2013/14), Leicester and Southampton (both 2015/16) have prevented complete dominance.
The biggest ever gap between sixth and seventh was when West Ham finished 11 points behind Chelsea in 2001/02, but that disparity was slashed to just one point the following season.
As the graphic below shows, this season's top six all recorded above-average point totals - with the exception of Chelsea in third place.
Formation evolution
The 4-2-3-1 formation has been dominant for several seasons, with nearly half of teams lining up with the system in 2015/16.
But that lion share has declined season on season and now represents just 18 per cent, while 4-3-3 became the most used system this term.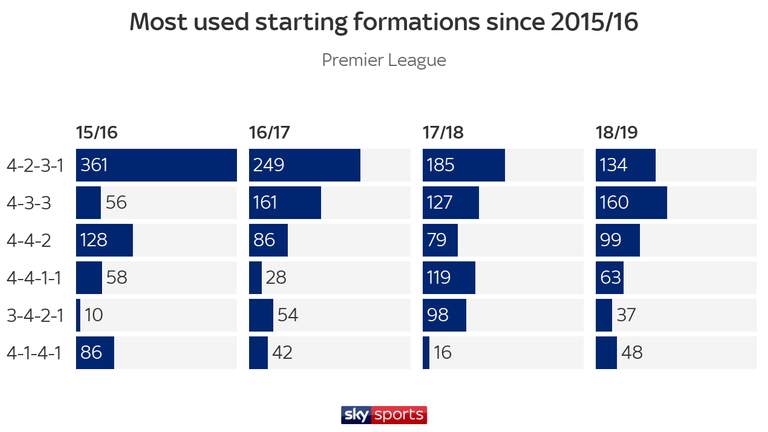 Increasingly, teams are typically experimenting with different systems more frequently - resulting in no runaway favourite across the league, and a more diverse range being used.
The graphic above clearly shows how 4-4-2 was popular during Leicester's title-winning campaign, while three-at-the-back formations were increasingly used during, and immediately after, Chelsea's success in 2016/17.
Rampaging full-backs
There has been a year-on-year increase for assists by full-backs in five of the past six seasons, with a whopping 135 created this term - a stark contrast to the 75 in 2013/14.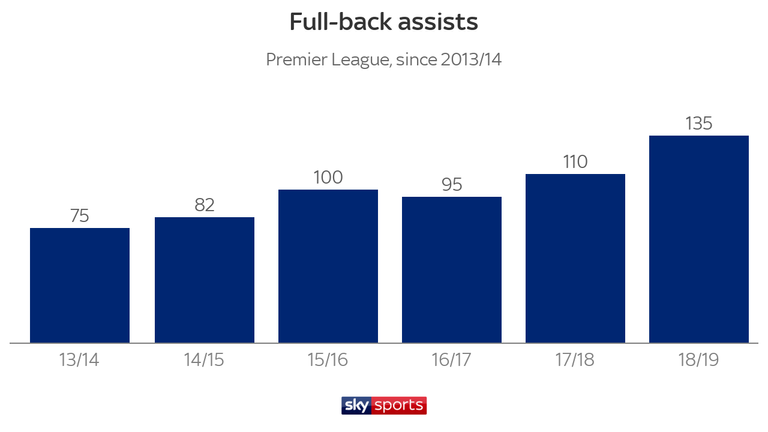 Liverpool's 23 assists by recognised full-backs were the driving force behind the trend spike - with that tally being almost twice as many as the next most productive team, Arsenal on 13.
At the other end of the scale, Charlie Taylor was the only full-back at Burnley to notch an assist, while relegated duo Cardiff and Fulham both achieved only two all season.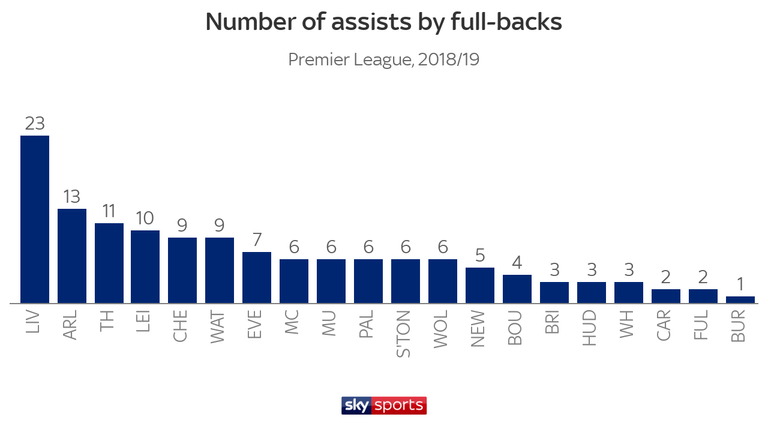 All of the assists by Liverpool's primary full-backs came from Trent Alexander-Arnold and Andy Robertson - with the former edging his team-mate after teeing up his 12th on the final day.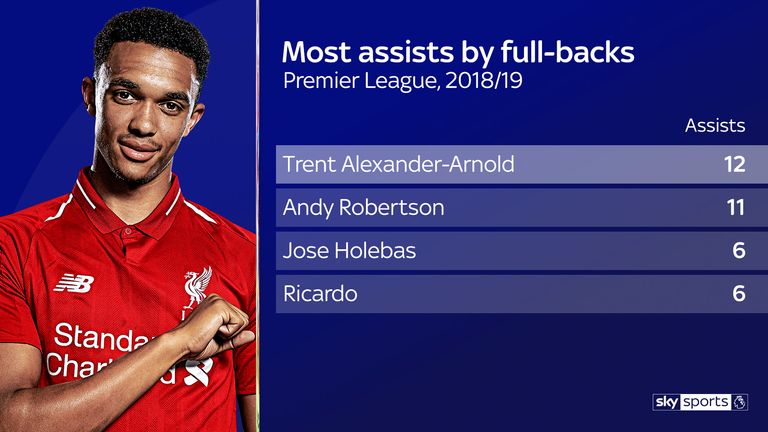 Man Utd's (brief) purple patch
Manchester United finished 2017/18 as runners-up but struggled at the start of this campaign. That poor form, coupled with fans' discontent at negative tactics, prompted the club to sack Jose Mourinho in mid-December.
Ole Gunnar Solskjaer was drafted in as interim manager and produced an incredible reversal in form, while restoring a positive, attacking style of play - but the bounce effect was short-lived.
As the graphic below shows, United hit their prime in mid-January, culminating in an extraordinary, against-the-odds win at Paris Saint-Germain - but their form has been in rapid decline since.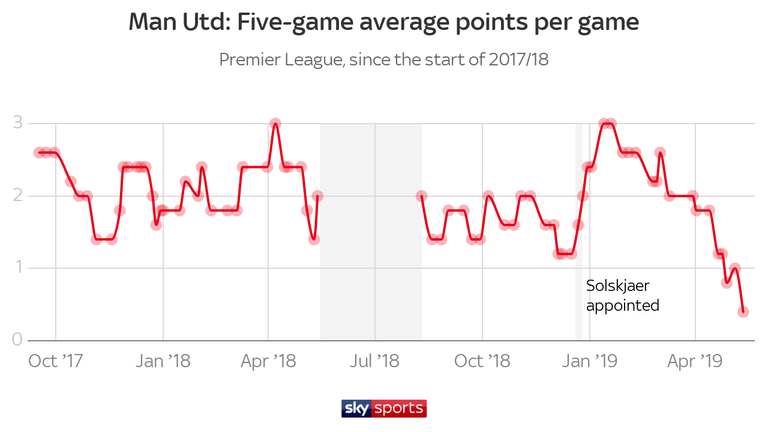 United capitulated in the final weeks, missing out on a top-four finish and ending the season with their lowest five-game average for points-per-game in two seasons - averaging at just 0.4 after their 2-0 defeat against Cardiff.
Shots from range decline again
There have been year-on-year dips in the number of shots taken from outside the box since 2011/12, and the 3,644 this season is the lowest number of attempts since records began. Quite a decline from the 5,038 taken in 2003/04.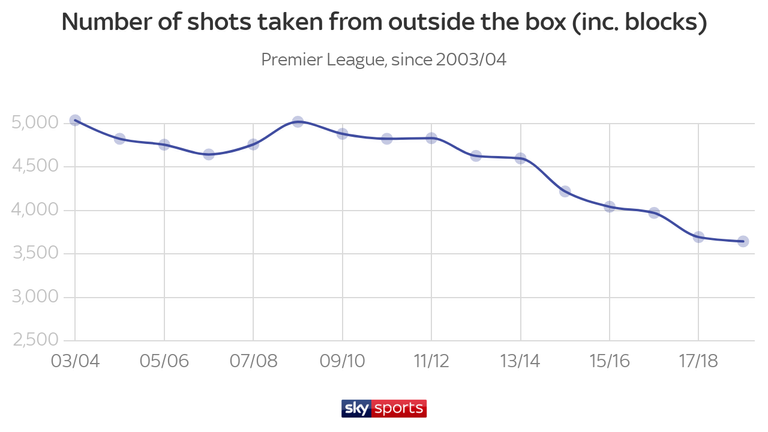 Despite the reluctance to fire shots from distance, players have never had a higher long-range conversion rate during the period - with 4.2 per cent of attempts from outside the box now resulting in goals.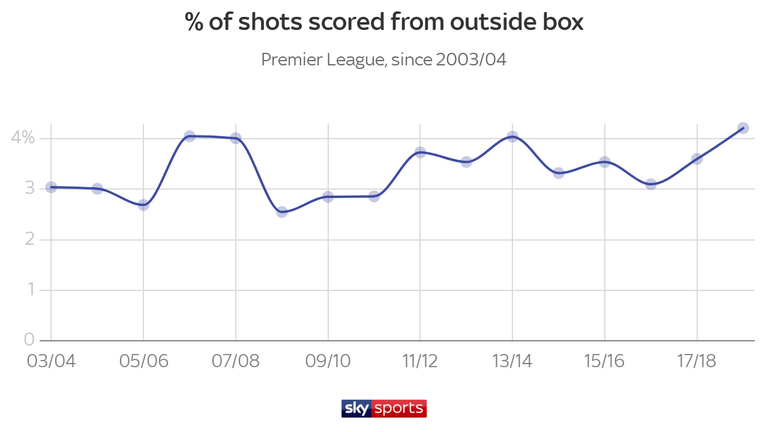 Away wins at all-time high, draws in decline
This season produced the highest proportion of top-flight away wins since the Football League was founded in 1888, with the visitors claiming victory in 128 out of 380 games - equating to 33.68 per cent.
The graphic below shows how home advantage has been on the wane since the league was founded 127 years ago.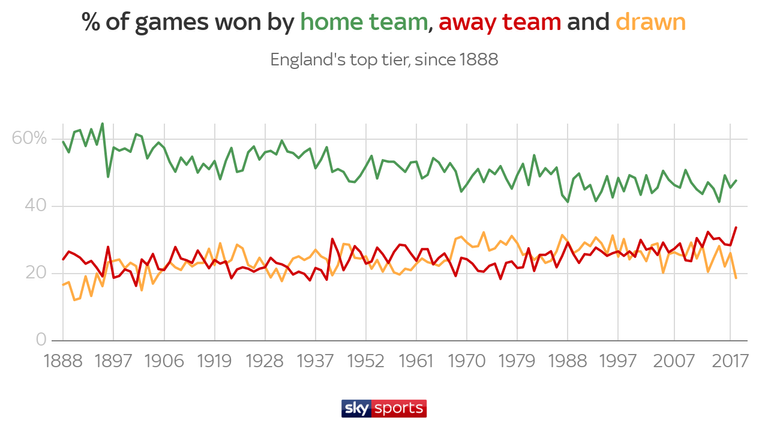 Home advantage failed to help Huddersfield, who won two games at home and scored just 10 goals at the John Smith's Stadium.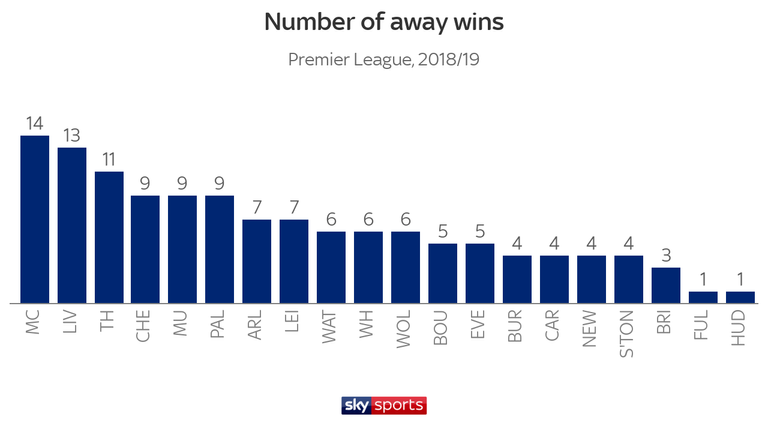 In contrast, only 71 games were drawn - the fewest ever during the Premier League era. That number represents just 18.7 per cent of games ending in a stalemate - the lowest proportion in England's top tier since 1931.
There were 35 successive Premier League games without a draw between March and April, while Spurs set a Premier League record after going 32 games without a stalemate - a run that began last season and ended in February.
Net transfer spending hits new heights
Transfer spending took a notable dip this season with Premier league clubs splashing 1.42bn on signing across both windows, nearly £500m less than in 2017/18 - but clubs recouped less from player sales, too.
Overall, the net expenditure on transfers actually increased for a third successive season, according to Sky Sports figures - totalling at £962m, compared with £796m the previous year.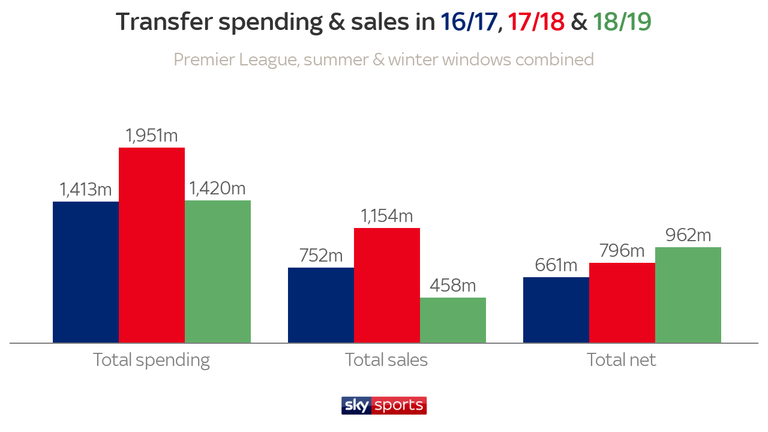 PL clubs reign in Europe
It will be an all-English final in both the Champions League and Europa League competitions, an event that has never before happened in the same season.
In the Champions League or European Cup, there has only been one previous all-English final - when Manchester United defeated Chelsea in Moscow in 2008.
There has only ever been one all-English final in the Europa or UEFA Cup, in the first year of its existence all the way back in 1972 - when Spurs emerged victorious against Wolves across a two-legged affair.
As the graphic below shows, Spain have been dominant finalists across both competitions in recent years, claiming three out of four spots in 2013/14 and 2015/16.
Italy enjoyed a decade-long period of success in the 1990s, achieving three out of four finalists on three occasions during that period, while Germany are the only other nation to shore up three places in a season, back in 1980.
This season has also seen England become the most dominant finalists across both competitions since 1972, with 37 teams competing for the trophy - one more than Italy and Spain.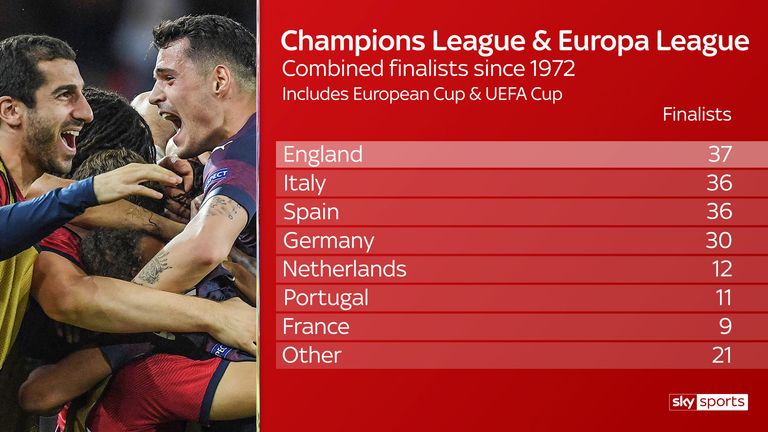 Goals, goals, goals...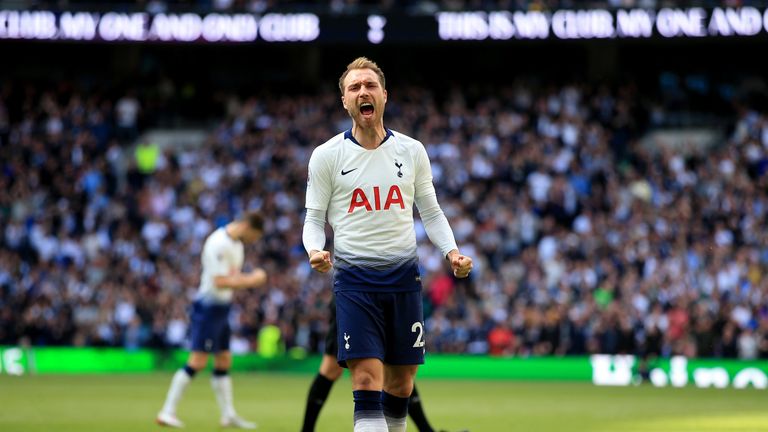 This season produced 1,072 goals, the highest total in a 38-game Premier League season - surpassing the previous high of 1,066 set in 2011/12.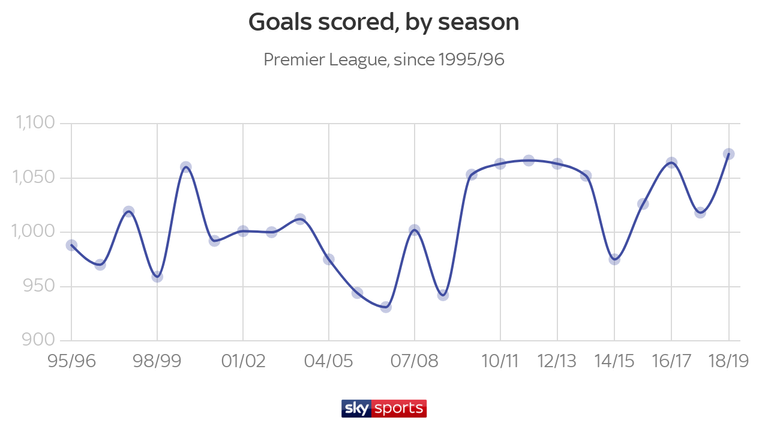 So, after another record-breaking year of top-flight football, who knows what next season will deliver?
If reading on skysports.com, comment below to get involved in the debate, but please adhere to our House Rules. If you wish to report any comment, simply click on the down arrow next to the offending comment and click 'Report'.