Referees in the Premier League have been advised to start using pitchside monitors from this weekend if a VAR recommends changing a decision on a red card, Sky Sports News has confirmed.
The clarification comes after a routine meeting involving match officials in Loughborough this week.
The PGMOL and Premier League have previously recommended monitors are only used for unseen incidents or incidents which fall outside of a referee's range of expectations.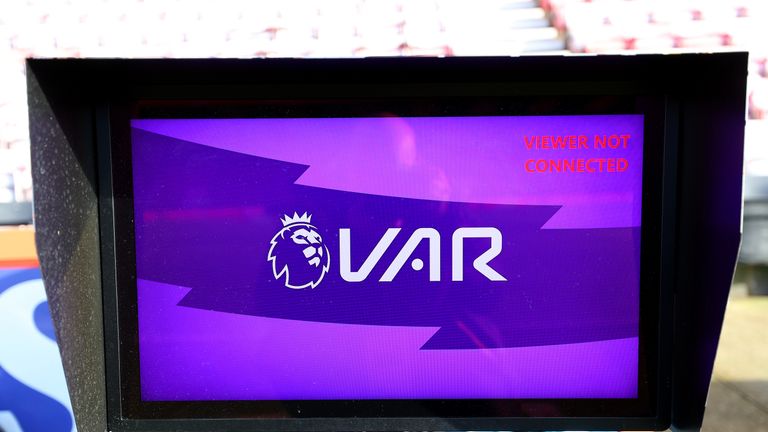 The Times has reported that new guidance has been given to match officials which states a referee should use the Referee Review Area (RRA) when the VAR wants to either upgrade a card to a red or downgrade it to a yellow.
So, pitchside monitors will only be checked for serious foul play or violent conduct red cards, while red cards for Denial of Goalscoring Opportunity (DOGSO) will still be with the VAR as they are best placed to categorically advise if it is the last man, or not.
Former Premier League referee and Sky Sports analyst Dermot Gallagher agrees with the decision: "The expectation of people is that the referee should make the ultimate decision," he told Sky Sports News.
"They (PGMOL and Premier League) have listened to people. They've listened to coaches, they've listened to managers, spectators. The Premier League has decided that's now probably the way to go.
"What we've learned in the 22 rounds of matches so far is that people's expectation of incidents like Aubameyang and Ryan Bertrand is that if the referee goes, everybody says 'yep the referee's made a decision, that's it' and they accept it more.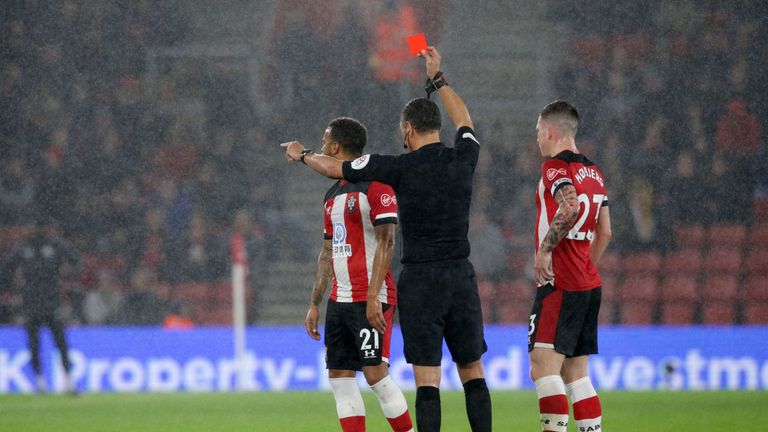 "When VAR started [in the Premier League] in August, everyone said there were going to be bumps in the road. There's going to be twists and turns and it shows they have listened, they have taken notice, they have talked amongst themselves and said 'let's try this and see if we get a better outcome'.
"As it goes on there will be more changes, there's no doubt about that. It's all about getting a better product and a better end result for the referees on the pitch."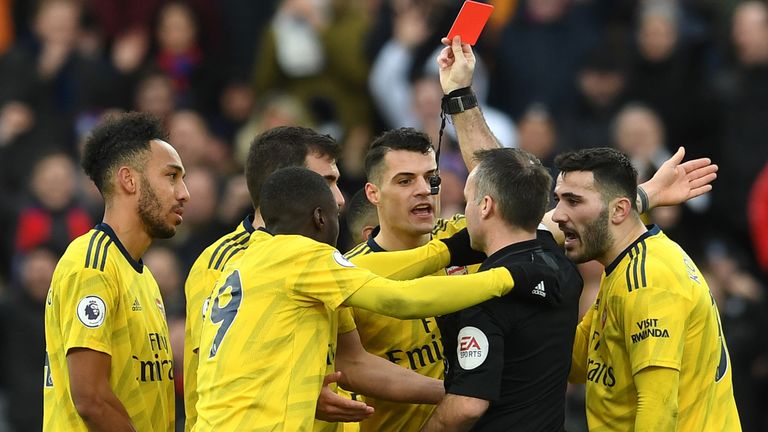 Last month, FIFA president Gianni Infantino told Sky Sports News he wanted to see referees use pitchside monitors and he was unaware they had not been used in the Premier League this season.
"The job of the referee is so difficult, these guys are heroes, we are all criticising them so let's help them and they have to accept the help," said Infantino.
"They have a safety net when they are not sure or when somebody who sees the images telling them to go and check. They should go and check."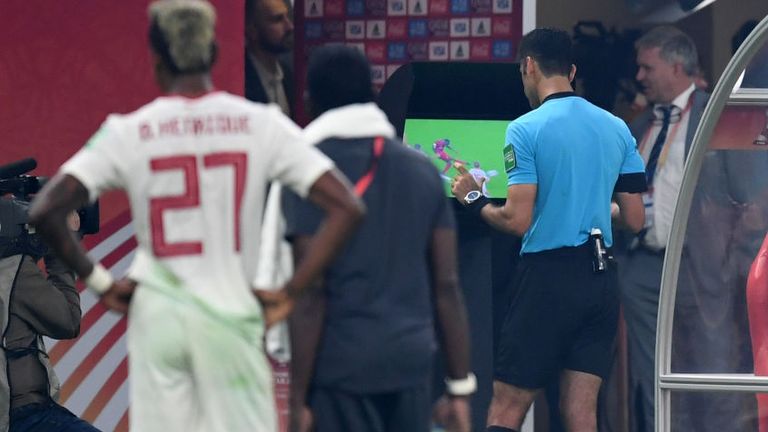 No pitchside monitor has been used in nearly 220 Premier League games, but referee Michael Oliver used a monitor in the FA Cup tie between Crystal Palace and Derby this month.
In December, Liverpool were denied a penalty in their Club World Cup Final against Flamengo when the referee used the pitchside monitor to overturn his decision and award a goal kick.
VAR Q&A: Why use monitors now?
Premier League referees will use pitchside monitors from this weekend if VAR recommends to reverse a decision on a red card. Sky Sports News Chief Reporter Bryan Swanson assesses its importance:
How significant is this decision?
Highly. This weekend, for the first time since video assistant referees have been introduced in the Premier League, we could see a referee consult a monitor before overturning a key decision.
Match officials from the body in charge of referees, the Professional Game Match Officials Ltd (PGMOL), held a routine meeting at Loughborough University this week.
This clarification follows further talks involving the PGMOL, the Premier League and its clubs.
We have seen referees use monitors in other competitions, most notably around Europe and once in the FA Cup this month, but this will be a first in English football's top competition.
It is symbolic too - the most high-profile way to demonstrate that the referee makes the final decision.
Was this always going to happen?
Referees' chief Mike Riley will point out that he has never previously instructed his referees not to use monitors. They had to use it 'sparingly', for unseen incidents and anything that fell outside of their normal range of expectations.
In September last year, after a meeting with Premier League clubs, Riley told Sky Sports News: "The referee always has the ability to go and look at the monitor if that's what they choose to do. We have to balance not impacting on the speed and flow of the game."
VAR has been a huge talking point this season, and officials will say they are adapting to do what is best for the game.
Has there been growing pressure to use monitors?
Yes. FIFA president Gianni Infantino was surprised to learn monitors hadn't been used in the Premier League this season. Speaking during the Club World Cup in Qatar last month, Infantino told Sky Sports News: "They should go and check. They have the safety net when they are not sure or when somebody who sees the images telling them to go and check."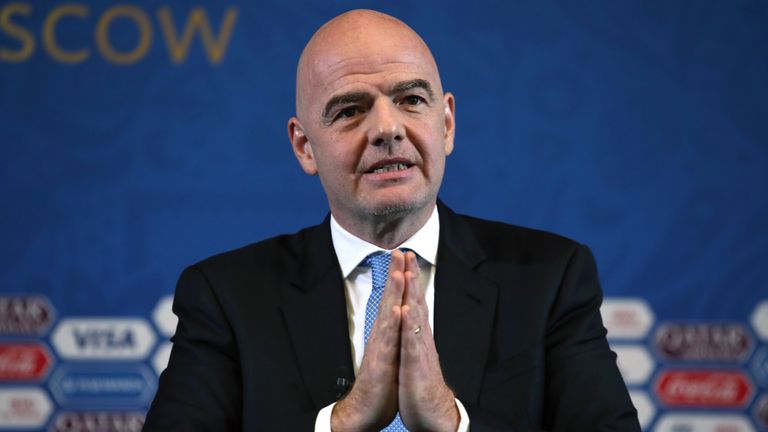 People in the game tend to take notice when Infantino gives his position on an issue, but there is no suggestion that the PGMOL were guided by him on this matter.
Arsene Wenger, FIFA's head of global football development, also strongly feels monitors should be used before overturning key decisions.
The lack of monitor use has been a stick to beat the PGMOL with this season, but they were adamant they did not want to slow down the game.
Is this an embarrassing U-turn?
The PGMOL will strongly say it is not a knee-jerk reaction, or a U-turn.
Officials always promised to listen to feedback from clubs, and we're told no single incident has prompted this clarification
There will be understandable interest on the first referee to use a pitchside monitor in the Premier League, but Riley and his team are confident it will not impact on the pace of the game.
Save 40% when you buy a NOW TV Sky Sports Month Pass for just £20