Chelsea v Manchester United: Key battles will be on the left wings
By Adam Bate
Last Updated: 17/04/15 10:28am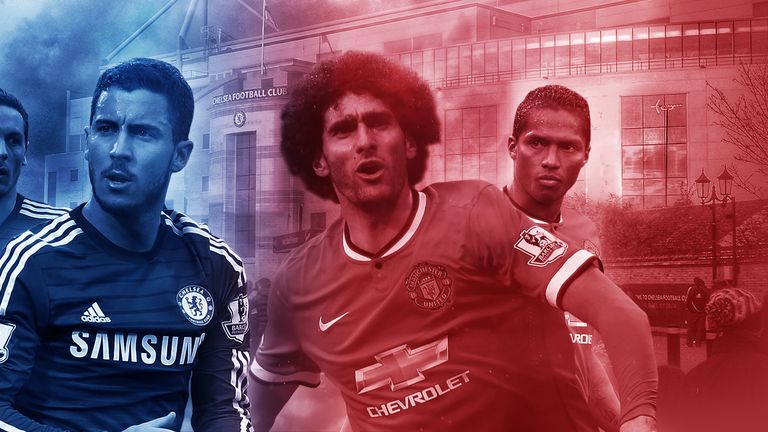 Saturday Night Football pits Premier League leaders Chelsea against in-form Manchester United at Stamford Bridge. With the help of Gary Neville and Jamie Carragher, we pick out some of the key battles that could decide the contest…
Chelsea go into the weekend with a seven-point lead at the top of the table but it's visitors Manchester United with the greater momentum having beaten Tottenham, Liverpool and Manchester City in recent weeks.
Louis van Gaal appears to have hit upon a formula for success with their left flank playing a huge part in that thanks to the performances of Daley Blind, Marouane Fellaini and Ashley Young…
United's left side
"I think Blind and Young are both intelligent players," Gary Neville told Sky Sports. "They understand their positions and they are picking up what Louis van Gaal wants. You have to put Fellaini into the mix as well given where he's playing in that left channel and that's been a feature of Manchester United's play in these last few weeks.
"Against Tottenham it was the most outstanding element in United's game and I think it won them the game. It posed problems for Liverpool as well and it certainly posed problems for Manchester City on Sunday. Chelsea now have to prove that they can handle it on Saturday. The other three teams that they've played against haven't been able to handle it."
The Fellaini problem
Fellaini received a standing ovation from the Manchester United supporters inside Old Trafford after another strong performance in their 4-2 derby triumph over Manchester City. The away side failed to pick up the tall Belgian as he drifted to the left flank with Yaya Toure allowing him far too much space to latch onto long diagonals unchecked.
"Fellaini is someone who needs special attention, there's no doubt about that," said Neville. "He needed special attention at Everton and it's the same at Manchester United." City seemed to fail to grasp the importance of that but it's not an error many would expect Jose Mourinho to make.
"Jose Mourinho very rarely gets done tactically in a big game," Jamie Carragher told Sky Sports. "His record is fantastic. He won't just go in with his normal setup. He'll do something different, I'm convinced of it. He won't allow the space and the problems United are causing down that left side to happen. He'll set up to stop them."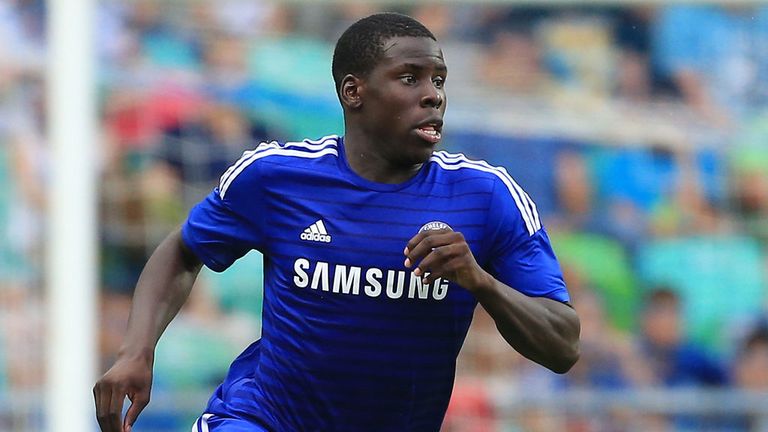 There's a case for getting Kurt Zouma into midfield around Marouane Fellaini because Nemanja Matic is left-footed and he won't want to put him on the right side of midfield.
Jamie Carragher
What can Chelsea do?
Chelsea's natural attacking line-up would see them opt for Nemanja Matic and Cesc Fabregas in the deeper midfield roles but with Matic preferring to drift towards the left and onto his stronger foot, this formation would leave Fabregas vulnerable defensively against the robust threat of Fellaini. As a result, Carragher feels that Mourinho could look to use Kurt Zouma in midfield.
"There's a case for getting Kurt Zouma into midfield and around Marouane Fellaini because Nemanja Matic is left-footed and he won't want to put him on the right side of midfield. He could play Zouma as a third centre-back just ahead of John Terry and Gary Cahill just to look after Fellaini."
Neville agrees. "I think Zouma coming in alongside Matic is a good point. Zouma will sit a little bit to the right, a bit like Nabil Bentaleb did in the second half of the Tottenham game, which actually nullified him a little bit, and sacrifice himself a little bit."
Any alternatives?
Such has been United's effectiveness on their left side that Mourinho might also look for a more defensively-minded winger to provide more support than Jesus Navas was able to do for City last weekend. While Branislav Ivanovic is an aerial presence, he will also need a winger who tracks back and that could mean another switch. "I imagine he'll play Ramires instead of Willian and tuck him right in to fill spaces around there," says Carragher.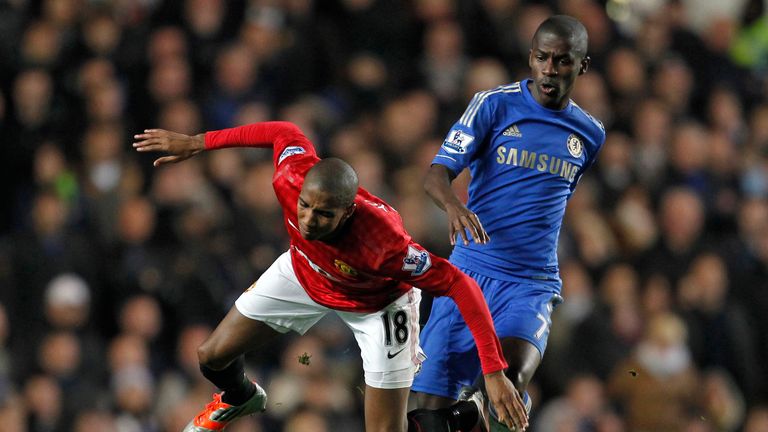 What about Chelsea's attack?
Of course, it won't all be about Chelsea looking to stop United playing but Neville believes that could provide the platform for the home side's success. "He'll play the long game because his side aren't playing very well, United are playing better than them at the moment, but he'll want to stop that pattern on the left side. More often than not, when he pays attention to things, he does.
"That will give him Cahill, Terry, Matic, Zouma, Drogba potentially, and he'll think that he can win the game either by a bit of magic from Eden Hazard or a set-piece."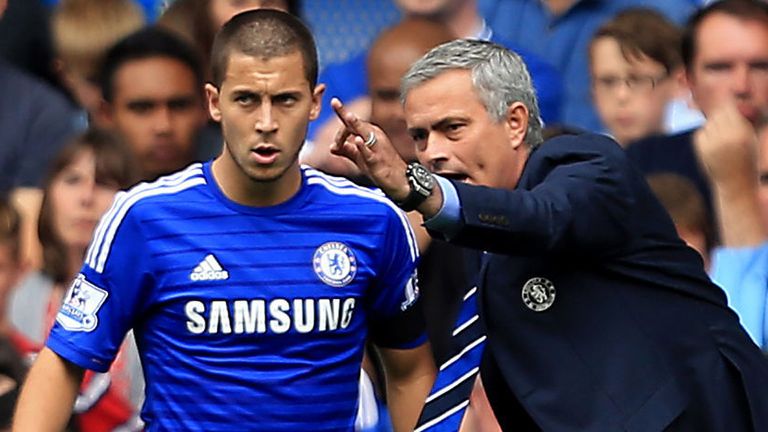 He'll think he can win the game either by a bit of magic from Eden Hazard or a set-piece.
Gary Neville
Hazard warning
With all the focus on Manchester United's left side, there is a danger of overlooking the threat posed by Chelsea's left winger. Hazard has been Chelsea's stand-out performer this season with 12 Premier League goals (only six players have more) and eight assists (only three men can beat that).
Moreover, he has been a dribbling sensation, tormenting full-backs game after game. His total of 148 successful dribbles is 46 more than anyone else in the country and there has been an end product too with Hazard creating the most chances (88) of any Premier League player.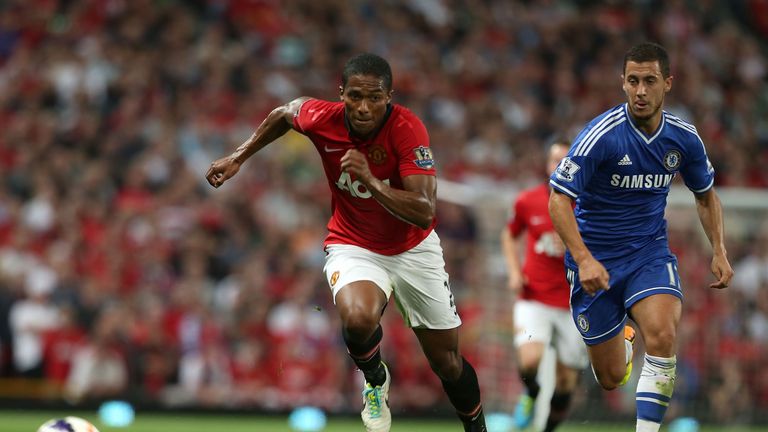 Antonio Valencia has been successfully converted to the full-back role and shown good form for Manchester United of late. However, while Valencia might be able to cope with Hazard's pace, the right-footed Ecuadorian might struggle with the winger's trickery when cutting inside.
"Van Gaal will have to think about that," Sky Sports pundit Tony Cottee told Morning View. "Valencia is a wonderful player but he's better going forward. If you've got Mata ahead of him, is he going to give the cover? That's the one key position where Van Gaal might want to play someone more defensive."
Conclusion
It's going to be another key battle and what seems clear is that whichever team gets the better of things down their respective left sides could be well placed to claim the points. Mourinho or Van Gaal? Chelsea or Manchester United? Saturday Night Football will provide the answers.
Watch Chelsea v Man Utd live on Sky Sports 1 HD from 4.45pm this Saturday