Which Premier League squads are tallest, youngest or most experienced? We take a look at the make-up of each club...
Clubs register their 25-man squads at the start of a season but can draft additional youngsters under 21 years old at any point during a campaign.
Therefore, we checked every squad player currently listed on premierleague.com to rank each club across a range of key metrics.
Age
Premier League newcomers Wolves have the youngest squad in the top flight with an average age of just 24 years and eight months.
Chelsea's Callum Hudson-Odoi - who Maurizio Sarri used frequently in pre-season - is the youngest player at just 17 years and 287 days old, followed by team-mate Ethan Ampadu.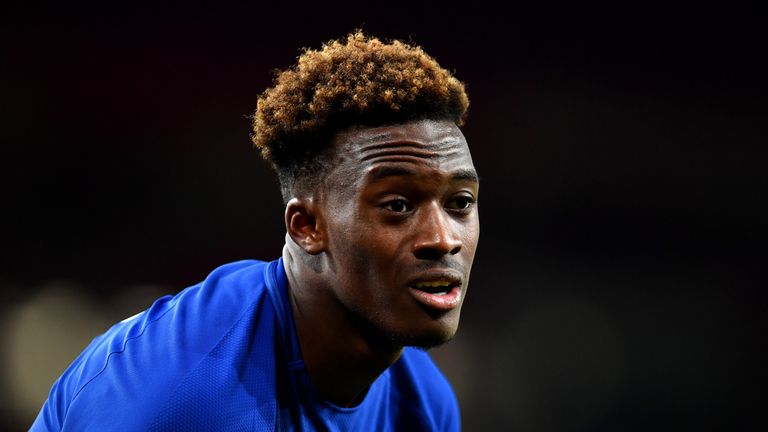 At the other end of the scale, Burnley have the oldest squad with a league-topping average of 28 years exactly, followed by Brighton, Cardiff City and Crystal Palace.
In fact, Palace 'keeper Julian Speroni is the oldest player at 39 years old, followed by fellow stoppers Artur Boruc (Bournemouth) and Robert Green (Chelsea), who are both 38.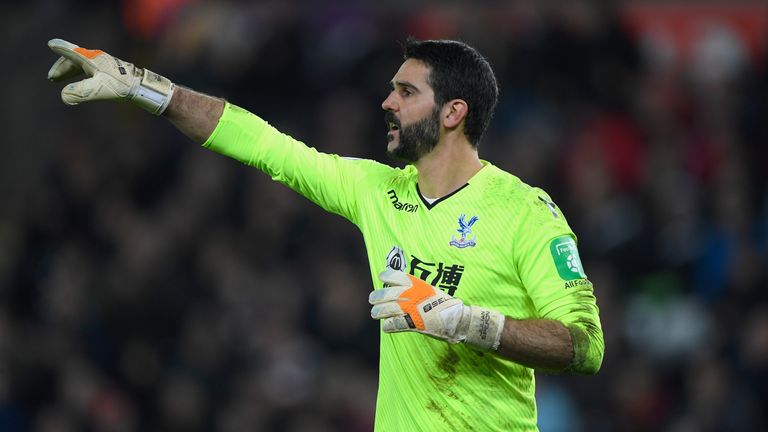 In terms of outfield players, Brighton defender Bruno is by far the oldest at 37, followed by 35-year-old veterans Jermain Defoe (Bournemouth) and Phil Jagielka (Everton).
Average age of current squad member
| | |
| --- | --- |
| Wolves | 24y 8m |
| Southampton | 24y 9m |
| Fulham | 24y 9m |
| Everton | 24y 9m |
| Man Utd | 25y 1m |
| Huddersfield | 25y 2m |
| Man City | 25y 2m |
| Liverpool | 25y 5m |
| Tottenham | 25y 7m |
| Newcastle | 25y 9m |
| Watford | 26y 11m |
| Chelsea | 26y 2m |
| Bournemouth | 26y 3m |
| Arsenal | 26y 5m |
| West Ham | 26y 6m |
| Leicester | 26y 6m |
| Crystal Palace | 27y 0m |
| Cardiff | 27y 3m |
| Brighton | 27y 6m |
| Burnley | 28y 0m |
Height
Watford should be the most commanding team in aerial duels with a league-topping average height of 185.4cm. They are followed by Huddersfield, Crystal Palace, Chelsea and Manchester United.
Southampton goalkeeper Fraser Forster remains the league's tallest player at 201cm, while centre-back team-mate Jannik Vestergaard is the tallest outfield player at 199cm.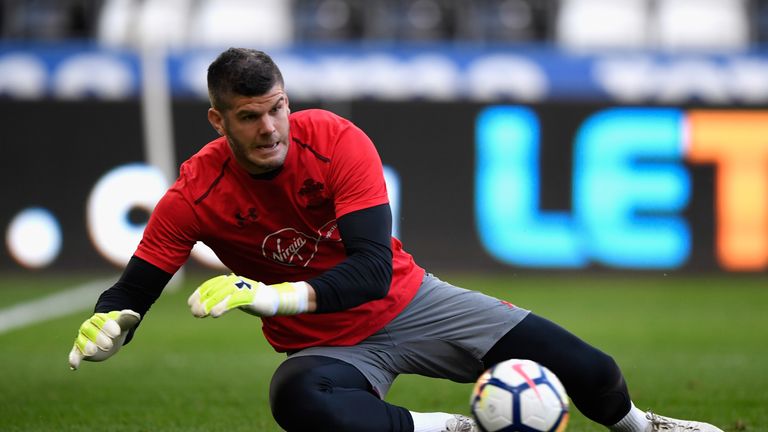 Jose Mourinho appeared to suggest height mattered after signing a host of towering superstars when he took charge at United, including Paul Pogba and Nemanja Matic.
However local rivals and reigning champions Manchester City have the shortest top-flight squad with an average height of just 179.7cm - proving size does not necessarily matter.
At 161cm tall, pint-sized United graduate Angel Gomes is now the league's shortest player - two centimetres shy of Bournemouth's Ryan Fraser.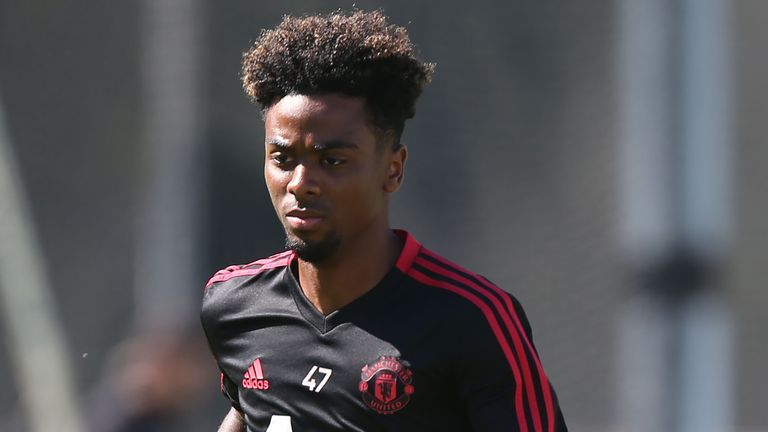 Average height of current squad member (cm)
| | |
| --- | --- |
| Watford | 185.4 |
| Huddersfield | 184.7 |
| Crystal Palace | 184.0 |
| Chelsea | 183.6 |
| Man Utd | 183.5 |
| Wolves | 183.4 |
| Arsenal | 183.3 |
| Southampton | 182.9 |
| Tottenham | 182.9 |
| Newcastle | 182.9 |
| Burnley | 182.7 |
| West Ham | 182.7 |
| Brighton | 182.6 |
| Leicester | 182.4 |
| Fulham | 182.1 |
| Liverpool | 181.8 |
| Cardiff | 181.7 |
| Everton | 181.5 |
| Bournemouth | 181.2 |
| Man City | 179.7 |
English players
Bournemouth have the most English players in their squad, with 64 per cent affiliated to the home nation, followed by Southampton, Cardiff City and Burnley.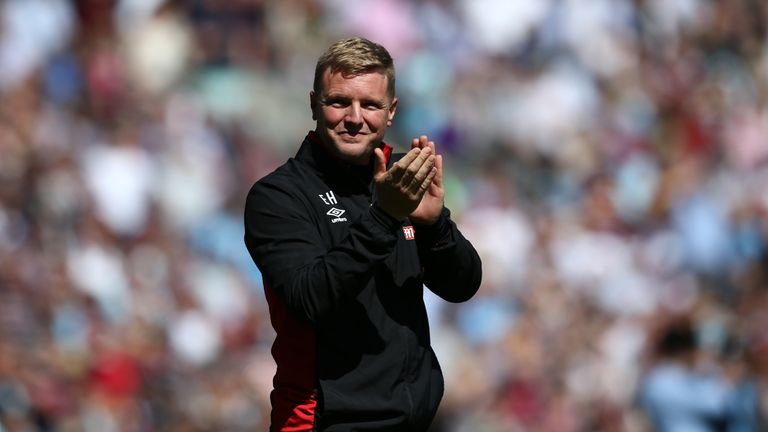 Of the big six clubs, Liverpool rank top with their 10 English players representing a 34.5 per cent proportion of their squad, followed by Spurs, Manchester United, Chelsea and Manchester City.
Interestingly, Unai Emery's Arsenal rank bottom of all clubs with just four English players - comprising a lowly 15.4 per cent proportion within their current ranks.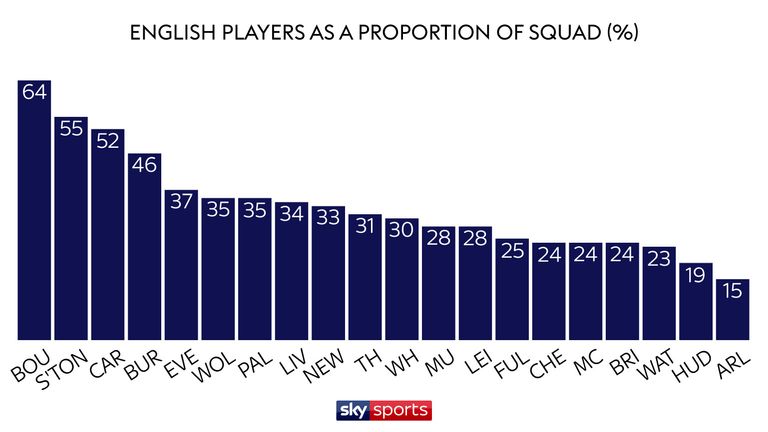 Foreign nationalities
Newly-promoted Wolves have the biggest contingent from a single foreign nation with seven players representing Portugal - more than 30 per cent of their entire squad.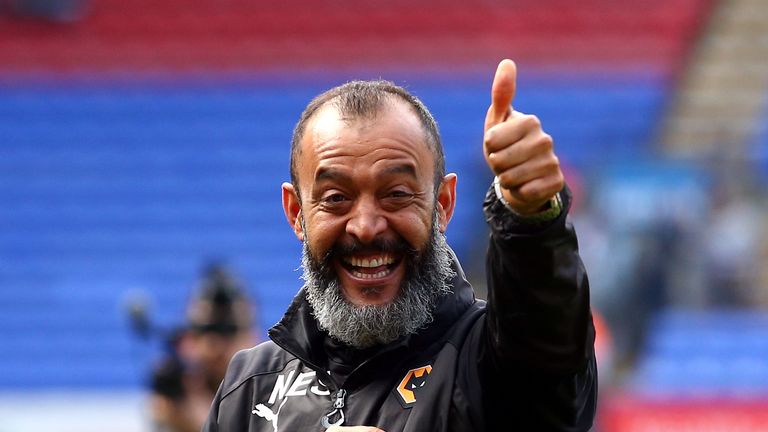 One-fifth of the Chelsea squad is from Spain, including record-signing Kepa, Alvaro Morata, Marcos Alonso, Cesc Fabregas, Cesar Azpilicueata and Pedro.
Burnley have five players from the Republic of Ireland, while Cardiff have four, and David Wagner has a large contingent from his homeland, with four German players at Huddersfield.
Overall, exactly one-third of Premier League squad members are English - 188 out of 566 - followed by Spain (37), France (32), Republic of Ireland (20), Belgium, Brazil and the Netherlands (each 19).
Premier League experience
Manchester United have the most experienced Premier League squad, collectively racking up 3,009 appearances in England's top flight, followed by Chelsea, Liverpool, Everton and Burnley.
Following Gareth Barry's relegation with West Brom, Defoe is now the league's most experienced player with 493 appearances, while James Milner is just seven shy of the Bournemouth striker.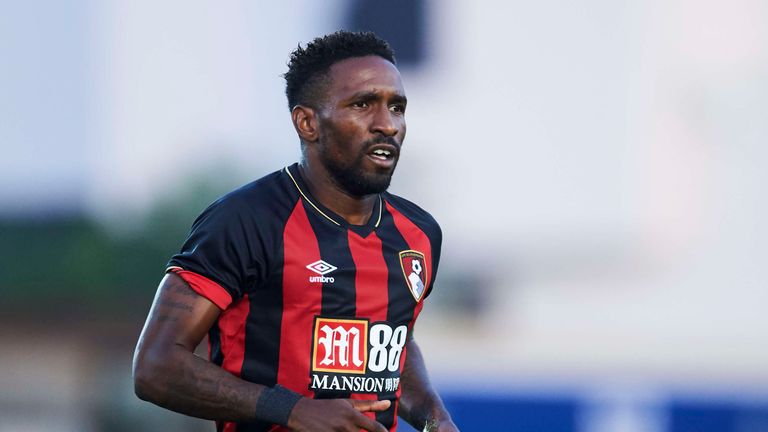 Wolves' players have the least top-flight experience in England with a combined 232 appearances, while fellow newly-promoted sides Fulham and Cardiff also have squads that rank bottom for Premier League experience.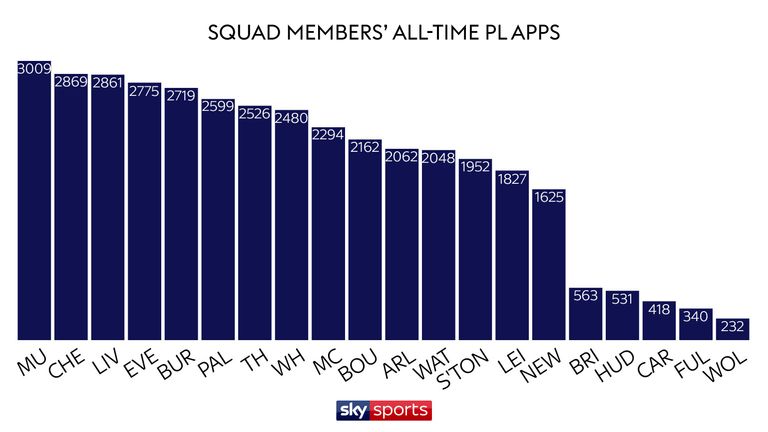 Five of the big six clubs have the most prolific squads in front of goal, with United's current players netting 416 during their Premier League careers, followed by City, Liverpool, Chelsea and Spurs.
Arsenal's squad languishes in 10th with 187 goals, while Wolves' players have collectively scored only four goals and recorded three assists during their Premier League careers.
With all the above metrics factored, the average squad member is English, 26 years old, 183cm tall, weighs 77kg and has made 67 Premier League appearances... while the most common forename is Danny/Daniel.
Comment below to get involved in the debate, but please adhere to our House Rules. If you wish to report any comment, simply click on the down arrow next to the offending comment and click 'Report'.