Manchester United midfielder Bastian Schweinsteiger will serve a three-match suspension for elbowing West Ham's Winston Reid.
The ban begins with immediate effect after the Germany captain accepted an FA charge for violent conduct. The incident, last Saturday at Old Trafford, was not seen by the match officials but was caught on video.
Schweinsteiger caught Reid in the throat as the players battled for position from a first-half free-kick during the 0-0 draw.
He will miss the forthcoming Premier League games against Bournemouth, Norwich City and Stoke City.
Hammers defender Reid said after the match: "It was a red card. He knows what he's done - he's elbowed me in the face. The referee couldn't see it, so we move on."
West Ham boss Slaven Bilic told Sky Sports: "It is a red card, but I can agree that he didn't see it. No matter how many referees you have, sometimes they can't see.
"I'm sure if he did see it, it would have been a straight red. Of course we are disappointed but it happens. He just didn't see it."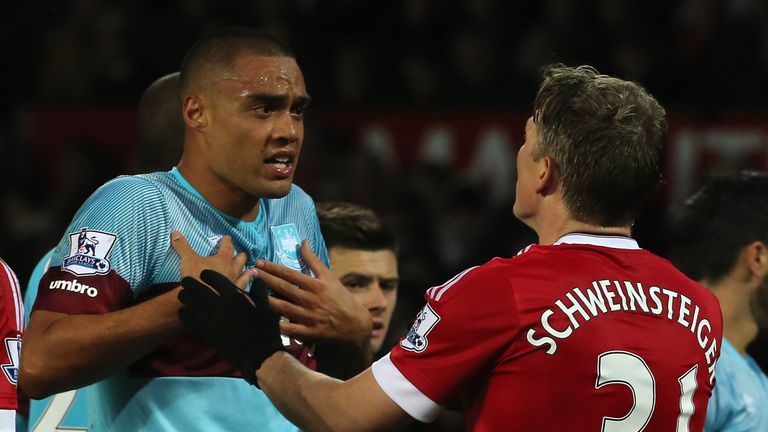 Former referee Dermot Gallacher told Sky Sports News HQ on on Monday: "I'm not convinced the referee's seen what we've seen.
"Chris Smalling may block him off. He's seen two players coming together and what he's done is decided to calm it down, take the heat out of it, because it was a free-kick.
"I'm not convinced he sees what we see from the camera angle. If you do that in the current climate you run a massive risk. If you take that risk and get caught you have to accept the punishment. If Mark Clattenburg had a really good view of that, he would send him off."