Marcus Rashford's extraordinary breakthrough continued with a decisive goal in his first Manchester derby. Here, we take a detailed look at the teenager's match-winning display as United claimed an invaluable 1-0 victory over their noisy neighbours…
Who better to settle a Manchester derby than the only local lad on the pitch? With a blistering turn of pace and a cool finish beyond Joe Hart, Marcus Rashford reignited Manchester United's top-four challenge and became the youngest player ever to score in a Premier League meeting between the two sides.
After netting twice on his debut against Midtjylland and adding two more on his Premier League bow against Arsenal, this was Rashford's fifth goal on his eighth consecutive start for United. It was a handsome reward for Louis van Gaal's unwavering faith in 18-year-old, and City's beleaguered defenders would surely testify that this was his best display yet.
No one suffered more than Martin Demichelis. The Argentine centre-back has enjoyed a long career at the top of his profession, but age didn't so much catch up with him as run him into the ground at the Etihad Stadium. Rashford targeted the 35-year-old repeatedly until he was mercifully substituted in the 52nd minute, and never was the mismatch more obvious than for the goal.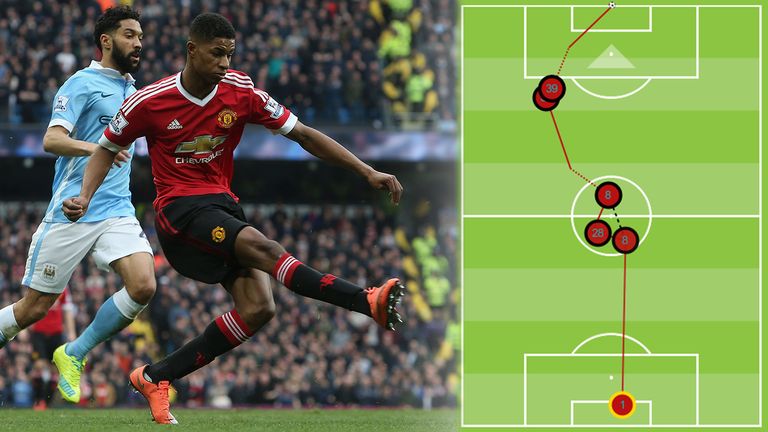 Sixteen minutes had passed when Juan Mata played a one-two with Morgan Schneiderlin in midfield before sliding a pass into the feet of Rashford. The striker had plenty left to do, but he effortlessly controlled the ball with his left foot before breezing away from Demichelis' feeble challenge and sending a right-footed finish beyond City's advancing goalkeeper.
Direct, incisive and clinical. It was a world away from the laboured attacking that has been typically associated with United for so much of Van Gaal's tenure, and it left Demichelis in a heap on the turf as Rashford wheeled away in celebration.
"He left him for dead," noted Jamie Carragher in the Sky Sports studio. "Demichelis must have been having nightmares at half-time." Former Manchester City striker Niall Quinn was equally impressed: "He had no fear. As soon as it came to him, he thought: 'I'm going to get at him, I know I can get at him,' and of course he does and he puts in a brilliant finish."
The goal set the tone for what was to follow. Rashford repeatedly positioned himself the left-hand channel between Demichelis and Bacary Sagna, and the tactic nearly paid off again when he drew a clumsy foul from the Argentine which should have been rewarded with a penalty in first-half stoppage time.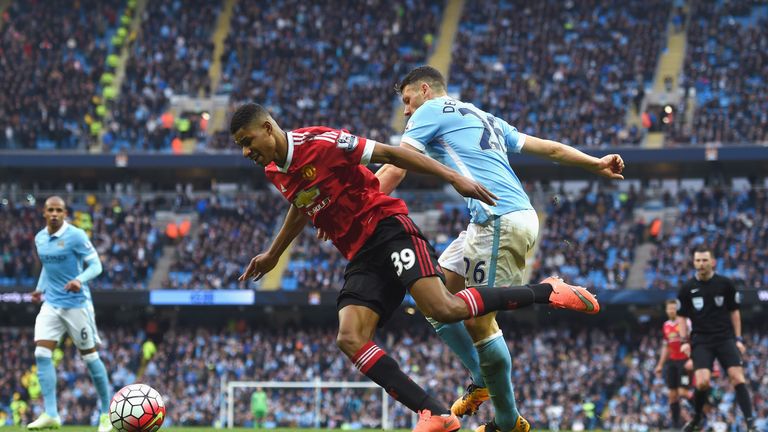 Well over 50 per cent of United's attacking play came down the flank occupied by Rashford and Anthony Martial, and the former's movement was a constant threat to a defence robbed of first-choice centre-backs Vincent Kompany and Nicolas Otamendi.
"That's intelligence," said Carragher. "That's something the manager must have spoken about before the game; that he wants him in that inside-left channel. That's where all the problems were caused."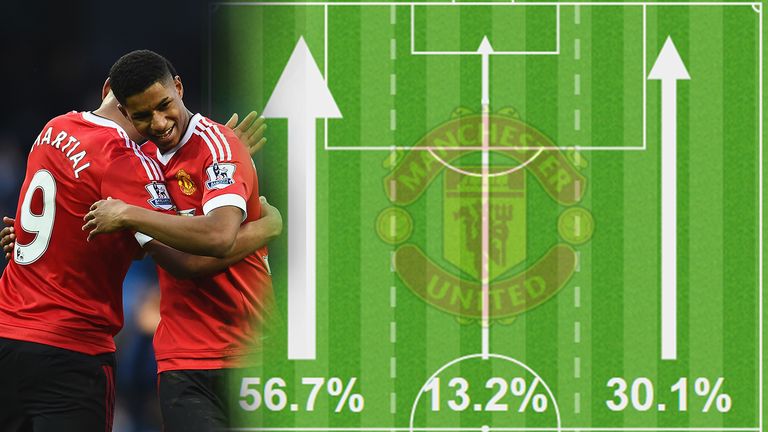 Rashford didn't see as much of the ball as Manchester City pressed for an equaliser in the second half, but his pace provided a valuable outlet on the break and it was no surprise that he clocked the highest top speed on the pitch at 34.41km per hour.
And with Martial and Lingard on either side, United possessed the kind of youthful dynamism City sorely lacked in the final third. "I think United will be encouraged from the way the young guys played in the first half," said Graeme Souness. "It showed they had pace and imagination."
Van Gaal was understandably delighted, and there was special praise for United's new hero in his post-match interview with Sky Sports. "He's a real striker," he said. "That's why I let him stay in that position, because he can make goals but he is also an attacking point and he also runs the channels. I like him very much."
Van Gaal could have added stamina to Rashford's growing list of attributes. The youngster pulled up with cramp when chasing down a long ball in the 86th minute, but in the sixth minute of stoppage time he still found the resources to sprint half the length of the pitch to win a corner. "Even with cramp he could still run," said Van Gaal. "I have never seen that."
Rashford has now scored more goals in his first eight United appearances than either Wayne Rooney, Robin van Persie or Martial. Van Gaal was quick to point out that his consistency will be tested in the weeks ahead, but it feels like there are more surprises to come.
United's local hero is only just getting started.