Louis van Gaal praises Marcus Rashford after Manchester derby winner
By James Walker-Roberts
Last Updated: 20/03/16 7:35pm
Manchester United manager Louis van Gaal hailed Marcus Rashford as a "real striker" after his derby winner against Manchester City on Sunday.
The 18-year-old scored the only goal of the game in the 16th minute, coolly finishing after skipping away from Martin Demichelis.
The goal was Rashford's fifth since he was handed a starting role in the Europa League eight games ago.
"He is a real striker and that's why I let him stay in that position because he can make goals," Van Gaal told Sky Sports.
"But he is also an attacking point and runs the channels. I like him very much. But he is 18 years old so we have to wait and see how consistent he is."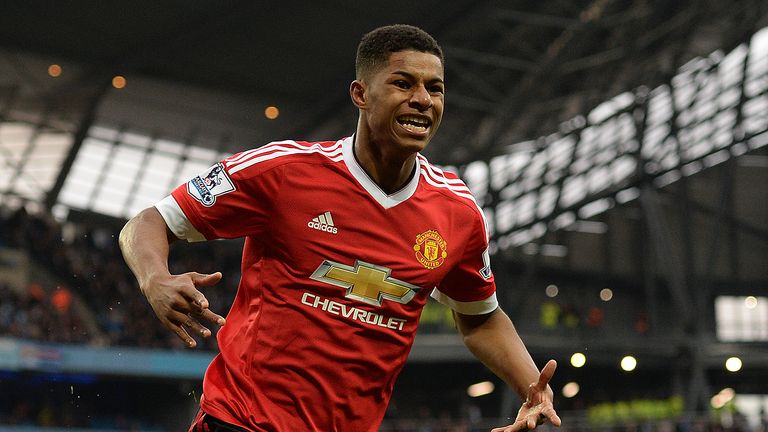 Asked in his post-match press conference whether Rashford could earn a call-up for England in the near future, Van Gaal said: "I don't want to interfere. We don't have to exaggerate either. He is young, he is good, otherwise I question why I let him stay in the team."
The win comes just a few days after United's Europa League participation ended with a 3-1 aggregate defeat to Liverpool.
But while Jurgen Klopp's side followed up the result with a 3-2 defeat to Southampton, having led 2-0 at half-time, United managed to recover from the setback and earn three potentially vital league points.
"I am very happy," said Van Gaal. "We played a very good first half. In the second half we had the chances to score the second, but then we fought to the end to survive because a lot of players had cramp.
"That's logical, I think, when you play on Thursday. You have seen what Liverpool did; in the first half they scored two at Southampton and in the second half it was 3-2.
"That's only because they were not recovered. Otherwise you can't lose 3-2.
"I think [United's performance] was fantastic. We have done it also against Arsenal after playing on Thursday and we have beaten also Manchester City, so I am very happy because it's not easy to win here."
The victory sees United move just a point behind City with eight games of the season remaining.
"It was fantastic to see the dressing room and we will fight every match, of course," said Van Gaal. "Now we have a big result. It was a long time ago that Manchester United won here, so for the fans it is again fantastic that we have won."