Chicago Fire general manager Nelson Rodriguez insists there was no rift between Bastian Schweinsteiger and Manchester United manager Jose Mourinho.
The 32-year-old, who made just four appearances for United this season, announced on Tuesday that he would be joining Chicago Fire on a one-year deal and is set to become one of the highest-paid players in Major League Soccer.
Schweinsteiger was deemed surplus to requirements by Mourinho last summer and was forced to train away from the first-team squad until December, leading to speculation that the pair had fallen out.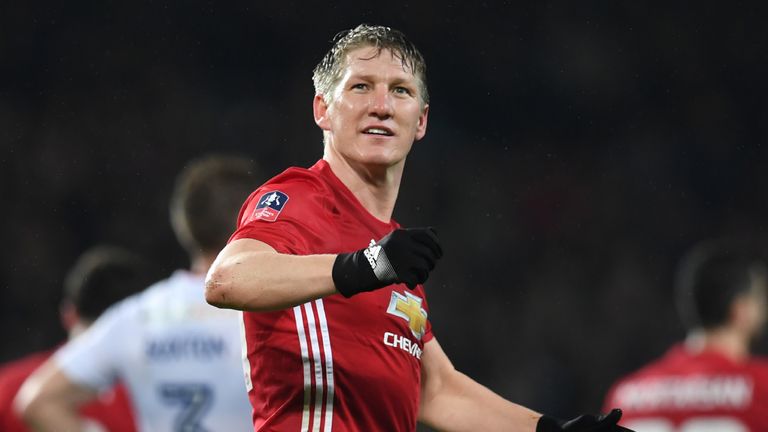 But when about a possible rift between Schweinsteiger and Mourinho, Rodriguez told Sky Sports News HQ: "He's (Schweinsteiger) has had nothing but good things to say about United. Clearly he had a great affection for the fans, but also for the players and management.
"He felt he could have played more as he's 32 and in good shape. In fact, this process to bring him to Chicago could have been done earlier were it not that United wanted him to stay at the club during the early part of the season.
"United were competing on many fronts (earlier in the season) and Bastian was regarded as a valuable asset by United.
"Obviously as the season goes on, rivals have dropped away. Now is a good time, United have fewer competitors and a summer transfer is not good for us. We made it happen."
Sky Sports News HQ understands Schweinsteiger is still in the United Kingdom and will fly out to Chicago to complete a medical once he obtains a work permit and a working visa.
Rodriguez added: "Manchester United were very gracious and (United executive vice-chairman) Ed Woodward was particularly helpful to get the deal done.
"We believe Bastian will make us a better soccer team, he'll be a role model and a leader for us."
Chicago hope Schweinsteiger will be available to make his debut against Montreal Impact on April 1.
Sky customers can now upgrade to Sky Sports and get 12 months for just £18 per month. Upgrade now!