Sky Sports tactics expert Danny Higginbotham examines how Manchester United will operate differently with Romelu Lukaku spearheading their attack.
Having pursued then Real Madrid striker Alvaro Morata for much of the summer, United spent heavily on Everton forward Romelu Lukaku, giving Mourinho a more mobile option up front.
But how will United get most out of their record acquisition? How will United create the opportunities for the 24-year-old to fire United to a title challenge? Higginbotham takes a look...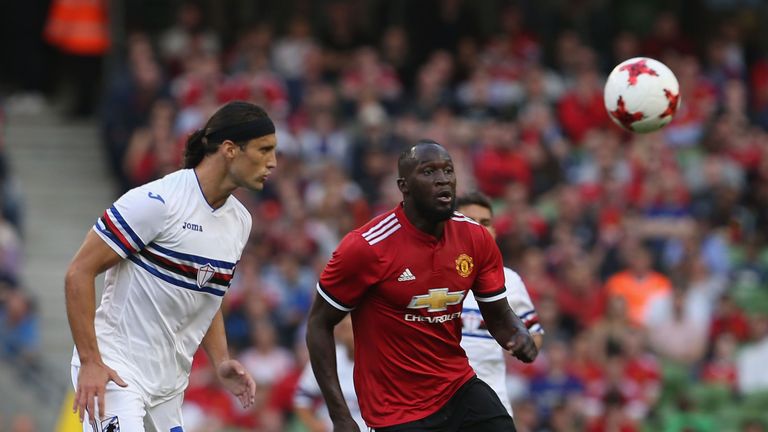 "Last season, Zlatan Ibrahimovic was phenomenal for United, there is no doubt about it," Higginbotham told Sky Sports. "They ended up in 4-1-4-1 system, more or less, with different personnel in there.
"Ibrahimovic would be in the middle but would like to drop deep. As a centre-half, you have to go with him, because if you don't, he turns and you have got runners going beyond him. The defence would then have to use a high line.
"Then you would have Paul Pogba, and Juan Mata at times as well, making the runs in behind, in the space created by Ibrahimovic, who would often end up the deepest of the front four or five.
"Now, there is a different system with Lukaku. When I was playing as a centre-back, if I played against a quick centre-back, a quick centre forward, I wouldn't want to be isolated, I would want to give myself a few yards. As a result, players will drop deeper.
"There are two effects from this. There is no space in behind. The space is in between the back four and the midfield for the likes of Rashford to come into. You are likely to get the likes of Henrikh Mkhitaryan and Ander Herrea dictating play from deeper.


"Not just that. As a defender, whether in a back four or back three, the deeper you get the more narrow you become. The one thing you don't want is space between the full-back and the centre half. That opens up the wide areas.
"Antonio Valencia had a great season last season. He will attack out wide. There is a problem out wide left. People are talking about whether Luke Shaw will get another chance, but only Mourinho knows that. I believe Shaw has the potential to be Manchester United's left-back. He would suit that system, with space out wide. Matteo Darmian is naturally right-footed, to will cut inside.
"Overall, expect teams to drop very deep against Manchester United, as they will fear the pace of Lukaku. The space will appear as the defence and midfield become separated. That space out wide will open up to. It is a matter of United getting the right players in those wide positions. You only have to look at how many goals Lukaku scored for Everton from crosses."