Jose Mourinho delights in Manchester United comeback win despite 'so many mistakes'
Last Updated: 06/03/18 11:54am
Jose Mourinho was left with a "great feeling" after Manchester United's "amazing" 3-2 comeback win at Crystal Palace, despite admitting his side made "so many mistakes".
United trailed 1-0 at the break at Selhurst Park on Monday night after an error-strewn display that saw them create few chances.
However, despite falling further behind shortly after half-time, they responded well to win the Premier League game thanks to a superb injury-time strike from Nemanja Matic.
"It was a fantastic match for the people in front of the screen and in the stadium," said United boss Mourinho.
"Difficult match for me because my team made so many mistakes. We had an amazing attitude and very good quality football in the second half but we made so many defensive mistakes and I am not only speaking about my defenders. I am speaking about my team generally.
"I don't like my teams to lose organisation like we did, but amazing match an amazing comeback, and very important victory for us because now we have nine matches to the end and we have nine points to fifth place which is not amazing but is OK."
Mourinho was particularly critical of the way his side fell 2-0 behind as Palace scored from a quickly-taken free-kick in the 48th minute, saying it was "disgraceful and childish".
But he added: "Everything changed... the players kept an amazing attitude.
"We also came back against Chelsea, which was good, but to come back from 2-0 down away home against a team fighting desperately for points and scoring in the last minute gives us a great feeling.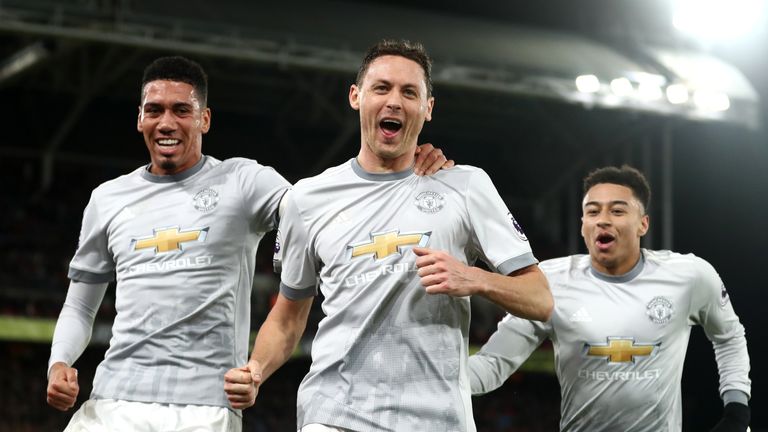 "It's the feeling that Manchester City start had at the beginning of the season when they won against Bournemouth in the 97th minute, and someone else in the 96th minute, it gives a great feeling for our fight, which is top four. It's very important because it gives us the points but also a good feeling."
Mourinho also paid tribute to Palace's performance, saying opposite number Roy Hodgson "did everything right" even though his side had nothing to show for their efforts.
"I have to say Roy had a fantastic gameplan, really aggressive, two big strong strikers to play direct to them and cause us problems with crosses and direct football and second balls, also counter-attacking with [Andros] Townsend and Patrick [van Aanholt].
"So sometimes the winner is the one that deserves congratulations but I have been many times on the losing side and sometimes I felt I did many things right and I think Roy did everything right."