Anthony Martial has 'almost fallen off a cliff' under Jose Mourinho, says Ian Wright
Last Updated: 11/04/18 3:24pm
Ian Wright thinks Anthony Martial has "almost fallen off a cliff" at Manchester United and Jose Mourinho would prefer to let him go than Marcus Rashford.
There have been reports in the media that both Martial and Rashford are unhappy with their lack of starts this season.
Martial in particular has found his opportunities limited as of late, starting just four games since Alexis Sanchez's arrival in January.
And former Arsenal and England striker Wright told The Debate: "He has almost fallen off a cliff with Mourinho and if he had to let one of them [Martial or Rashford] go, it would probably be Martial."
Asked whether Martial and Rashford should be thinking about leaving, Wright added: "They should be thinking about it with everything that's happening, and the way United play.
"They should be a lot closer to Manchester City with the quality they have got but they have not been able to really express themselves in the way they want to."
Former Manchester City striker Craig Bellamy agreed with Wright on Martial, saying: "I like him but he frustrates me. I watch him and I'm thinking 'please use your pace, go on the outside for once'. He has all that ability.
"To play out wide for Mourinho is a difficult job, he asks a lot, especially going the other way."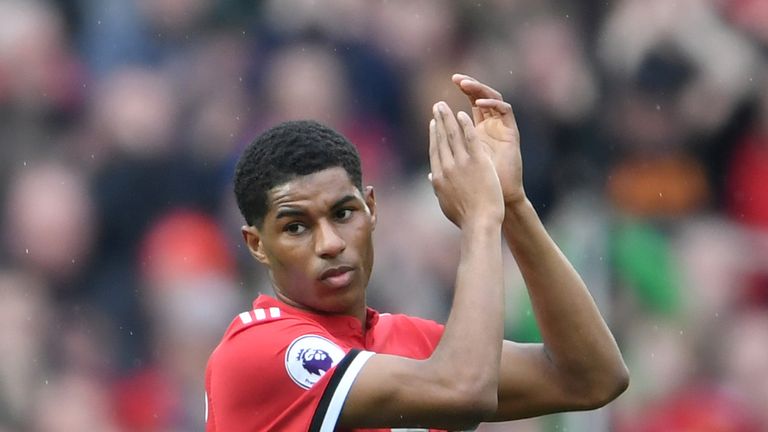 Rashford came up through the United academy but was only a late substitute in the derby win over Manchester City last weekend.
"I would be worried if he didn't want to play and wasn't disappointed with not starting," said Bellamy.
"But I am sure Man Utd are looking at it and thinking 'he isn't going'. He might not be getting the game time he wants and maybe not next year if one or two players come in, but he could go on loan and go to a club they want because he is going to be there for the long haul, because he's that good a player.
"If he was available there would be a queue of clubs, top clubs, wanting to sign him. I think he's going to be a star, one of the top players."