Manchester United's trip to Tottenham in Premier League thrills Ole Gunnar Solskjaer
United play Spurs at Wembley on Sunday, live on Sky Sports PL
By Zinny Boswell
Last Updated: 06/01/19 11:54am
Ole Gunnar Solskjaer admits Manchester United's trip to Tottenham next Sunday will be his first "proper test" as caretaker manager.
United have made a perfect start under Solskjaer - beating Cardiff, Huddersfield, Bournemouth, Newcastle and Reading - but have yet to come up against top-six opposition.
Solskjaer, for the first time as United boss, has a week to prepare for a game, with his side travelling to Dubai for a warm-weather training camp ahead of Sunday's trip.
"Spurs away at Wembley - that's a proper test," said Solskjaer, after Saturday's 2-0 home win over Reading in the FA Cup third round.
"We are looking forward to that one because that'll give me more of a reference on where we are against the top boys.
"We are not happy talking about fourth, fifth or sixth. In a year or two the club needs to move on and move up the table."
Responding to claims he has had a favourable start, the Norwegian said: "You go to Cardiff in the first game - it's never easy. And then at home you're expected to beat Bournemouth and Huddersfield.
"They're never easy games. We've lost points before [in those games], there's no easy games in the Premier League. Newcastle away - I thought that was a professional performance.
"And today, it's never easy when you make nine changes, but we still won all of them."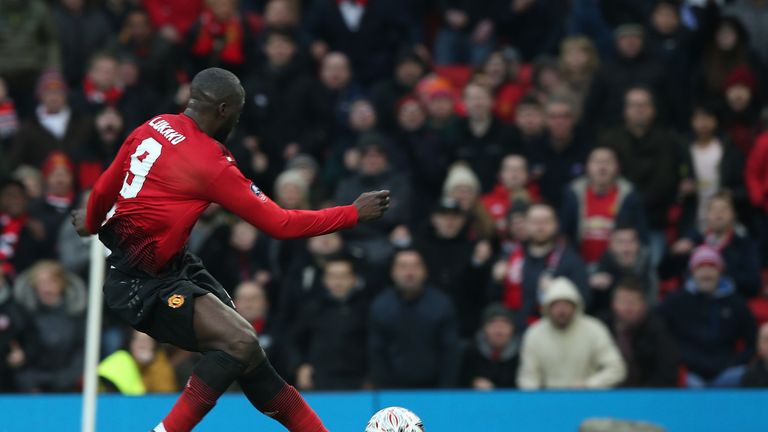 Romelu Lukaku and Alexis Sanchez were given their first starts under Solskjaer at Old Trafford on Saturday and combined well for the second goal - which was finished by the Belgian.
Asked if Sanchez and Lukaku could start against Spurs, he added: "Everyone is considered. It's down to what kind of tactics we decide to use, who does well and who is fit.
"They are now getting their fitness work in and I know they are quality players. Rom has scored three in three now, two as a sub and today [Saturday] from the start.
"It was a fantastic goal [against Reading] I thought, which was constructed by the two of them."