Manchester United made it five Premier League wins on the bounce by beating Tottenham at Wembley. Ole Gunnar Solskjaer has transformed this team by bringing the speed back to their play, writes Adam Bate.
"Manchester United look like the Manchester United of five to 10 years ago," said Gary Neville. For the club's supporters, the 1-0 win over Tottenham at Wembley was more than they could have hoped for. A sixth successive win under Ole Gunnar Solskjaer and the team's very first of the season against a top-six rival. Now we can say it. United are back.
The first of his five victories could have been explained away. The gloom that had come to engulf the club under Jose Mourinho had been lifted. With a bit of encouragement and support, these were matches that they might have expected to win anyway. But this was a tougher test. Solskjaer not only came through it but he impressed tactically too.
He sprang a surprise by tweaking the tactics and matching up against Tottenham by playing a diamond in midfield. This congested things in the middle of the park but ensured that United had Marcus Rashford and Anthony Martial in prime position to exploit the spaces between centre-back and full-back in a Spurs defence that looked mismatched for pace.
The warning signs were there even before Rashford got himself on the end of Paul Pogba's excellent pass to run away from Jan Vertonghen and force the ball beyond Hugo Lloris into the far corner for the only goal of the game. It was exactly the moment that Solskjaer had been waiting for, but United have been waiting for this brand of football for far longer.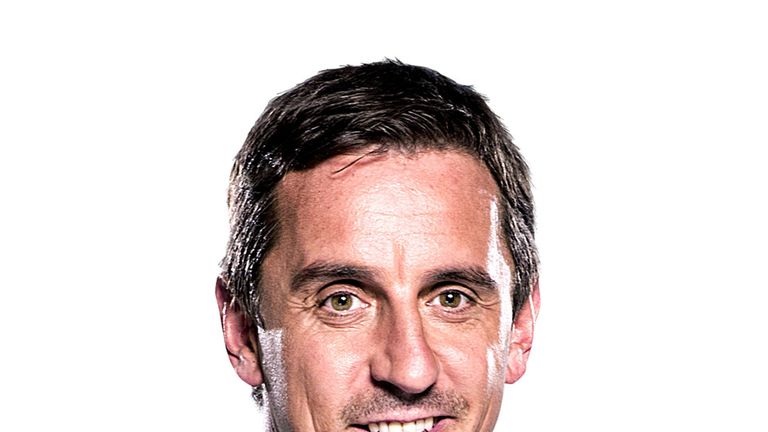 They have got the counter-attack back.
"They have got the counter-attack back," said Neville. The statistics reveal the truth of that statement. Opta define a fast break as an attempt created when a team turns defence into attack after winning the ball in their own half. United had three such breaks in the first 45 minutes alone - as many as in their 17 full matches under Mourinho this season.
Indeed, no team in the Premier League had fewer counter-attacks than Mourinho's United. They were joint last alongside Cardiff and Huddersfield with just three. Solskjaer's United have had seven in the past two matches. No team has had as many since he took over. They have gone from the worst counter-attacking side in the Premier League to the best.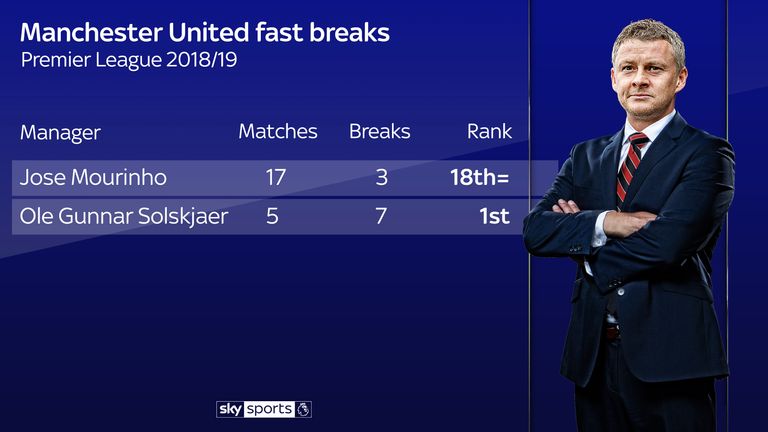 The capacity to pose that threat was always there with this squad. Rashford was the quickest man on the pitch and made twice as many sprints as anyone else. All he needed was the service. "That's what we have been working on all week," Pogba told Sky Sports. "We knew we could hurt them like this." Spurs had the possession. United had the potency.
Of course, it required plenty of defensive resolve, and some extraordinary saves from David de Gea, for United to hold on for the three points. The defensive weaknesses that dogged this team during the early part of the season have not gone away. But this was a reminder that just because a team can't dominate the ball, it does not need to be insipid either.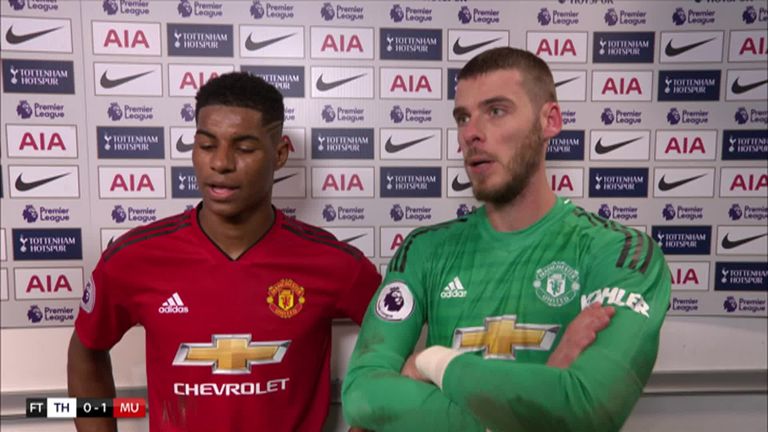 United had the pace in attack to ensure that even when breaking quickly, they could get bodies into the box. It happened time and time again in the early stages. There was a two-on-one and then a three-on-two. "They have got a problem, Spurs," said Neville. "The speed at which United are moving in the transition is a huge problem for this Tottenham defence."
It was not by accident but by design. Juan Mata and Romelu Lukaku have qualities and have been useful under Solskjaer too. But their lack of pace means United become a different team when they are on the pitch and Lukaku's introduction underlined that point at Wembley. This new template offers hope for the future and it was ignored for too long.
This was the second time that Solskjaer had named this exact line-up, one that Mourinho didn't name once. But more pertinently, Rashford and Martial were picked together only 15 times in 93 Premier League matches under Mourinho. They have been in four of Solskjaer's five selections and might have been in all five had Martial not been ill on Boxing Day.
Rashford has scored in three consecutive Premier League games for the first time in his career. But then, he has started nine Premier League games in a row for the first time since his first nine games under Louis van Gaal. If he is in the team against Brighton, he will make it 10 starts in a row for the first time. No wonder he is starting to look more confident.
After all the criticism and all the concern, Solskjaer has found something from this squad that many had begun to doubt was there. By focusing on their strengths, he has mitigated against their oft-discussed weaknesses. He has changed the mood and he has changed the mentality. But this showed that Solskjaer's tactical changes can help United progress too.