Ole Gunnar Solskjaer says Anthony Martial can emulate Cristiano Ronaldo at Old Trafford
By Sky Sports News
Last Updated: 01/02/19 2:22pm
Ole Gunnar Solskjaer has urged Anthony Martial to keep improving and emulate Manchester United hero Cristiano Ronaldo after signing a new deal at Old Trafford.
The France forward extended his deal at Old Trafford on Thursday, committing himself to the club until June 2024, and Solskjaer said he told the 23-year-old he could follow in the five-time Ballon d'Or winner's footsteps.
He said: "I'm here to help players, to guide players until the summer and I think when you sit him down and talk to him, for example, about Cristiano's career, what he's made of his career and how he's got there and we talk about all the fantastic players with the history they've got, I think Anthony just said, 'If I can be a part of this I'd like to'.
"I speak about my experience at this club and what [Martial] can achieve. I talk about Cristiano's career, what he's made, how he's got there.
"That's up to any player, how you make a decision on how to develop your own career. Cristiano was the best, the way he's changed to now; that's part of any player - you've got to model yourself on someone and you've got to have more challenges ahead of you."
Solskjaer, who scored more than 90 goals during his time as a player at United, wants Martial to follow his lead and increase his output in front of goal.
The caretaker manager said: "I'd like him to make a few more runs in behind. He doesn't miss chances. He's a fantastic finisher, so he needs to get more chances.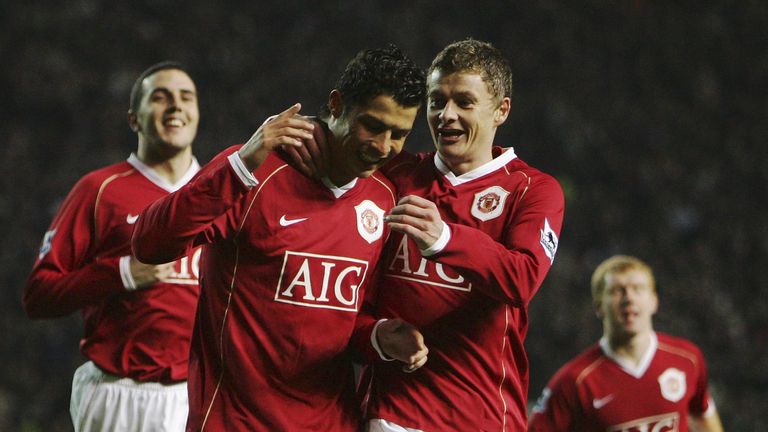 "I keep telling him you need to read and sniff whether there's going to be a chance. Maybe get some scruffy goals as well.
"Him and Marcus (Rashford) score lots of 'worldy' goals, but those five or six extra goals that I used to do with tap-ins, by making those runs, go a long way."
Much has been made of Solskjaer's role in improving the form of Rashford, who has scored five goals in nine games since the Norwegian replaced Jose Mourinho, and he believes the England forward can form a potent partnership with Martial.
He said: "Healthy competition but also they can create a relationship. They can play for many years together, hopefully.
"They can feed off each other because both are very good at coming off the left. If one plays central the other can do opposite movements.
"I think in the coming years we'll see loads of combinations between those two."