Manchester United struggled to victory over West Ham and the style of play is still a concern
Manchester United were fortunate to win 2-1 against West Ham
Last Updated: 14/04/19 11:41am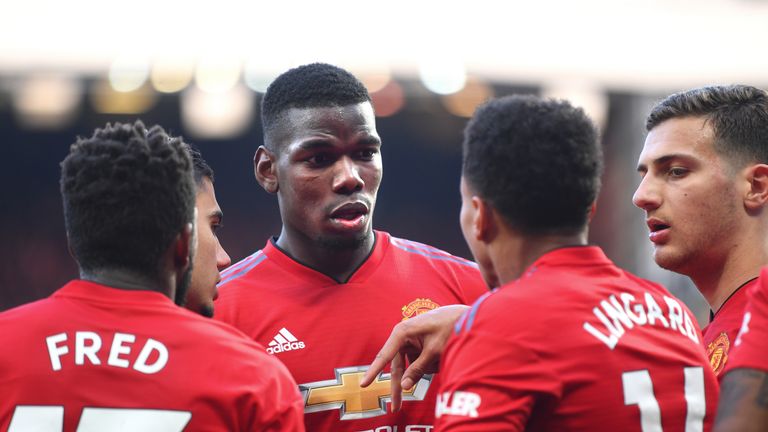 Two penalties from Paul Pogba were enough to earn Manchester United the points against West Ham but Ole Gunnar Solskjaer's team were unconvincing. Adam Bate was at Old Trafford to see United's lack of creativity laid bare and wonders how much it will take to solve it...
"When you win 5-0, or are 3-0 up, or win five on the bounce, then it's easy. But it's not always easy. You go through tough times, you lose games, then your character is revealed."
United edge out West Ham
As it happened at Old Trafford
Ole Gunnar Solskjaer will be pleased that his Manchester United team came through that test in beating West Ham 2-1 at Old Trafford on Saturday. As a result, they remain in the race for a top-four finish. But they will need to be much better than this if they hope to win that race. Paul Pogba's two penalties could not mask the paucity of quality on show.
United were so fortunate. West Ham's Felipe Anderson had a goal incorrectly disallowed for offside while the game was still goalless and when Manuel Pellegrini brought on Michail Antonio, the substitute hit the crossbar before forcing a sensational save from David de Gea just moments before Pogba slotted home his second penalty.
This was a game that could easily have gone the other way.
Amid the transfer talk that dominated Solskjaer's pre-match press conference, it was another line explaining the team's run of four defeats from five games going into this one that was revealing. "Lately we haven't been ruthless or clinical enough in front of goal," he said. Even in victory, that problem was apparent again for United against West Ham.
Robert Snodgrass was good enough to clatter into the back of Juan Mata and allow Pogba to convert from the penalty spot inside the first 20 minutes, but that was not just United's only goal of the first half it was their only shot on target. This after failing to test Marc-Andre Ter-Stegen once during the defeat to Barcelona at Old Trafford in midweek.
When substitute Marcus Rashford finally made Lukasz Fabianski make a save in the 58th minute of the match, United had played three hours of football in which their only shot on target was that first Pogba penalty. Solskjaer speaks of his team not being clinical enough but it is a lack of creativity in their play that is hampering them at the moment too.
United only really looked threatening on the transition against West Ham and that's a problem because it means that surrendering possession of the football has become a prerequisite for his team to be able to create. The visitors had 56 per cent of possession in the first half and 59 per cent of it after the interval. Eleven corners to United's three.
This is a West Ham team that is yet to win a game away from home this year. One that has only a point at Crystal Palace to show for their efforts. They were impressive at Old Trafford with Declan Rice outstanding in midfield while the skilful Anderson and Manuel Lanzini posed questions out wide. But each of them were allowed to impress.
Of course, this is an issue that Solskjaer has inherited. He does not have a squad of players set up to control matches, he has a group that can play reactive football. Solskjaer has done well to utilise the ample pace in this team but if he is really going to overhaul the style of play at United and turn them into a team that can dominate, it will require major surgery.
Lingard has energy without the ball but lacks precision with it. Anthony Martial twice gifted the ball back to West Ham with what should have been straightforward passes. Fred and Juan Mata did attempt some through-balls but couldn't pick the lock. Worryingly, it was left to Chris Smalling to thread the ball through for Rashford's chance just before the hour.
Home comforts?
According to Opta, United have created 15 big chances at home under Ole Gunnar Solskjaer - the tenth most among Premier League teams in that time.
There is far too much of an onus on Pogba to make things happen for this United team. He eventually found the pass that put Martial through to outrun Ryan Fredericks and win the decisive penalty. By that point, the gloves had long been dispensed with, the second one thrown to the floor in frustration after losing the first in an early tussle with Snodgrass.
But it's the manager who will need to take the gloves off to sort this out.
In fairness to Solskjaer, he is aware of the problem and his accurate appraisals of games have already become a feature of his post-match press conferences. Following this victory, he took over an hour to greet the media and opened up by saying it had taken him a while to digest what he'd just witnessed by way of an explanation for his tardiness.
"Of course we were lucky to get away with the three points, even a draw at one point we would have taken," said Solskjaer, before going on to acknowledge that his team would not have left with the three points had De Gea not produced his moment of brilliance. "He won us the game because from 2-1 we would have struggled to create anything," he added.
Solskjaer on Fred
"I have to say he is growing into his place, his position. It is difficult to come to a new country. He has had loads of difficulties with injuries, little niggles. When I came in, he didn't come to Dubai with us because he'd had a baby.

"But he's growing into his position and I have been very pleased with him in the last few games. I think you can all see why we believe in him. He has got such a great attitude and confidence. He loves to have the ball and play with a smile. Brazilians with a smile, there isn't much better to be fair."
Addressing it is the bigger challenge. Solskjaer picked an attacking line-up against West Ham but while he was impressed with Fred and Pogba's performances on the ball he was forced to admit that United looked "too open in midfield" and only gained a modicum of control in the latter stages once they reverted to the tried and trusted method of defending deeper.
"Sometimes you have got to make a decision to drop back and get your shape together and get your act together and make them play," said Solskjaer. "When we did, towards the end, when we dropped, yeah, they had the ball but they didn't create anything after we went to 2-1." He added: "When we are in shape we defend really well and are hard to break down."
Remaining Premier League fixtures
Apr 21 – Everton (a)
Apr 24 – Man City (h)
Apr 28 – Chelsea (h)
May 5 – Huddersfield (a)
May 12 – Cardiff (h)
It was enough to beat West Ham and it will obviously be the strategy away to Barcelona too. Perhaps at home to Manchester City next time out at Old Trafford as well. But Manchester United need to be more than hard to break down. They need to be able to take the game to teams if Solskjaer is to evoke the memory of his mentor rather than his immediate predecessor.
They are still chanting his name, the banner is still up, and they are still selling the scarves with his name on. But Solskjaer might have to sell some of these players and bring in new ones if he is to complete his transformation of United. "That's how ruthless we have to be in the end," he said this week. It's an issue for this club on the field and off it.