Marcus Rashford says he has received "at least 70 racial slurs" on social media following Manchester United's defeat in the Europa League final on Wednesday night.
Rashford played the entire 120 minutes as United drew 1-1 with Villarreal in Gdansk, and scored his penalty in the shootout, which the Premier League side lost 11-10.
But following the match, Rashford wrote on Twitter: "At least 70 racial slurs on my social accounts counted so far. For those working to make me feel any worse than I already do, good luck trying."
On Thursday Rashford detailed the nature of some of the messages he received, revealing that one abusive message came from a person claiming to be a maths teacher.
In a statement posted on Twitter, Rashford wrote: "I'd be the first to say I've struggled this season. It's not about commitment, dedication or ability.
"The reality is I've had physical obstacles I've had to overcome that I'm still managing. That being said, there are no excuses for last night, we simply weren't good enough. I'm really sorry that we couldn't bring the silverware home.
"But black or white, football is football. We all wear the same shirt. We all kick the same ball.
"I've been playing this game from the day I could walk. I'm built for criticism of my performance but I can't accept the ape, monkey, baboon, banana, jungle talk.
"As a United fan myself, it's really difficult stuff to read. And I can only think about how this would have made me feel as a seven-year-old reading it. How would I ever have any faith in humanity?"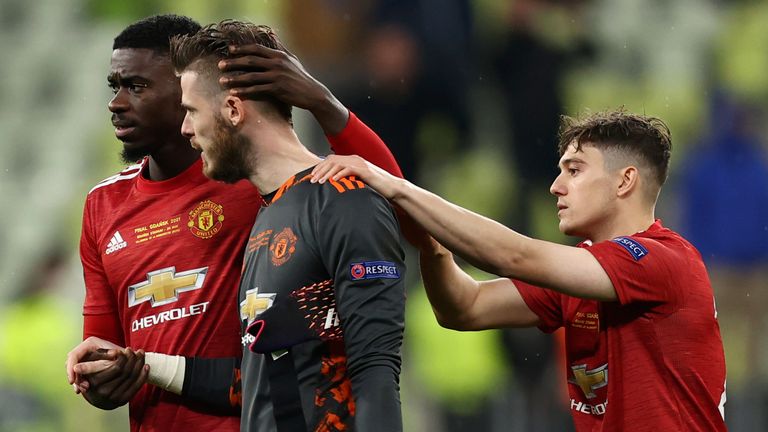 United said they were "disgusted" by the abuse Rashford received, adding that other members of the team were targeted online following the defeat in Poland.
A club statement read: "Everyone at Manchester United is disgusted by the online hate and abuse aimed at Marcus Rashford and other players on social media after last night's game. There is simply no excuse for it and we utterly condemn it.
"Manchester United has zero tolerance of any form of racism or discrimination and we encourage people to report it through manutd.com/seered.
"We also urge social media platforms and regulatory authorities to strengthen measures to prevent this disgusting behaviour."
Greater Manchester Police (GMP) have confirmed they are investigating the posts sent to Rashford and other Manchester United players.
Assistant Chief Constable for GMP, Chris Sykes, said: "We are aware of a number of racially aggravated social media posts made yesterday evening towards numerous Manchester United players.
"We are working through the posts from yesterday, which originate from countries across the world as well as the UK, to investigate these crimes.
"Tackling hate crime remains a priority for GMP. We take these reports very seriously and are working with our partners to ensure those responsible are identified.
"Nobody should be subject to hateful language and abuse and it is deeply upsetting not only to those who receive these comments, but to anyone who witnesses it on a public forum.
"Those who make these posts subject themselves, not just to criminal proceedings but to long-term implications to their personal and professional lives by making these comments.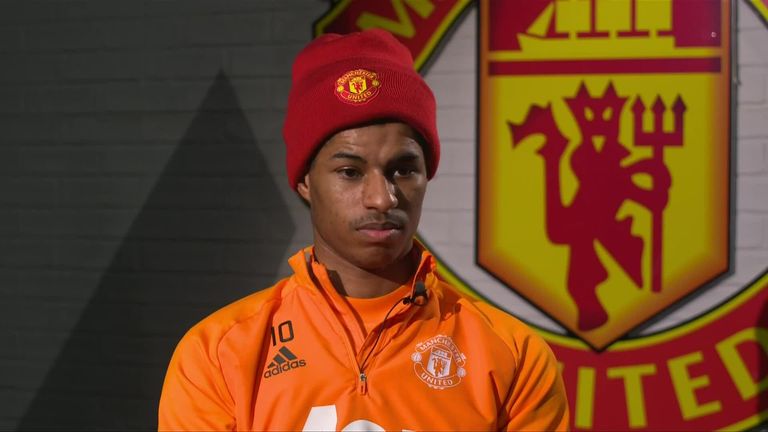 "We would always encourage anyone who has been a victim, or witness of hate crime to report it at the earliest opportunity via 101, LiveChat or online. Alternatively you can visit www.letsendhatecrime.com."
In response to a request for comment from Sky Sports News, Facebook - which owns Instagram - said: "The racist abuse sent to Marcus Rashford last night is abhorrent and we don't want it on Instagram.
"We swiftly removed a number of comments and accounts for breaking our rules and we're currently rolling out a new tool which, when turned on, will help prevent anyone seeing messages like this again.
"No single thing will fix this challenge overnight but we're committed to doing what we can to keep our community safe from abuse."
However, Facebook turned down the opportunity to put somebody forward for interview.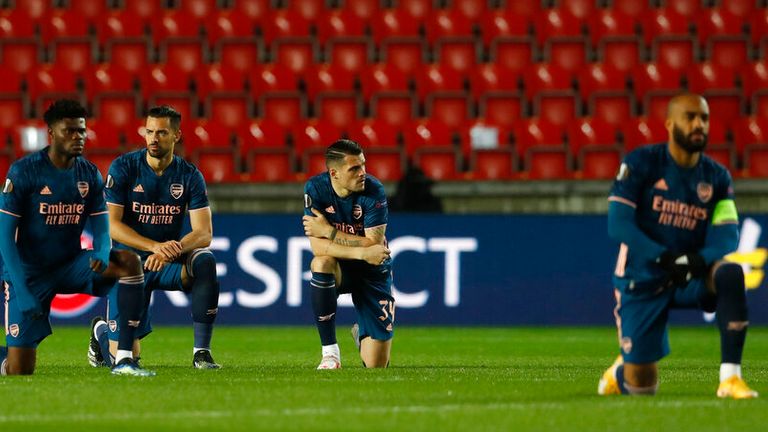 A Twitter spokesperson told Sky Sports News: "We condemn racism in all its forms and do not tolerate this vile behaviour on Twitter. We use a combination of machine learning-based automation and human review to enforce our policies across the service.
"We have already removed a number of Tweets and permanently suspended accounts for violating our policies and will continue to take action when we identify any Tweets or accounts that violate our rules."
Rashford was also racially abused online following United's draw with Arsenal in January, after which the forward said: "Humanity and social media at its worst.
"Yes I'm a black man and I live every day proud that I am. No one, or no one comment, is going to make me feel any different. So sorry if you were looking for a strong reaction, you're just simply not going to get it here.
"I'm not sharing screenshots. It would be irresponsible to do so and as you can imagine there's nothing original in them. I have beautiful children of all colours following me and they don't need to read it. Beautiful colours that should only be celebrated."
Speaking to Sky News just weeks after receiving the abuse, Rashford called on social media companies to do more to prevent users from being able to racially abuse others on their platforms.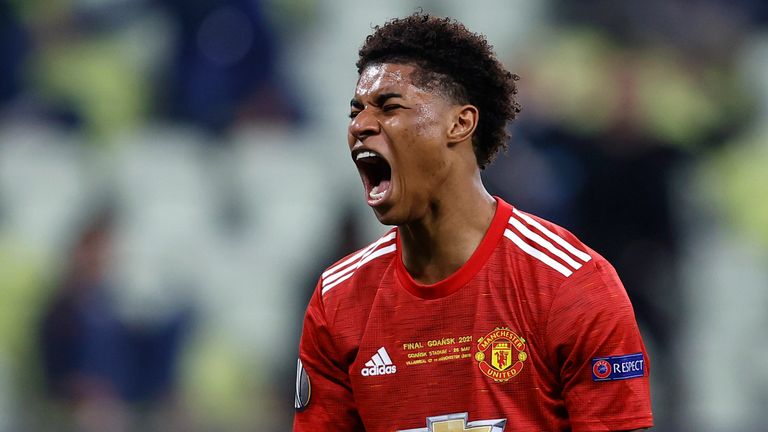 He said: "Online abuse - it should be easy to stop, just deactivate the accounts. We know that it's very easy to make four or five accounts but if you have to block them all, then block them all.
"That's on the social media companies themselves. If they see anyone being abusive in any way, their account should be deleted immediately - that's how you'd deal with it.
"I feel like it doesn't affect me as much as other people because I'm not actively on social media so half the stuff that goes on on there, what people are saying about me and other people, I'm not really on top of and I don't see it.
"But it's a place people should enjoy. Ten or 15 years ago it wasn't there and we're lucky to have it, to be able to connect with people all over the world and from different cultures and religions.
"For it to be used in a negative light is stupid and hopefully they can sort out that issue and it can be a place of good."
FA contacts Rashford, plans extra support for England players at Euros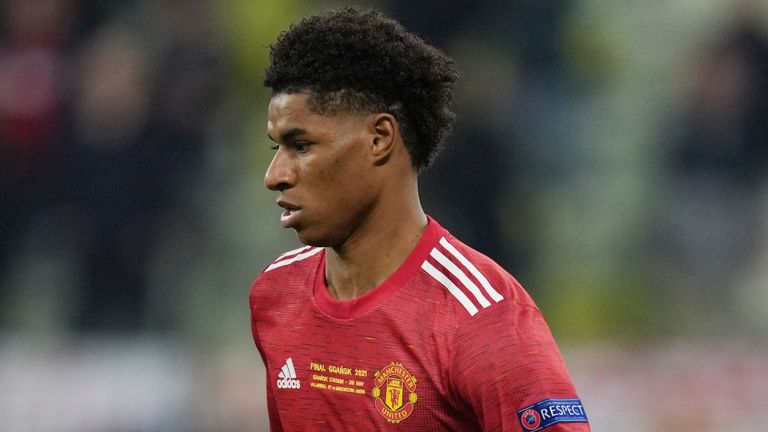 The FA has contacted Marcus Rashford to offer him specialist support, and it has also put a number of specific new measures in place to help support the England men's senior team if they are targeted by online hate during the Euros.
Football's governing body is aware that, while away with the national team for an extended period, players are also away from the usual support networks they have within their clubs, and from friends and family.
These measures include many that the players would have to support them at their Premier League clubs, and include ongoing and automatic monitoring of players' online platforms during the tournament, in partnership with the Premier League.
Detailed information will also be offered on how players can block and report abusers.
The FA will liaise closely throughout the Euros with the UK football policing unit, who will specifically be focusing on online abuse.
Every player will have access to a psychologist within the England staff on site, should they feel they want to talk to a specialist. This will be offered directly if the protocols identify they have been targeted by abuse.
The FA's new director for diversity and inclusion, Edleen John, will also be available around the clock, should players want to talk to someone outside of the camp.
The Professional Footballers' Association also released a statement which read: "The PFA is appalled that Marcus Rashford has received a barrage of racist abuse.
"Despite nationwide boycotts and irrefutable evidence of the extent of the abuse aimed at players, social media companies are still not doing enough to protect players.
"Once again, we are calling for the government's Online Safety Bill to be enacted as soon as possible so that social media companies can be held to account.
"Social media companies have repeatedly failed to address racism on their platforms and neglected their moral responsibility to those who use them."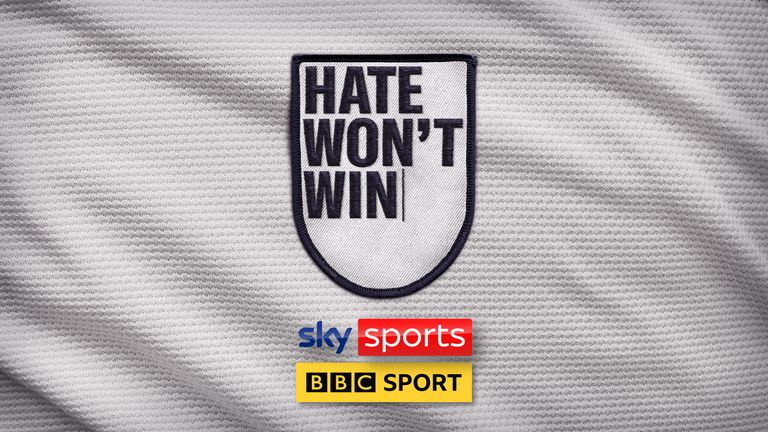 Hate Won't Win
Sky Sports is committed to making skysports.com and our channels on social media platforms a place for comment and debate that is free of abuse, hate and profanity.
For more information, please visit: www.skysports.com/againstonlinehate
If you see a reply to Sky Sports posts and/or content with an expression of hate on the basis of race, sex, colour, gender, nationality, ethnicity, disability, religion, sexuality, age or class, please copy the URL to the hateful post and screengrab it and email us here.
Kick It Out reporting racism
Online Reporting Form | Kick It Out
Kick It Out is football's equality and inclusion organisation - working throughout the football, educational and community sectors to challenge discrimination, encourage inclusive practices and campaign for positive change.