Antonio Conte confident Eden Hazard will stay at Chelsea amid Real Madrid interest
By Lyall Thomas
Last Updated: 01/04/17 2:05pm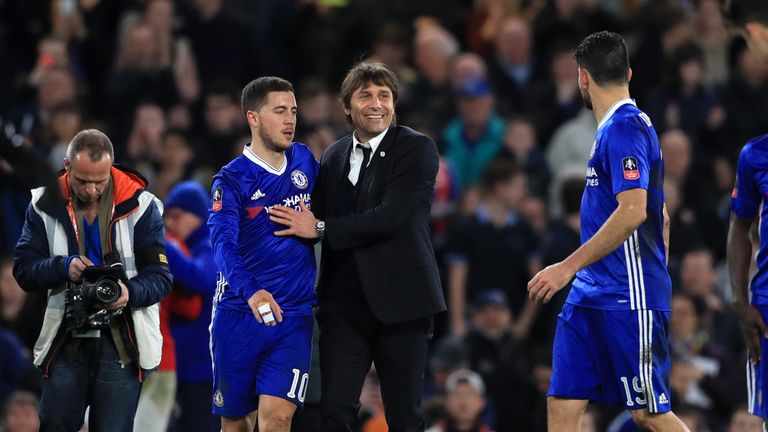 Antonio Conte believes Chelsea are a big enough club to fight off Real Madrid's interest in Eden Hazard.
Sky sources understand the Spanish giants want to sign the Belgium star this summer but any talks between the clubs are yet to take place.
Ahead of a home clash against Crystal Palace on Saturday, Conte also said the substance of Premier League football can help keep Hazard at Stamford Bridge beyond the summer.
He said: "It's very important [to establish] the will of the player. If the player is happy and the player knows he will stay in a great team with great ambition, I don't see any problem.
"Also, this club can call [itself a] Real Madrid. We started to build something important and the ambitions of this club are top; the same as mine, as my players.
"He's a young player and he has a lot of improvement in his path as a footballer. I'm sure about this; that you'd be staying in the right place, in a great club, with great ambition.
"To win the Premier League is a great challenge and a more difficult challenge, for a player or a coach, than all the other leagues. This league is really top in all aspects.
"The only thing I can say is Eden is a Chelsea player, our player. We are happy with him. He is happy with us. I don't see a problem."
Sky customers can now upgrade to Sky Sports and get 12 months for just £18 per month. Upgrade now!