In an exclusive interview with Sky Sports, Chelsea manager Antonio Conte runs through the highs and lows of 2017.
It has been a mixed year for the Blues on and off the pitch, from their Premier League title win in May, to an underwhelming summer in the transfer market and an inconsistent start to the new season.
Here, the Italian gives his take on the past 12 months, and looks ahead to 2018 with great hope of more success...
Bouncing back
After their run of 13 consecutive wins came to an end at White Hart Lane with a 2-0 defeat, Conte's Chelsea bounced back with a 3-0 win at Leicester, with a makeshift front line in the absence of Diego Costa.
Conte: "We played with Eden, Willian and Pedro, and it was an alternative option in our formation. For us it was a very important win, fundamental to us winning the title. We showed that we had alternatives, and it was a big, big win for us."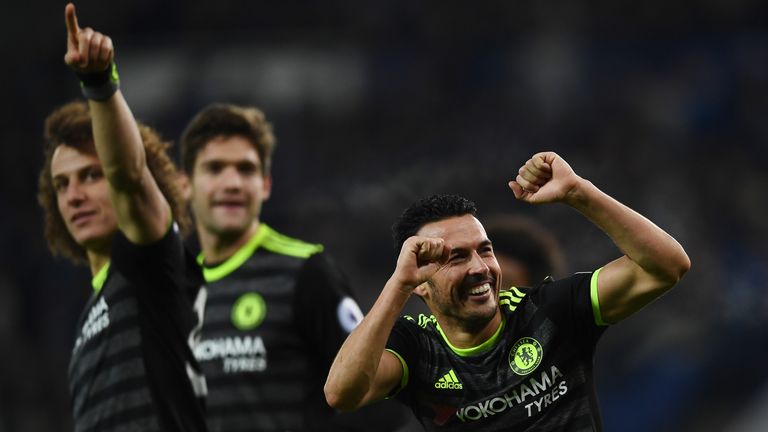 Hazard on fire
Early February brought a superb 3-1 win over Arsenal at Stamford Bridge, and a goal-of-the-season contender by Eden Hazard, who piled his way through Arsenal's midfield and defence before scoring. Cue some wild celebrations, including Conte jumping into the crowd at Stamford Bridge.
Conte: "With that goal, he showed he is powerful, an incredible goal. To see him so strong, and the celebration with the fans. For sure this win was very important to us."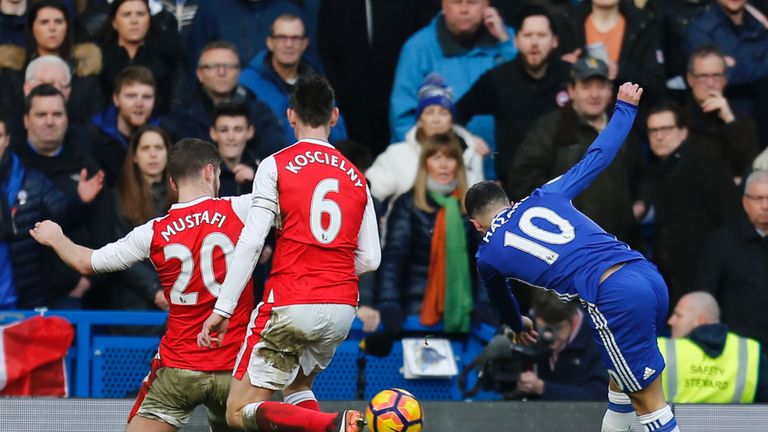 The title win
After defeats by Crystal Palace and Man Utd in April, Chelsea went to West Brom on May 12 to wrap up the title. Michy Batshuayi scored late in the 1-0 win, and the celebrations won't be forgotten for a while…
Conte: "The best moment for me was when Michy scored the goal against West Brom. In that moment we were sure to win the title. It was an incredible moment for me and the players, and we celebrated in a fantastic way with our fans. I remember that moment with great joy."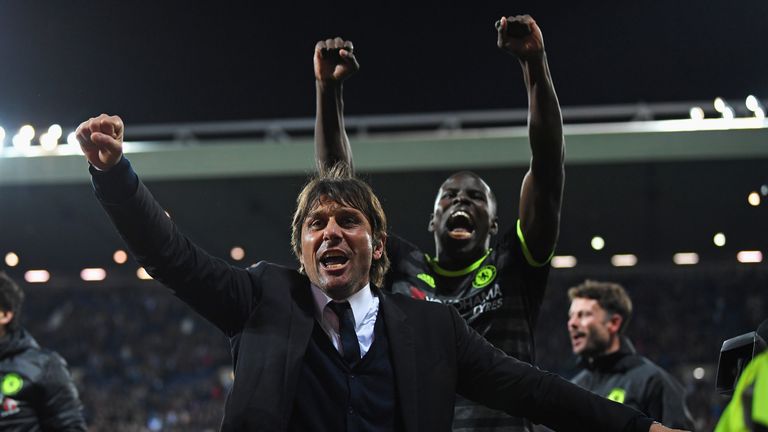 Debut season to remember
The party arrived at Stamford Bridge on the last day of the season, a 5-1 win over relegated Sunderland, allowing Conte to get his hands on the Premier League trophy in his first season in charge.
Conte: "It was a great moment, for me and my family. But I repeat, last season was very tough for many reasons, many problems, and to win the title was a great achievement after finishing 10th place and solving a lot of problems before the season.
"The season was amazing, for many reasons. But I didn't forget the sacrifice, the work, the tough moments, to win the title. Usually when you win you forget the tough moments, but I think it is very important for me not to forget, because these moments made me stronger."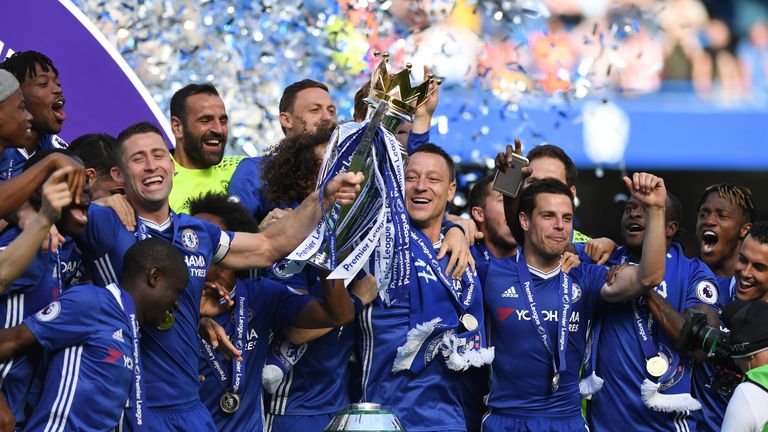 Trouble in paradise?
A rocky summer followed, with rumours of difficulties behind the scenes due to a lack of transfer activity. Nemanja Matic and John Terry left, as did Costa, with Alvaro Morata, Tiemoue Bakayoko, Danny Drinkwater, Antonio Rudiger and Davide Zappacosta among those who arrived. Conte doesn't deny there was a rift with the board, but insists life goes on…
"For a club like Chelsea, the target is to fight until the end for every competition, and to do this, it is important to have a number of players. But I am very happy to work with my players, and in every moment I try to give my opinion to my club, but it is right that the club take the last decision.
"Then you have to accept this decision. Sometimes you have the same vision, sometimes you don't have the same vision, but this is life! Sometimes my wife is the same! Sometimes I agree, sometimes I don't, but life continues and you have to be ready to put ourselves forward for the family or the club."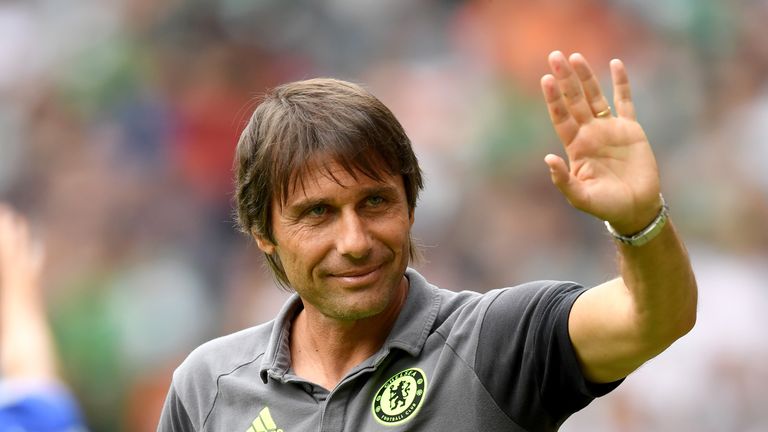 Opening-day defeat
Burnley arrived at the champions on the opening day, and after Gary Cahill's early dismissal, the Clarets ran out 3-2 winners.
Conte: "It was a shock, but it can happen. Don't forget that our pre-season was very difficult. We faced a lot of problems. We started the season without important players, with injuries during the pre-season, and we didn't start our season well for many reasons."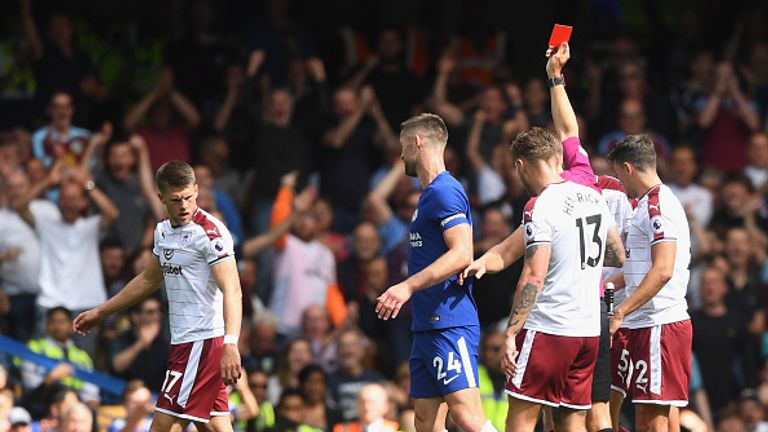 Costa departs
Costa completed his move to Atletico in late September, after Conte told the striker he wasn't wanted at Chelsea, but the Italian looks back on Costa's time of the club with a smile…
"It's not right to talk about players who are not in my team or in my squad. The only thing I can say is I thank him for his commitment, his behaviour during the season. We won together, and for this reason I will remember him in a positive way. We fought together, and football is like this."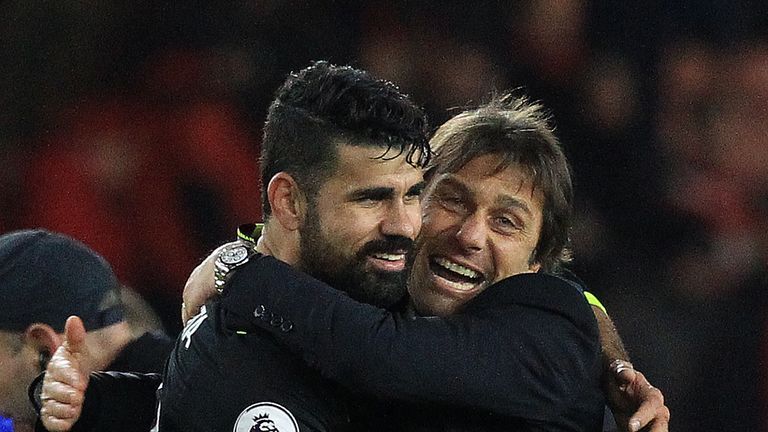 A look to the future
With Man City running away with the Premier League title midway through the season, Conte remains positive, and says his desire as a manager has not faded.
Conte: "We must respect them, but at the same time try to fight them. We have to find the right way to fight them. If this is not possible this season, we must be ready to fight them for next season. I think this must be our target.
"My wish [in 2018] is to continue to work in the same way. You must always have a great desire to do this job. My wish for myself is to continue to have this desire for many years. In the moment I don't feel this desire, that's the right moment to stop my career."