Antonio Conte says Chelsea need three world class players to catch Manchester City next season
By Zinny Boswell
Last Updated: 04/02/18 7:40pm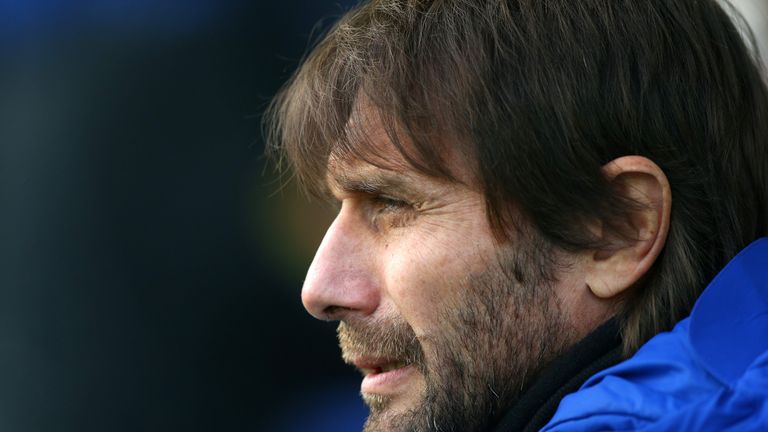 Antonio Conte wants Chelsea to take a quality over quantity approach to the transfer market and sign three world-class players.
Chelsea have struggled in their bid to retain the Premier League while Manchester City have asserted their dominance on the title race, with Conte becoming increasingly outspoken over the club's transfer policy.
Conte, whose future at Stamford Bridge looks unclear, believes their inability to compete with City derives from their failure to acquire players of the highest level and concedes they are only competing for a place in the top four despite having 13 games remaining.
Asked what Chelsea needed to do to catch City, Conte said: "Now we have to struggle to fight for a Champions League place - that is top. We must be realistic. We must be strong to accept this type of situation.
"Then, in the future, if there is the possibility, you have to try to buy only two or three players - not eight players. Don't forget, this summer, we brought in eight players and spent a lot less than other teams who bought only two or three."
Chelsea signed eight players in the summer including Tiemoue Bakayoko (£40m), Alvaro Morata (£70m) and Danny Drinkwater (£35m), while John Terry, Nemanja Matic both left the club, soon followed by Diego Costa.
Their spending did not subside over January - they signed an additional three players as they welcomed Ross Barkley (£15m), Emerson Palmieri (£24.6m) and Olivier Giroud (£18m) to Stamford Bridge.
Agreeing those two or three needed to be world-class, he added: "We have to create a basis; we have to build something important. To do this, you must have 15 or 16 players.
"In the summer, we changed eight players. That means you don't have a basis, a great foundation. We must have great patience to understand the moment.
"We lost strong, experienced players in the last few years, so we must have patience to understand that, now, we have to appreciate the moment, be realistic, create a basis and then build something important to face big challenges with the other teams."
Chelsea travel to Watford on Monday, live on Sky Sports Premier League, and Everton star Wayne Rooney will be casting his eyes over proceedings in the studio alongside Jamie Carragher on Monday Night Football.