Olivier Giroud says Chelsea the 'new challenge' he needed
By Matthew Treadwell
Last Updated: 14/02/18 10:27am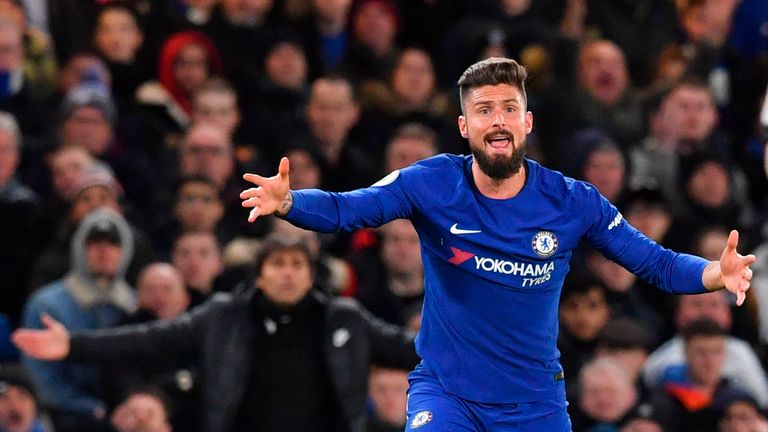 Olivier Giroud says he left Arsenal to join Chelsea on Deadline Day because he needed a "new challenge".
The France international made the move across London for £18m and has featured twice for his new side.
"It's been a while since I played regularly and that's why I needed to move," he told the Daily Mirror. "I needed a new challenge and Chelsea was the perfect club for me.
"It's the Premier League, a club which has won more titles in the past ten years than any other.
"It's a massive club and I am very proud to be here and to carry on my career in the Premier League.
"I had five amazing years there (at Arsenal), but now it's a new chapter of my career and I am focused 100 per cent on the Blues to reach our targets. I'm very happy to be here."
Giroud made his debut off the bench in Chelsea's 4-1 defeat away to Watford and started Monday's 3-0 win over West Brom.
He now has the opportunity to feature for his new club in the FA Cup and Champions League, as well as the Premier League. Giroud did not feature for Arsenal in their FA Cup third-round defeat to Nottingham Forest, leaving him eligible to play for Chelsea against Hull on Friday night.
The Gunners' participation in the Europa League means he can still feature in the Champions League for Antonio Conte's side and Giroud is keen to play a role in both competitions.
"I am back in the FA Cup and the Champions League, and we are going to take the games step by step," he added.
"We want to qualify in the FA Cup and then we have big games to come against Barcelona in the Champions League and then Manchester United and Manchester City away [both matches are live on Sky Sports].
"That's why we need the confidence high. We just need the momentum."