Brutal honesty and a will to improve steered Gonzalo Higuain towards a record-breaking season under Maurizio Sarri at Napoli.
Three years on, the pair are reunited at Chelsea. But will Higuain be the centre-forward solution Sarri is craving at Stamford Bridge?
There have been question marks raised regarding Higuain's Premier League credentials, doubts over whether a 31-year-old with eight goals in 22 games this season is the right man to spearhead the attack of a top-four club with loftier ambitions.
But, if you are a Chelsea fan looking for positives, you need only look at his one year under Sarri's guidance in Italy...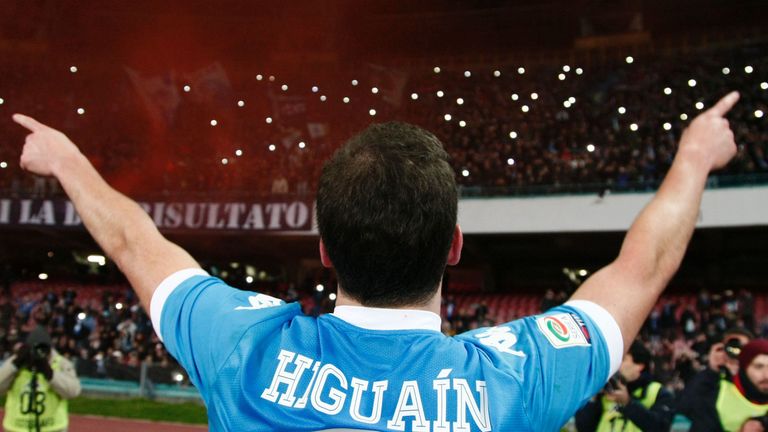 Higuain and Sarri both spent three seasons at Napoli, but crossed over for just the 2015/16 campaign.
It proved to be a fruitful one for Higuain in front of goal - his best ever, in fact. With 36 goals in 35 league games, the Argentinian broke Gunnar Nordahl's 66-year-old Serie A record, and equalled Gino Rossetti's tally set in 1928/29 (the season before Serie A was formed) in claiming the Capocannoniere as the league's highest scorer.
Naturally, the accompanying stats made for handsome reading; just 10 league games without a goal, 15 scoring once, nine scoring twice, and to top it off, a solitary hat-trick on the final day to surpass Nordahl's 35-goal haul.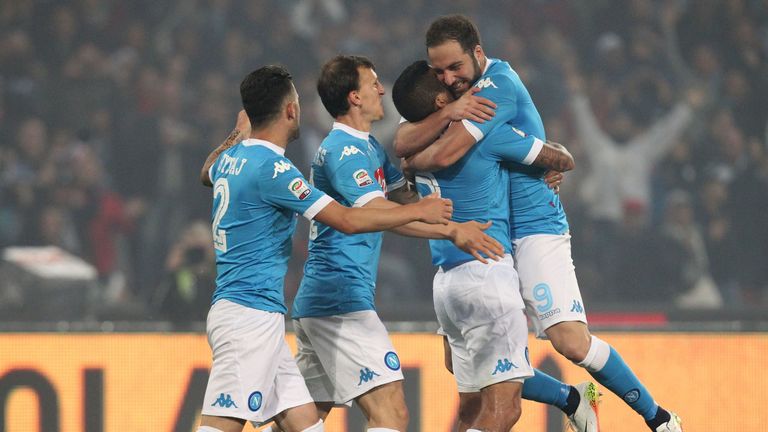 On this basis, you would imagine what kick-started this mesmerising campaign were some words of wisdom from head coach to striker. Not quite.
"What did I say to Higuain in pre-season? I told him he was too lazy, and if he didn't change his attitude, he'd never become the best centre-forward in the world." That was what Sarri told Sky in Italy in October 2015, after the striker scored his ninth goal in 12 appearances.
"He in part agreed with that consideration, as he couldn't get 100 percent out of his capabilities. We spoke clearly, so this turned into an honest and direct rapport that probably helps motivate him."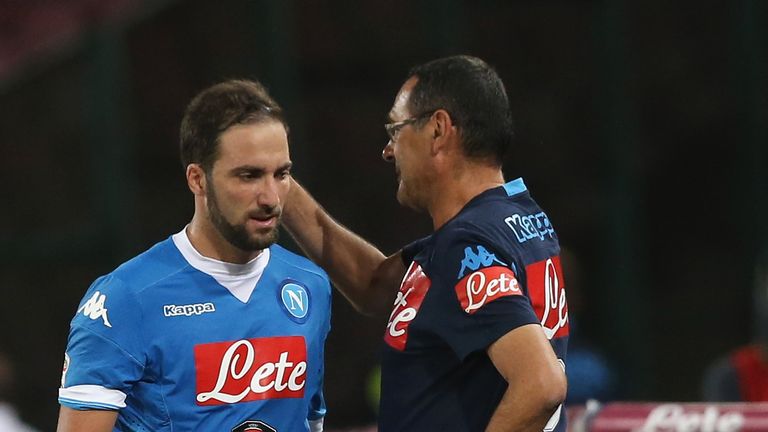 Honesty was evidently Sarri's best policy, and a new fitness regime helped Higuain reportedly lose four kilograms before the start of the season.
But a blunt Sarri ensured he provided Higuain with as much praise as he did constructive criticism, and went on to describe the player as "sensitive" but also the "best forward in the world" in December that year.
"He is a little hard-headed but you just have to know how to handle him. Even a great player like he is sometimes needs some advice so that he feels as though someone is on his side," Sarri told Corriere dello Sport.
"Higuain is a very sensitive guy, and up to this point he has been trying to keep up an image that doesn't really go with his real character. He is not only the best forward in the world but he is also a man with very genuine feelings that are hidden behind that image."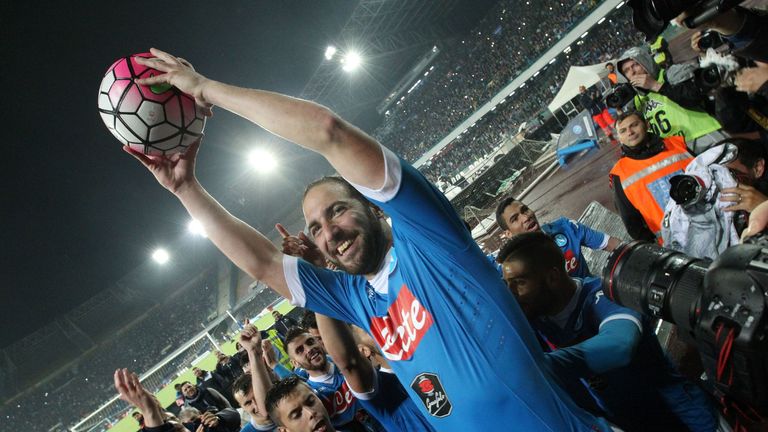 This candid working relationship behind the scenes paid off from the very start. Such was Higuain's standing as Napoli's main threat that Sarri was soon able to settle on a 4-3-3 formation after operating a 4-3-1-2 in the first three league games.
The tactical switch ultimately demoted Dries Mertens to the bench, while Higuain operated as the sole centre-forward with Lorenzo Insigne and Jose Callejon either side of him.
Higuain and Callejon both started 35 Serie A games that season, Insigne 34, and this established front three helped Napoli overcome a shaky start to top the table come December, while an eight-match winning run saw them hold first until mid-February.
However, it was a crunch clash with Juventus which not only ended Napoli's streak but swung momentum in the Bianconeri's favour.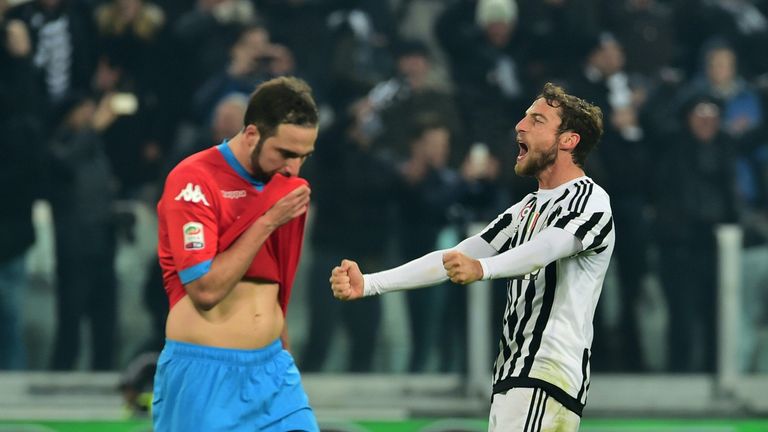 The 1-0 defeat - also Juventus' 15th league win in a row - halted Higuain's goalscoring run, and having netted eight in his previous six, he failed to record a shot on target as Napoli were reduced to just one Insigne attempt on goal.
Juventus eventually secured a fifth-straight title by nine points over Napoli, but in finishing second, Sarri's side won more games (25) and scored more goals (80) than any other season following their promotion to a 20-team Serie A in 2007.
Higuain still had cause for celebration on the final day of the season, and following his history-making hat-trick, he signalled out Sarri for the coach's season-long support.
"I thank Maurizio Sarri, absolutely, which is why after the third goal I went to hug him on the touchline," said Higuain. "He helped me so much, he always told me what I had to do in order to improve and I always listened.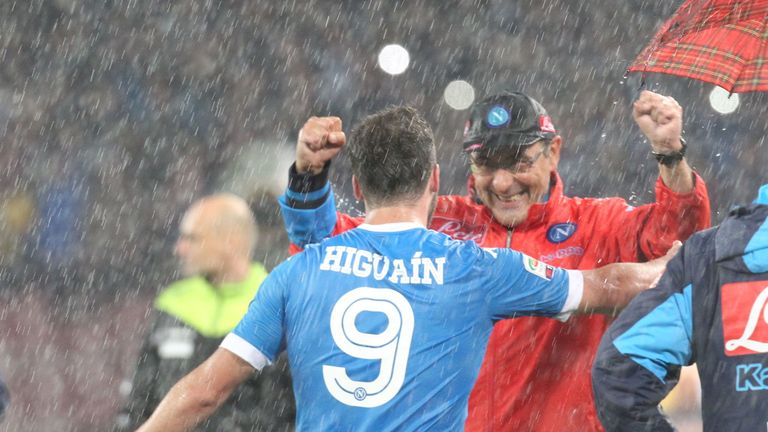 He helped me so much, he always told me what I had to do in order to improve and I always listened.
"It's difficult to comprehend, but I hope that soon it can really sink in. This is a marvellous moment in my career. After the third goal, I saw the whole team running to hug me and I felt an immense joy."
This feeling of immense joy did not last long, however. Higuain's own exploits saw Juventus move for the striker in the summer of 2016; a tumultuous month followed, but he eventually secured a €90m transfer to the Italian champions, claiming Napoli chairman president Aurelio De Laurentiis "pushed" him out of the club.
"I've remained silent in recent days, but these have been three amazing years and I can only say thanks for all the love I was given, but this was a decision I took for my own reasons," Higuain said. "I can understand that they are angry with me and I've seen the insults, but it is something I had to do and I'm happy about it.
"Sarri made me grow and he has been a great coach for me, and if he's angry about me leaving without saying goodbye to him, then I apologise. I can only thank him.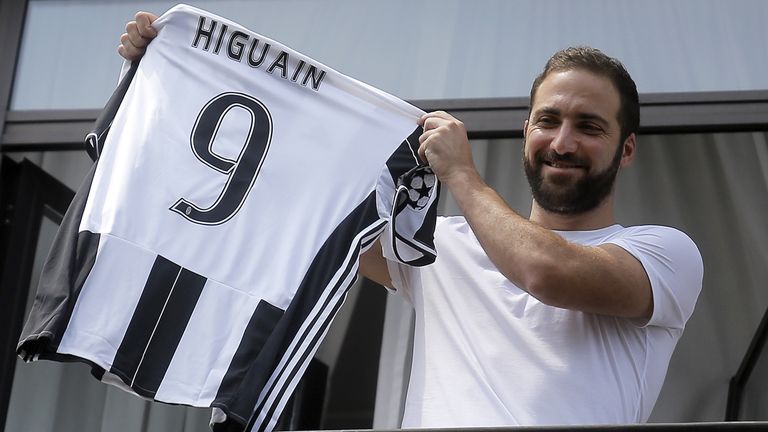 "It was my decision to leave, but it was [De Laurentiis] who pushed me into making it. I'd like to thank the fans and my team-mates, but not De Laurentiis. I no longer had a relationship with him; I couldn't stand another minute with him." Higuain's brother later revealed to Tuttosport Laurentiis had called Higuain "fat" during the 2015-16 season.
As stated, Higuain's apology to Sarri refers to the fact the striker left the club without saying goodbye in person.
"I've just seen him with a Juve shirt and while I will still talk to him, I won't be happy to do so," Sarri had earlier told Corriere dello Sport. "It was entirely his decision. We had offered him as much as he is getting there and on a personal level, it's very bitter because I expected at least a phone call from him, at least five minutes before undergoing a medical.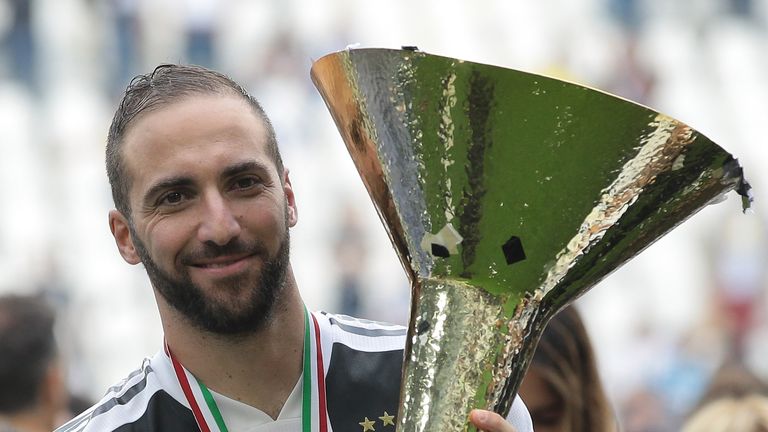 "Even the lads expected him to say goodbye, but that never came. Technically speaking, we've lost the best centre-forward in the world, but I've told the lads 'let's not cry about it because we're strong even without Gonzalo,' and we proved that last year already. There is, of course, a bit of unhappiness, but as soon as you get onto the field, you quickly forget that."
But despite this inharmonious farewell, the pair were back on good terms when Juve met Napoli in the 2016/17 campaign.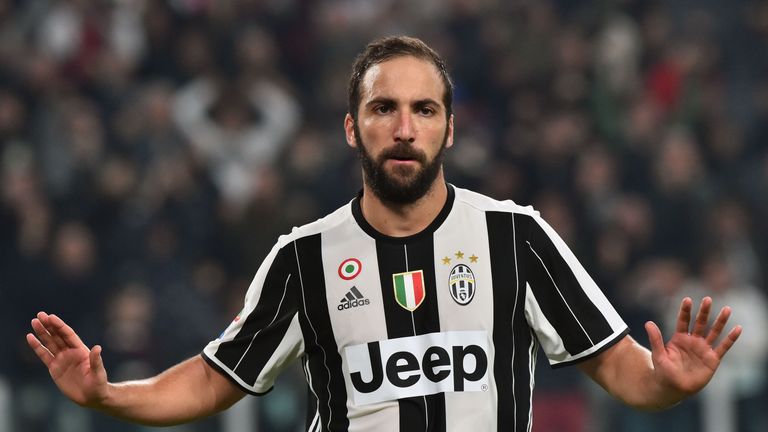 After the pair shared a warm embrace, Higuain, typically, netted the decisive goal in the 70th minute as Juventus won 2-1, and Sarri had only praise for his former player afterwards.
"He is a phenomenon, a loose ball at Gonzalo's feet means certain death for defenders," Sarri told Sky Sport Italia.
"If Gonzalo wins something in Europe, I am happy for him. Less so for Juve, but I'll be happy for him."
After scoring 55 goals in two seasons for Juve, Higuain went on to join AC Milan on an initial one-year loan last summer, having claimed Sarri - who by now had moved to Stamford Bridge - was the "only person who wanted me at Chelsea".
He added: "Instead, here at Milan, everyone wanted me, and this is the most beautiful thing you can hear as a player, that feeling that they really want you. This is why I made my choice to come here."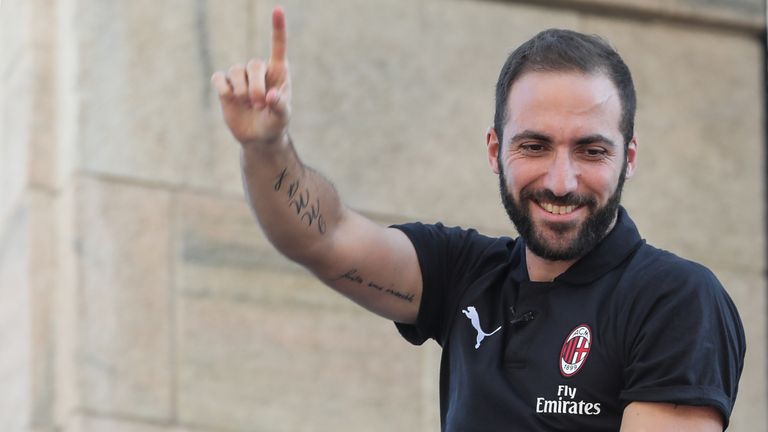 However, some six months later, after a difficult first half to the campaign for both Higuain and Milan - the club sit fifth, 21 points behind leaders Juventus - the striker is set to move to Chelsea after all.
In Higuain, Chelsea will be bringing in an out-and-out centre-forward. There is no question where he will play, merely how successful the initial six-month spell can prove to be.
His arrival will also see Eden Hazard revert from a false-nine back to left wing, a position the Belgian is far more devastating from, having scored seven and assisted six goals in the Premier League this season before Sarri opted to tinker with Alvaro Morata and Olivier Giroud struggling.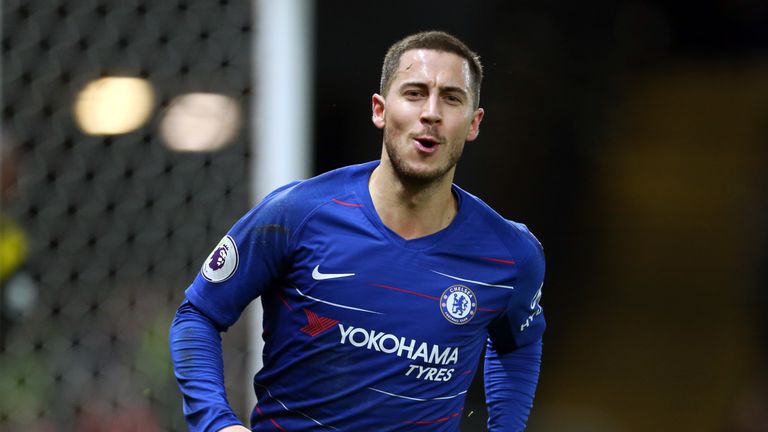 Hazard was outspoken when playing false-nine under Antonio Conte last season, criticising the Italian's tactics after touching the ball three times against Manchester City, and despite Sarri insisting the playmaker is content with the role, a return to left wing could prove vital for Hazard's happiness, with talk of a summer move to Real Madrid only going to intensify in the coming months.
Meanwhile, Chelsea fans will also hope Higuain can fill the Diego Costa-sized hole left behind when the Spaniard returned to Atletico Madrid in 2017. Although his antics often provoked opponents, Costa's ability to irritate endeared him to supporters as much as his goalscoring contributions.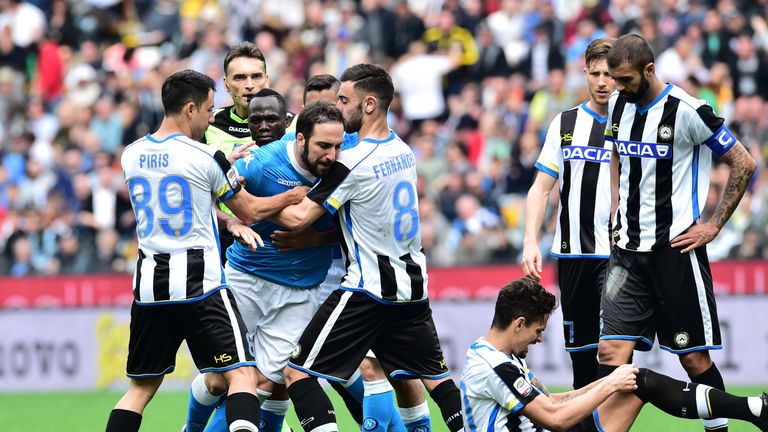 Higuain is not afraid to ruffle some feathers. The only reason he missed three Serie A games under Sarri was because a sending off led to an extended ban after the player pushed and argued with the referee, while Sarri's own reaction led to a one-match touchline ban.
Nor is Higuain afraid to speak his mind, having confronted those who criticised his weight. "It is better if you keep calling me fat, I will continue to score goals," he said, one month into his spell at Juventus.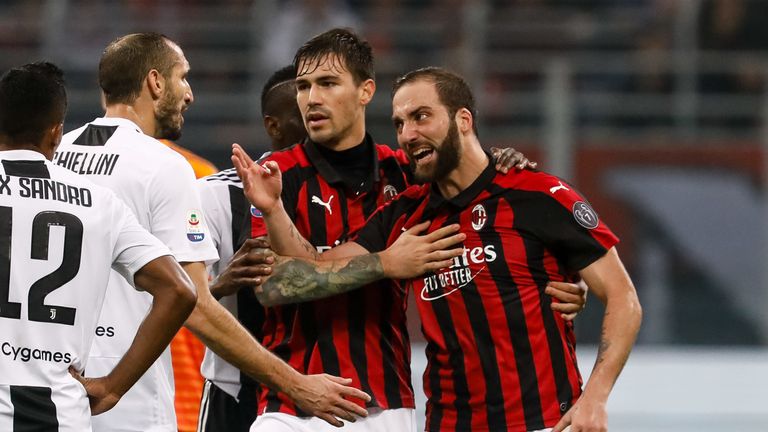 And after being cast aside for Cristiano Ronaldo at Juventus in the summer, Higuain's temper boiled over when meeting his employers in Serie A, seeing red for dissent in the second half of a 2-0 defeat which also saw him miss a penalty in the first.
Whether Higuain brings both the fire and the finishing to Chelsea remains to be seen, but the 31-year-old's every move will be scrutinised closely as he adapts to the demands of the Premier League. Only time will tell if the move was five years too late...