Maurizio Sarri says Gonzalo Higuain's move to Chelsea is almost complete and the Italian expects the striker to succeed in the Premier League.
The Argentine has arrived in the UK to undergo a medical ahead of his switch from AC Milan.
The Italian club reached an agreement with Genoa on Tuesday night over the transfer of Higuain's replacement Krzysztof Piatek, who is having his medical with the Serie A side.
"I know Higuain and his agent are negotiating with the club in this moment. I hope, and I think, we will finalise the deal in the next few hours," Sarri said.
"This season he had some troubles but I think that's part of every player's career, you have your down moments. We hope we can regenerate him quickly so he can pay us back with his goals.
"It's very difficult in January to find one of the most important strikers in the world. So I think the club is working very well because it's not easy to get a new striker."
Sarri is clearly looking forward to linking up with the Argentina international again after a successful spell together in Italy.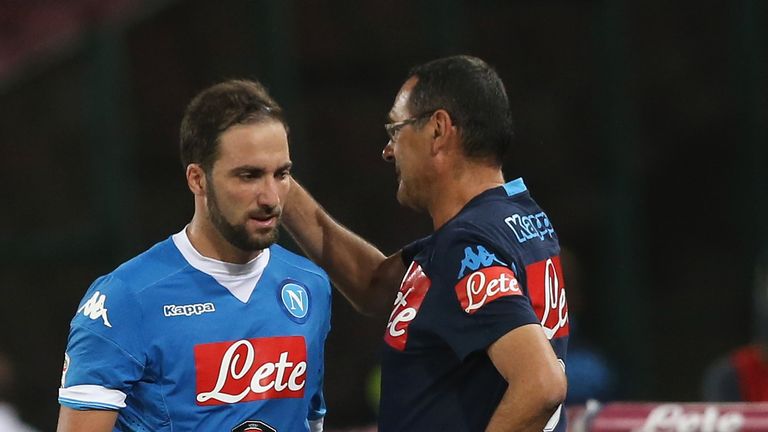 "He is a very strong striker, especially in my first season in Naples, he did very well," Sarri said.
"He scored 36 goals in 35 matches in Serie A. That season he scored 39 goals so he did very, very well.
"For sure he is one of the best strikers [I have worked with] in my career."
When asked if Higuain has the character to succeed at Chelsea, Sarri replied: "He played four seasons for Real Madrid so I think he has the right experience to play here."
Higuain will not be available for the second leg of Chelsea's Carabao Cup semi-final with Tottenham, as the move will not be completed in time.