Chelsea boss Maurizio Sarri fined £8,000 after admitting misconduct charge
The FA will take no further action against Chelsea and Burnley for touchline incident at Stamford Bridge
By Sky Sports News
Last Updated: 25/04/19 11:30pm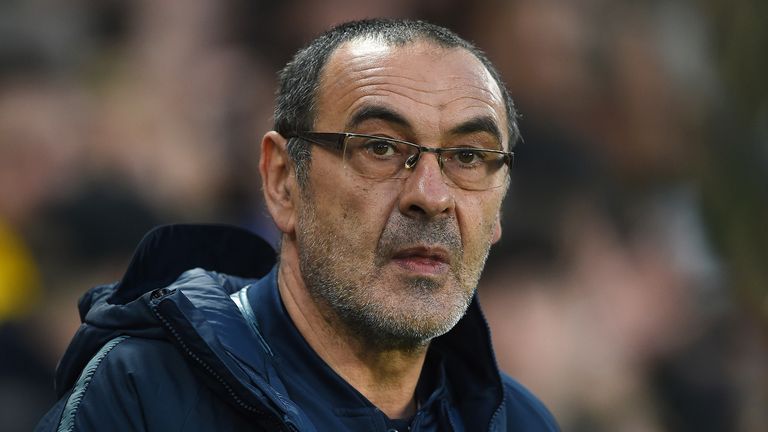 Chelsea head coach Maurizio Sarri has been fined £8,000 by The FA after admitting a charge of misconduct following his sending off against Burnley.
Sarri was sent to the stands by referee Kevin Friend in Monday's ill-tempered 2-2 draw with the Clarets after attempting to intervene in an altercation between Mateo Kovacic and a number of visiting players.
A statement released by The FA read: "Maurizio Sarri has been fined £8,000 after he admitted a misconduct charge from The FA and accepted the standard penalty.
"It concerned his behaviour in the 94th minute of Monday's [22/04/2019] game between Chelsea and Burnley in the Premier League."
Earlier in the match, Sarri appeared to sarcastically applaud Burnley's bench for perceived time-wasting tactics, after Ashley Westwood had gone down with cramp.
Frustrations boiled over at the end of the game with members of both benches involved in a melee on the touchline but The FA has confirmed it will take no further action against Chelsea or Burnley for the incident.
Sarri refused to conduct a post-match press conference after the draw, and instead sent assistant manager Gianfranco Zola to face the media.
"He was really unhappy with a couple of situations on the pitch," said Zola.
"He was unhappy with why he's been sent off, he just went down the line to tell the players to get on with the game. He's been misunderstood by Kevin.
"I'm unhappy about that, he's unhappy about that. That's why I'm here."
Chelsea and Burnley both issued a statement on Thursday night, saying: "Issues arising between both benches during Monday night's match have been resolved between the coaches and clubs, and a line has been drawn under the matter."