Premier League: Chelsea striker Diego Costa praised after Swansea hat-trick
Last Updated: 14/09/14 10:02am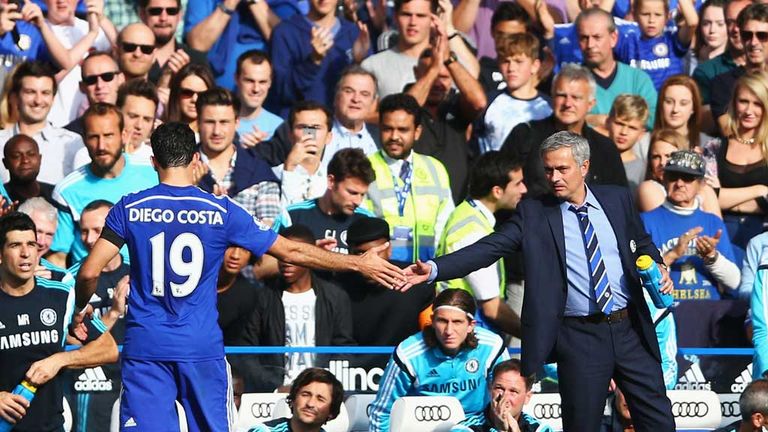 Jose Mourinho has hailed Diego Costa's 'fantastic' start to his Chelsea career after the striker scored a hat-trick in the 4-2 win over Swansea City.
Costa became the first player to score in his opening four Premier League appearances since 1992 when he equalised for Chelsea just before half-time.
He scored twice more in the second half to take his tally to seven goals in four games since his big-money arrival from Atletico Madrid in the summer.
The result maintained Chelsea's 100 per cent start to the season, inflicting a first setback on Swansea in the process, and Mourinho is delighted with Costa's early contribution.
"Seven goals is a surprise," Mourinho told Sky Sports. "Nobody expects one player to score seven goals in four matches, and they're not penalties, it's from free play.
"Everybody was expecting him to succeed, to feel comfortable, to adapt to our team and to our Premier League.
"To score seven goals is obviously a fantastic record."
Costa cancelled out John Terry's own goal - just reward for Swansea's strong start as the Blues struggled to engage their press defence - before the interval and added two more to become the first Chelsea player since 1928 to score in his first four games.
Mourinho attempted to temper expectations regarding Costa, who he refused to compare with Didier Drogba, who netted five times in his first nine games for the Blues in 2004-05.
"I'm not looking for this (30 goals a season)," Mourinho said.
"If the team plays well he has to score goals. But the way he is playing and the team is playing if he keeps scoring a few goals, a few goals give points and points help the team to be in the top part of the table.
"Didier's start was 2004, 10 years ago, a completely different situation.
"Didier had a fantastic career at Chelsea and Diego is showing he can have the same profile of career. We don't need to compare careers and especially the players and especially the teams."
Mourinho spoke on Friday of his strikers being an upgrade on last term and the statistics prove it - Fernando Torres, now at AC Milan on a two-year loan, netted five Premier League goals in 28 appearances last term.
Loic Remy, signed only after Torres' move to Italy, struck the fourth of the day, nine minutes after coming off the bench for his debut.
"It's a perfect debut," Mourinho said. "No better start for the kid."
Drogba turned an ankle in training on Friday and is the only doubt for Wednesday's Champions League Group G opener with Schalke, which is followed by the trip to Premier League holders Manchester City.
"We have fixtures that are like a poisoned gift for us," he added.
"Every time we play in the Champions League the next match we play is against Man City, against Arsenal, against Man United and against Liverpool. We have difficult weeks ahead of us."