Whisper it but Liverpool are in the title hunt and Jordan Henderson is providing the platform for them to play.
Adam Bate caught up with the Reds captain ahead of their Super Sunday clash with Watford to discuss how Jurgen Klopp has brought Champions League intensity to training and the pressing game that means "even the goalkeeper has to be switched on"... 
There have already been some stunning moments in Liverpool's season so far. Sadio Mane's solo effort against Arsenal was selected as the goal of the month for August. Henderson's long-range strike against Chelsea secured the Premier League award for September.
However, it's not the individual acts of brilliance that come to mind when watching Klopp's Liverpool in full flow. It's the collective. A group of well-drilled players working towards a common goal. This is a team in its truest sense. And it's that way through design. 
As Klopp explained on Monday Night Football, when a team plays to a plan, they can be more effective than any superstar. "Think about the passes you have to make to get a player in a No 10 role in a position where he can play the genius pass," said Klopp.
"Counter-pressing lets you win back the ball nearer to the goal. It's only one pass away from a really good opportunity. No playmaker in the world can be as good as a good counter pressing situation." But this counter-pressing, this gegenpressing, takes time to teach.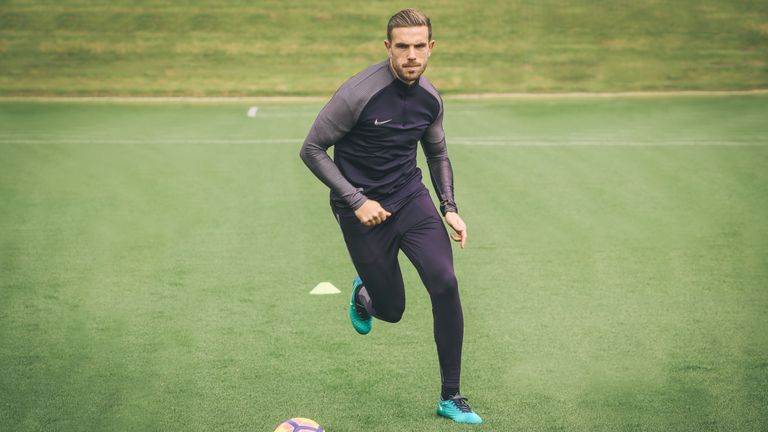 Klopp didn't have much of that last season, after being thrust into the job last October. He didn't have his captain for much of the campaign either. Henderson missed the German's first month in charge with a foot problem and was ruled out of the run-in due to a knee injury.
The work that both men have done on the training ground since then is reaping dividends. Speaking to Henderson before he runs out in Nike Football's training apparel, he's emphatic about the reasons why Liverpool are in better shape than ever. This summer, they went to work.


"It was very good. The best pre-season I've done," Henderson tells Sky Sports. With less of an emphasis placed on commercial distractions, Liverpool were able to focus on their preparations for the coming campaign and properly implement Klopp's plans.
"It was purely based on training, fitness and what we wanted to get out of it," he adds. "Tactically and physically it was very hard but enjoyable. The manager took control of the whole thing. He knew what he wanted and I definitely think he got what he wanted.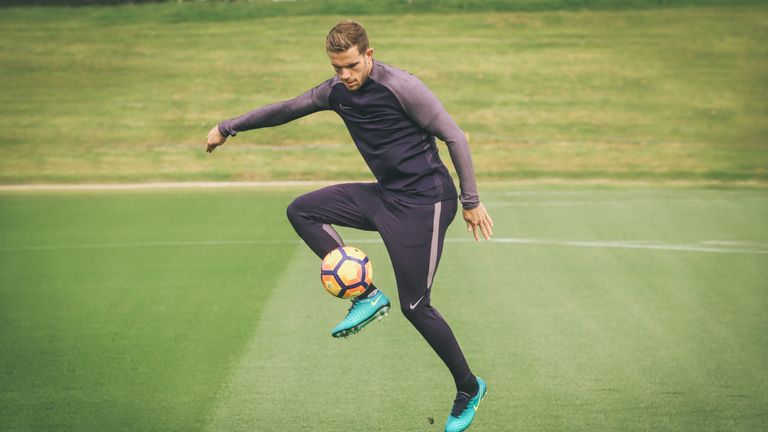 "Since pre-season, physically we've been very good. I think we're top of a lot of the stats in the league in terms of running and stuff. Obviously, that's the type of game that we play but you've got to have the players to do it. It's no surprise to me that we're top of those stats."
It's telling that it's Henderson himself who raises the subject of Liverpool's running statistics. The Reds have covered more ground than any other Premier League side and rank top for high-intensity sprints too. No Liverpool player has run as much as Henderson.
Former club captain Steven Gerrard recently cited his successor's willingness to do "the dirty work" as a key asset. There's more to his game than that - the 26-year-old has completed more passes than any other Premier League player this season - but he's also among the top three midfielders for tackles and recovering the ball.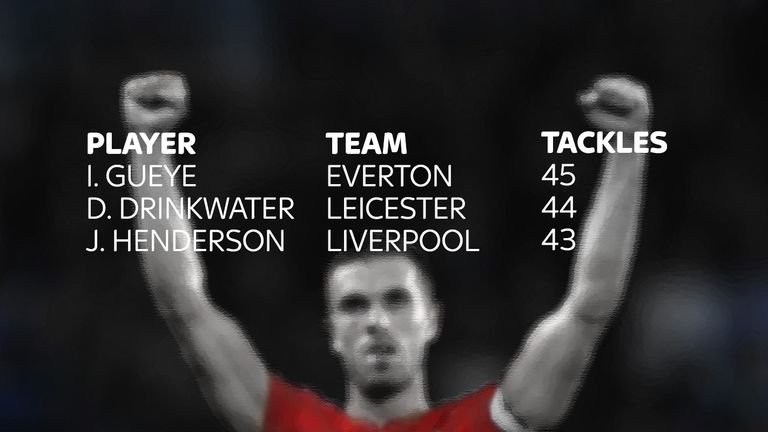 However, the whole point of Liverpool's system is that they work together. Their pressing game cannot work if only one man closes down. Everyone has to do it. "We've bought into what the manager wants us to do," says Henderson. "We all want to do that dirty work.
"Everyone chips in and does that in the team, from the front to the back. Even the goalkeeper has to be switched on and not so static on his line. He's always thinking about coming out if it's over the top so everyone is always alert and doing their job.
"It definitely has to work as a team. If one or two don't do it then it doesn't really work. It's quite easy to play around the press if that happens. But if everyone does it as a team and you're all tuned in to the same thing then it becomes a lot easier.
"When you're pressing someone, he might not get the first ball but it rushes the opponent and your team-mate who is following in might nick the next ball or get in on the second pass. It's not about individuals, it's all about team work."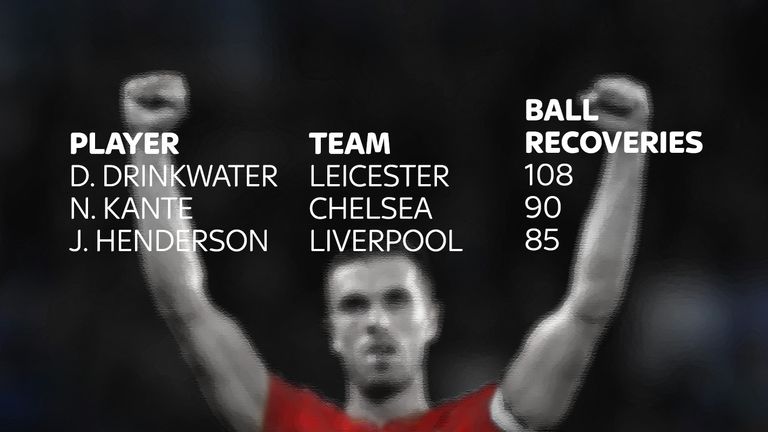 As a natural athlete, this approach favours Henderson. "I've always played with a high intensity anyway," he adds. "That's how I've always been." He regularly hits the 12km mark and has outrun his team-mates in 60 per cent of their matches so far.
Indeed, the challenge for Henderson has been knowing when to press and when not to. The aim is to win the ball back high up the pitch as quickly as possible because the opponent is at his most vulnerable upon gaining possession. But what happens if the ball can't be won?
That's when the pressing team must fall back into a solid defensive shape. Much of the responsibility for coordinating that movement as a team lies with the captain, particularly now he's operating in a more defensive role. It's a new one for the England international.
"I've learnt a lot in that respect," says Henderson, now in his sixth season at Anfield. "I'd probably say over the last two to three months with me playing a different role - a deeper role as a No 6 - the manager has really helped me with that.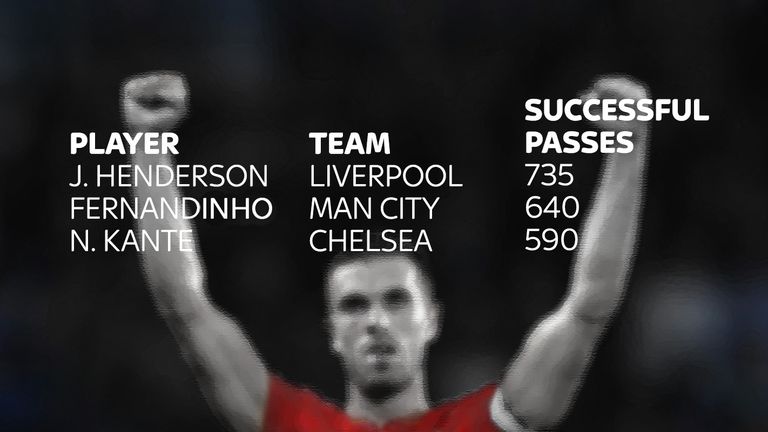 "Over a short space of time I've learnt a lot about the position defensively. It's being more disciplined really, that's the biggest thing I've learnt. But, tactically, the manager has helped everyone. He tells us what he wants us to do and how he wants to do it.
"It's about doing what the team needs me to do, not what I want to do or what I think I can do. It's about doing my job for the team. If everyone does that I'm sure we'll be very successful and that's the way it's gone so far."
The results certainly bear that out. They were held by Manchester United, drew at Tottenham and suffered a shock defeat at Burnley - "I still don't know to this day how we lost that 2-0," says Henderson - but the other 10 matches so far have all ended in victory.
With no European football to contend with this season, Liverpool have been making use of their less congested fixture list. But how are those midweeks being spent? Is rest and recuperation the key to success? It seems not. "It's definitely not rest," laughs Henderson.
"It's all about preparing. We get more training sessions and that's really helping us. We've really benefited from that this season as we're preparing the whole week for most of the games. We're looking at the set up and how we want to play against that particular team.
"On those days when other teams might be playing in Europe we are working like it's a match-day in terms of intensity on those Tuesdays and Wednesdays. It's hard work but we're also doing tactical work too. That's been very beneficial."
For Liverpool supporters, there are obvious comparisons to be made with the most recent season in which the side was not bound by European commitments. The 2013/14 campaign saw the team make a dramatic tilt at the title only to fall just short in the final few games.
With Liverpool currently the Premier League's top scorers, Henderson is even more confident three seasons on. "I don't think we started that one as well as we've started this year," he says. "This season I feel like we've really come out of the traps flying.
"Of course we'd rather be playing in the Champions League. But while we're not in that we've got to optimise the opportunity by using the training weeks to our advantage the best that we can. We've just got to keep the momentum going and keep working hard."
Neither Jordan Henderson nor Jurgen Klopp would have it any other way.
Jordan Henderson trains fast in Nike Football Training apparel, built for speed with revolutionary AeroSwift technology. Visit nike.com to explore the collection