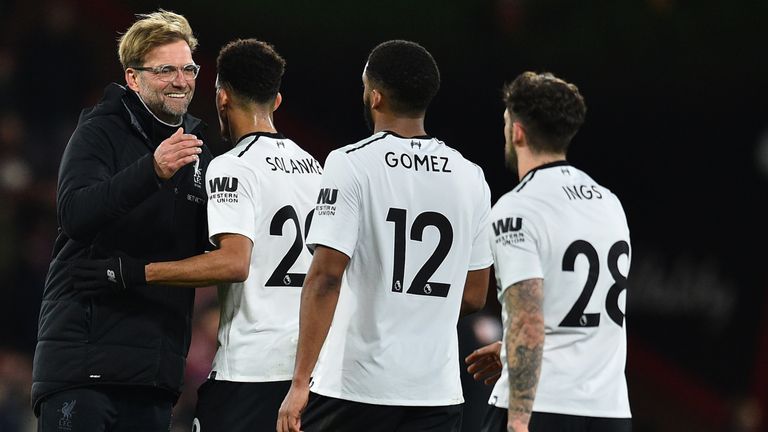 Jurgen Klopp has urged Liverpool to stay motivated in their bid to secure Champions League qualification for next season.
Klopp has acknowledged ahead of Liverpool's Boxing Day clash with bottom side Swansea at Anfield, live on Sky Sports Premier League, that a title challenge is beyond them given they trail leaders Manchester City by 20 points.
But the German believes there is still plenty for the fourth-placed Reds to play for and says they should not get complacent just because City are so far ahead.
"We have to qualify for the Champions League. We have to finish as high as possible," Klopp said.
"It looks like we could be second, third or fourth this year, that's a fantastic situation. Not the dream but a fantastic situation.
"That's what we are working on and for this we have to improve in all departments.
"This year, I don't think that anyone apart from Manchester City and maybe Manchester United are thinking too much about how they can win the league.
"In a very difficult league, performance-wise we are really consistent so far. If we stay consistent and avoid our mistakes, mistakes like in the 3-3 draw with Arsenal, we will win much more games than we lose or draw.
"As it was and so it will be against Swansea, we have to perform first of all and then we have to see how the other team can react."
Even though Swansea are at the foot of the table, Klopp does not want his players to assume the result will be a foregone conclusion.
"They are under pressure and that's clear because they fight for the league, 100 per cent, and that will not change before Boxing Day," Klopp added.
"But we will be ready and we will perform, if possible, like against Arsenal but avoid the mistakes we made.
"I don't really remember the game from last year, to be honest. I remember that we lost it. But that's not the plan!"