Mohamed Salah's form: Do Liverpool have a problem?
Star player was wasteful in Liverpool's 1-1 draw at Chelsea
Last Updated: 01/10/18 12:08pm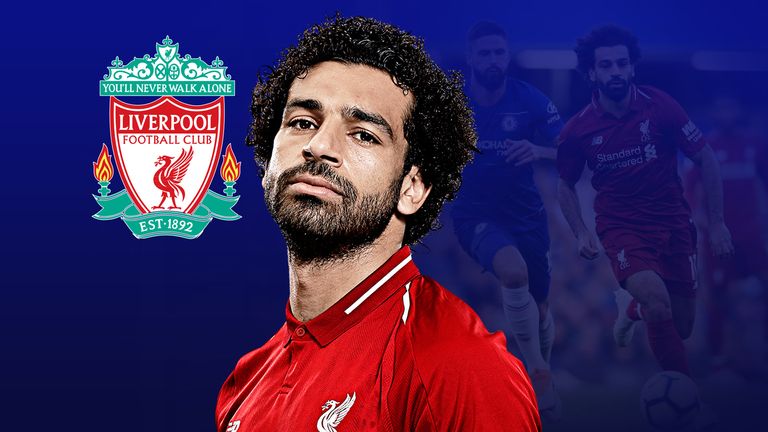 Mohamed Salah's form for Liverpool is under scrutiny after another underwhelming afternoon in his side's 1-1 draw at Chelsea. Adam Bate was at Stamford Bridge to see it and argues that there is little reason to be too concerned about Salah just yet.
There was a moment five minutes prior to Mohamed Salah's substitution at Stamford Bridge that seemed to seal his fate. Collecting the ball on the edge of the Chelsea box, he had briefly isolated his marker but only succeeded in turning into trouble and the chance was lost. An agitated Jurgen Klopp swiftly turned to the bench and called for Xherdan Shaqiri.
The Liverpool boss tried to downplay his decision to hook last season's Premier League top scorer, but this was a big game with the result in the balance. "I know already that you will all make a fuss of that but that's football," he told reporters in the press room afterwards.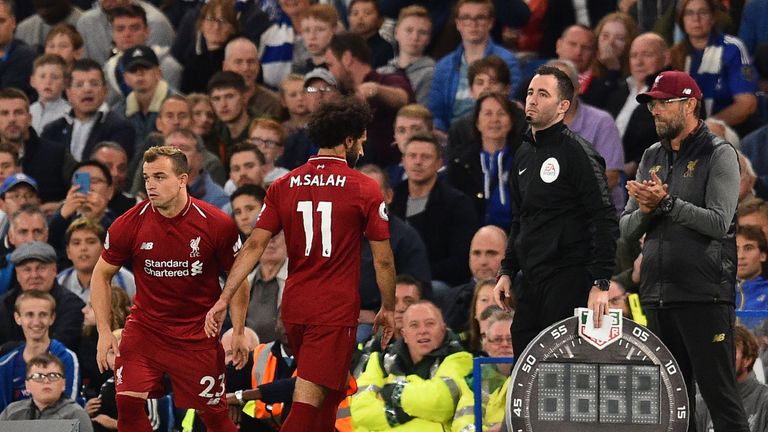 Nevertheless, history suggests this was significant. It was the first time in over a year that Klopp had decided to substitute Salah with his team behind in a Premier League game. With the change coming in the 66th minute, this was also the earliest that he had substituted the Egyptian during this time too - regardless of the circumstances of the match.
Despite Klopp's insistence that there was no issue, he also offered an admission. "It was not Mo's best game of his career, 100 per cent," he went on to acknowledge, before pointing to just some of the key moments in the game that had left him bemused. Salah not only spurned some very good opportunities but he even turned some down.
In the fifth minute of the game, he had been presented with a clear sight of goal but struck his shot straight at Chelsea goalkeeper Kepa Arrizabalaga. Soon after that he shimmied away from the attentions of Antonio Rudiger, only to lean back and balloon his shot high and wide of the goal. "The ball and the foot was not exactly right," said Klopp.
But more worrying for Liverpool and their manager was the decision-making. Firstly, there was the attempt at a tricky reverse pass to Roberto Firmino. Then, just before half time, Salah played a clever one-two with Georginio Wijnaldum and tried to thread a pass through to a team-mate. "Why? He could have shot and finished again," wondered Klopp.
Nothing really came off for Salah and it could have been worse. In the second half, he was dispossessed twice in quick succession - the first leading to a Willian counter-attack and the second seeing Eden Hazard run clean through, only for Alisson to bail out his side.
But Klopp will only be really alarmed when Salah stops getting into those positions. "Coming into a game like this, constantly coming into situations like he comes into, that makes him a world-class player," he explained. "You fail, you miss, whatever, that happens. No problem with that. But I want him to want to be decisive and want to score in these situations.
"It is like when you ride a bike. It is not like you wake up in the morning and can't finish any more or can't ride a bike any more. That's how it is. It's only that you need to work for these moments where it is clicking. That's the period he is in. No problem with that. It is all good."
The statistics of Salah's season so far support the view that there is little need for panic. There are only nine players in the Premier League who have scored more than his tally of three goals this season but it is the underlying numbers that really provide the reasons for confidence that the goals will start to flow freely again soon.
Nobody in the competition has had more shots on target this season. According to Opta, no player has had as many clear-cut chances to score either. Salah also ranks among the top three Premier League players for total shots, shots inside the box and touches of the ball inside the opposition box. He is getting into the positions.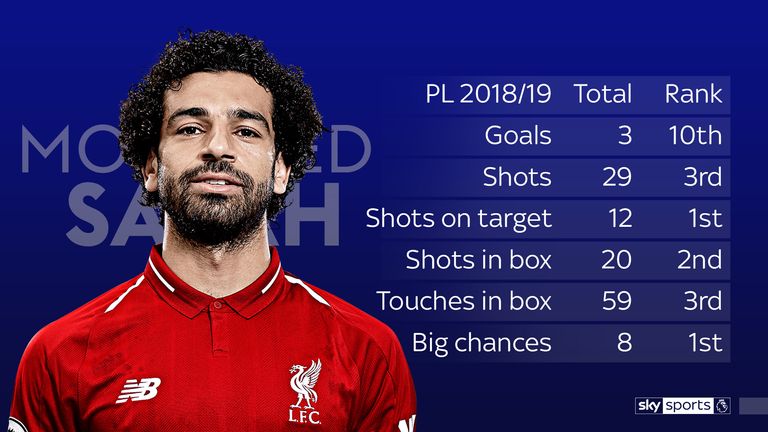 Even against Chelsea, he had as many shots in the first 45 minutes of the game as the home side managed in that period between them. With two important goals inside a week in matches between these two teams, it is Hazard who has been the clear winner in their little battle for dominance. And yet, these are early days in the season. It could soon change.
Klopp knows this, of course. But even he might appreciate the reminder. Salah's stoppage-time goal against Tottenham in February was one of a dozen Premier League goals that he scored after the 66th minute last season. Liverpool have more options now. But it is worth remembering that the best one remains the man with 35 goals in 43 Premier League games.
If you're reading on skysports.com comment below to get involved in the debate, but please adhere to our House Rules. If you wish to report any comment, simply click on the down arrow next to the offending comment and click 'Report'.