Virgil van Dijk 'ready to play' for Liverpool, says Ronald Koeman
By Liam Grace
Last Updated: 16/10/18 10:34am
Netherlands boss Ronald Koeman says Virgil van Dijk is fit to return for Liverpool, but claimed the defender has been playing with two broken ribs.
Van Djik played 90 minutes and scored as the Oranje beat Germany 3-0 on Saturday, but Koeman confirmed he will be rested for Tuesday's clash with Belgium after being in contact with the Premier League club.
The 27-year-old, who is the captain of the national team, first injured his rib in Liverpool's win over Southampton last month but had been playing on through the pain.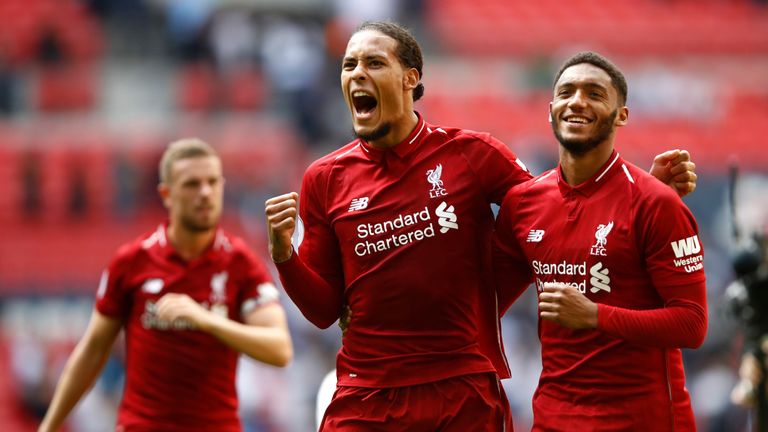 Van Djik is now back in England to focus on his recovery ahead of Saturday, when he is expected to be fully fit, as Jurgen Klopp's side travel to Huddersfield in a 5.30pm Premier League kick-off.
Koeman told Dutch newspaper De Telegraaf: "Virgil has played with two broken ribs in the last weeks. He wanted to play against Germany but you have to give the club something back now."
He added: "He (Van Dijk) spoke to the manager. The medical staff of the Dutch national team spoke to the medical staff of Liverpool and made the decision that he was playing only the Germany game and then after back to Liverpool.
"He is ready to play next weekend."
Meanwhile, Liverpool will continue to monitor Mohamed Salah, who suffered a muscle injury in Egypt's 4-1 win over Swaziland on Friday.
Salah was due to travel to Swaziland with his international team-mates for the return African Nations Cup qualifier, but the Pharaohs confirmed he has since travelled back to Merseyside.
Sky Sports News understands Liverpool have not yet ruled out Salah for the trip to Huddersfield.