Jurgen Klopp apologises to Marco Silva after wild Merseyside derby celebration
Divock Origi's 96th-minute winner snatches derby day spoils for Liverpool
Last Updated: 03/12/18 8:39am
Jurgen Klopp apologised to Marco Silva for his wild celebrations at the end of Liverpool's dramatic Merseyside derby victory over Everton.
The Liverpool manager raced onto the pitch after Divock Origi's 96th-minute winner stunned Everton to secure a 1-0 win at a euphoric Anfield.
"I have to apologise because I didn't want to be disrespectful but I couldn't stop myself," Klopp told Sky Sports. "It just happened!
"The plan was not to run [onto the pitch to celebrate]! When I chose to stop I was close to Alisson. He was surprised! It was the last situation of the game. Both teams delivered an unbelievable fight.
"If I could describe it [how he feels] then I would have control over it. We don't want to look for excuses but that's how it is. I'm not sure what the FA has to do in a situation like this but I will have to wait.
"The game was with unbelievable intensity. Both teams had chances. Both goalkeepers had outstanding performances. Both teams tried really to play football. No harsh things. The game was really good.
"In the end it was a very weird goal. I can't imagine the disappointment of Everton. But we got it and we will take it. It is a brilliant night."
The German added: "After the game I apologised to Marco Silva, we spoke to each other and I told him how much I respect his work because it's incredible."
Everton last tasted victory at the home of their closest rivals in 1999 but an encouraging first-half display, capped by three clear goalscoring opportunities in the first half, had the Toffees dreaming of ending that 19-year wait.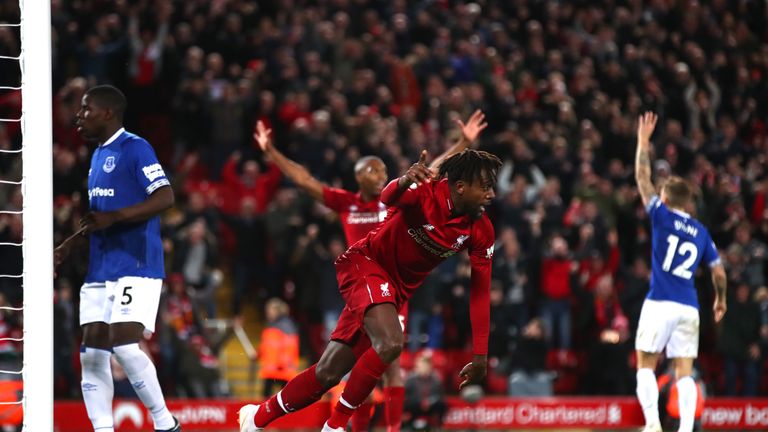 But Origi proved a fitting winner, extending Liverpool's unbeaten run in the Premier League to 16 games 20 months on from his horrific ankle break in this fixture.
"It is such a nice story that Divock Origi can score a goal," Klopp added. "It is a horrible injury he got in another derby and it was a big break in his career.
"Now he is back fully fit and can come in and score this goal. It is really cool.
"We tried to control the game they had good counter-attacks. We tried to go in behind but we didn't play exactly like that, that often.
"We had our moments and had brilliant chances. Our counter-press was really good and we stayed in the game until the end."