Eddie Howe: Mo Salah's opener for Liverpool shouldn't have stood
Liverpool beat Bournemouth 4-0 at the Vitality Stadium in the Premier League
By Gerard Brand at the Vitality Stadium
Last Updated: 08/12/18 4:24pm
Eddie Howe rued the assistant referee's error in awarding Liverpool their first goal despite Mo Salah being offside in the 4-0 win over his Bournemouth side.
Salah was just the wrong side of the defensive line as he followed up Roberto Firmino's half-volley, which Asmir Begovic fumbled into his path before slotting home.
Howe says luck was not on Bournemouth's side, and referenced another decision in the 2-1 defeat by Arsenal earlier this season.
He told Sky Sports: "It was a tough game. The first goal was a real key moment in the match. Up until that point, I thought we defended well, our shape was OK, we kept them away from our goal and, and Salah is offside.
"The goal shouldn't stand, and in these games, when you're playing the big guns, you need these decisions to go in your favour.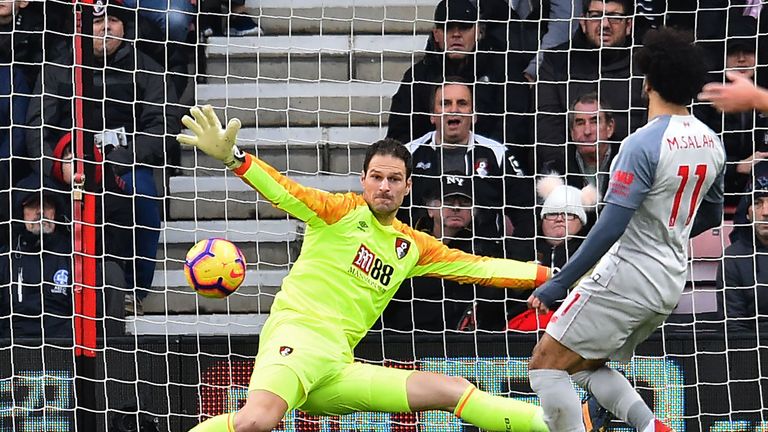 "It's similar to Arsenal, we had a perfectly good goal disallowed against Arsenal, these are key things in a hard match."
Howe felt all four goals could have been avoided, with individual mistakes costing Bournemouth dear at the Vitality.
"It's another goal where we look and think we've shot ourselves in the foot. We were well set in the game to have a really good second half.
"We were positive towards the end of the first half, had come into the match, and the second goal just deflates us and makes it difficult for us to build momentum in the match."
Asked if they missed injured top scorer Callum Wilson, Howe said: "I think we did. I think you're always going to miss your top players, he brings a physicality and a pace to the front line that we needed to put Liverpool under more pressure. But I'm not using that as an excuse."