Liverpool's 2-0 win over Cardiff shows they keep solving problems
Liverpool win 2-0 at Cardiff; Watch Liverpool vs Huddersfield, live on Sky Sports Premier League from 7pm on Friday; Kick-off 8pm
Last Updated: 22/04/19 4:47pm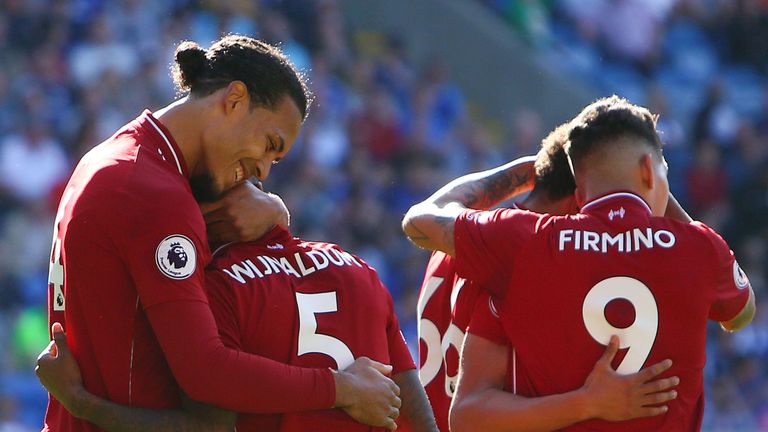 Liverpool showed patience and ingenuity to pass their Cardiff test and move back to the top of the Premier League table, writes Adam Bate. They are not going to relent so the pressure is on Manchester City now.
My favourite goal.
That's how Jurgen Klopp described Georginio Wijnaldum's opener in Liverpool's 2-0 win over Cardiff on Sunday and he explained exactly why.
Liverpool see off Cardiff to go top
Cardiff 0-2 Liverpool: As it happened
The Dutch midfielder struck the ball first time from Trent Alexander-Arnold's low right-wing corner. It looked like a training-ground routine but it was even more impressive than that.
"The boys decided in the dressing room at half-time," Klopp told Sky Sports. "I love that. We are learning from the game and that's the best thing you can do in football."
They say that there are no leaders in the game these days. They say that players cannot solve problems on the pitch. Well, here is a team that did exactly that in order to crack the Cardiff puzzle and once again move back to the top of the Premier League table.
They say that they do not score enough goals from midfield. Well, here was Wijnaldum with the breakthrough goal and James Milner with the penalty. In the previous away game it was Naby Keita who equalised against Southampton and Jordan Henderson who sealed the win late on.
On a day when the character of their great rivals Manchester United once again came under scrutiny, Liverpool keep solving problems and keep passing the tests that are set them.
Key stats
Liverpool have now amassed 88 points in the league this season, their best ever total in a Premier League season.

Liverpool have now won nine consecutive matches in all competitions, their longest winning streak since April 2014 under Brendan Rodgers.

Trent Alexander-Arnold's assist for Liverpool was his tenth of the season in all competitions, seven of which have come in his last 11 matches.
Much of the focus has been on whether Liverpool will be the ones to blink first but Manchester City looked every bit as nervous in their 1-0 win over Tottenham on Saturday. City could yet beat them to the title but Liverpool do not look like beating themselves.
"What has been so impressive with this Liverpool team is that there's no panic," Jamie Carragher told Sky Sports. "There's probably more panic from people watching it but you see the players on the pitch and they are so relaxed. I always think of the Chelsea game five years ago when Liverpool looked desperate. This Liverpool team never looks desperate."
If belief had been lacking then it would have been easy for desperation to creep into their play. In Klopp's view, Liverpool missed three of their best chances of the season in the first half and certainly Roberto Firmino should have done better when well placed. They are the sort of opportunities that can prey on the mind if there are any lingering doubts.
The scores were still level in the 57th minute and while the home team were showing signs of tiring, they had plenty of incentive to continue making it tough for Liverpool. Cardiff needed these points every bit as much as their visitors and if Klopp's team had allowed the occasion to get the better of them then it would have been more than a dry pitch that would have made things awkward for the Reds.
"Today they never stopped believing," Graeme Souness told Sky Sports. "They are playing with a great composure." Klopp agreed. "We had to develop, when I first came in we were really wild," he replied. "We had to be patient. When the boys look left and right in the dressing room, they see pure quality sitting there. That helps, of course."
It helps too that they have the clarity of thought to be able to sit in that dressing room and come up with new ploys to outwit their opponents on the fly. That's what Liverpool did against Cardiff on Sunday and it's why they look set to take this title race all the way. Over to you, Manchester City.
Man of the match: Joel Matip
"I think when you are going for the title race and you are going into a game like this it's about not giving encouragement to the opposition," Gary Neville told Sky Sports. "I think Matip from minute one has been outstanding in his defending but he has also stepped in with the ball and been really good in his use of passing."